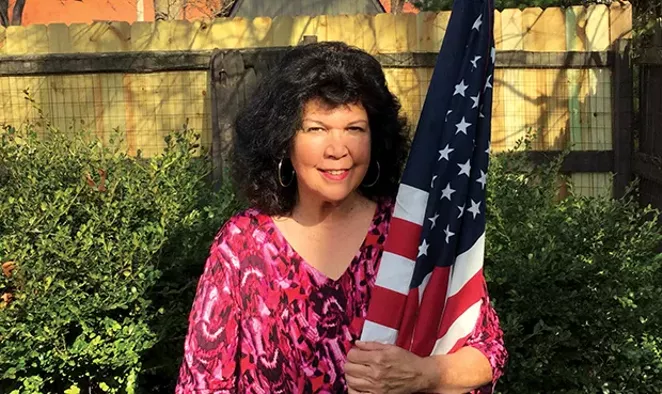 Rosanna Pulido was nearly unknown in Springfield until last fall when she emerged as the strongest citizen voice opposing the city council resolution to make Springfield a "Welcoming City." The resolution is positive, progressive and innocuous, with phrases like, "the City of Springfield is committed to continue building a neighborly and welcoming atmosphere in our community, where all are welcome, accepted and appreciated."

But to Pulido, there is nothing innocuous about opening the city's doors to immigrants and refugees, who she equates with "illegal aliens." Her arguments that the resolution would be a foot in the door leading to all kinds of harm, from increased crime to increased costs for public services, helped persuade aldermen to table the resolution on a 7-3 vote, with Mayor Jim Langfelder, the son of an immigrant, announcing his opposition as well.

She is well known nationally for her past anti-immigrant activism in Chicago. Pulido has only recently become vocal in Springfield, where she moved three years ago. She had spent several years caring for her parents in their final years – first her mother until her death, then her father. After the death of her father, who lived in Texas, she accepted the offer of a friend for whom she had been maid of honor to stay at her home in LaSalle County while she was deciding what to do next. Pulido found peace and quiet there, then moved to Springfield. She speaks of wanting to retire, perhaps from activism, but still has some fight left, now that the national mood seems headed in her direction.

"I love Donald Trump," she says. "He's with me on immigration. I've been battling that since 2003 – fighting, fighting, fighting. Now I see a ray of hope."
In 2001 a friend who was police chief helped her land a job as police dispatcher in Northfield, Illinois, a northern suburb of Chicago. She was appalled when a police detective brought in four different fake IDs, each one slightly different, from a crime suspect who had been arrested. "That opened my eyes to what was going on," she said. Soon there was a movement to "give driver's licenses to illegal aliens" and she became active in the fight against that. In 2005 she joined the national group the Minuteman Project in its gathering of some 1,200 volunteers on the Arizona-Mexico border for a citizens patrol to prevent Mexicans from illegally crossing into the U.S. Upon her return she organized an Illinois chapter of the Minutemen.

The Minuteman Project has been called a "hate group" for its zeal in the fight against undocumented immigrants. Is it a hate group? "We're all just regular people," Pulido says. Over the years she's associated with other groups accused of being hate groups, including the Federation for American Immigration Reform, for which she is now state adviser. Labeling groups as hate groups is "the way they do things now," she says.

"Everything is blown out of proportion. I'm not going to worry about it." She then names several left-leaning groups that oppose her point of view. "They're hate groups. They're anti-American. They want to change America and our way of life."
Much of Pulido's public record of controversial statements comes from her 2009 run for Congress as the Republican nominee in the special election to fill the seat vacated by Rahm Emanuel, a race she lost to Democrat Mike Quigley. The Illinois Coalition for Immigrant and Refugee Rights has listed her statements on two fact sheets titled, "The Real Hate in the Debate." "They hate me," she says of ICIRR. But she doesn't deny the statements the group attributes to her, one of which is an off-color joke about gays she had posted on the internet before she began her political campaign.
"I made a joke about gays," she tells me in our interview. "I'm not perfect. I'm going to screw up. I make mistakes." She says her joke was brought up at a campaign appearance at a gay bar. "I told them I did it, and if I offended anybody I'm sorry. The whole gay bar stood up and gave me a standing ovation."
In Chicago she accused the Catholic church of deliberately luring illegal immigrants to support Catholic social programs. "If the church succeeds in their mission, they will destroy the United States of America," she said in testimony to an Illinois House committee. "That's absolutely true," she says now, while insisting she is not anti-Catholic, having attended a Catholic grade school and an all-girls Catholic high school. No longer Catholic, she is now an evangelical Christian, but she admires her father for remaining a staunch Catholic to the end.

She also had posted a comment about Muslims praying. "It reminds me of my dog, smelling butts," she wrote in 2003. She apologized for that also during the campaign. "Because I'm human. I make mistakes." She said conservatives make jokes among themselves that may not be appropriate for a wider audience. "If I were with other Hispanics, I could make jokes about Hispanics," she told me.

I asked her if she is a bigot. "I'm a Mexican," she replies. "I can't be bigoted." Pulido often refers to her Mexican heritage, though she was born in Chicago and her parents were both born in Texas. When I asked in an email how far back are her Mexican roots, her reply said in part, "We're all immigrants from somewhere," with a clip of President Bill Clinton in 1995 saying it is wrong for a "nation of immigrants" to permit abuse of immigration laws.
In Springfield, Pulido may get her second wind. "I'm not afraid to speak out," she says. "I am not afraid."

Fletcher Farrar is editor and CEO of
Illinois Times. Contact him at editor@illinoistimes.com.