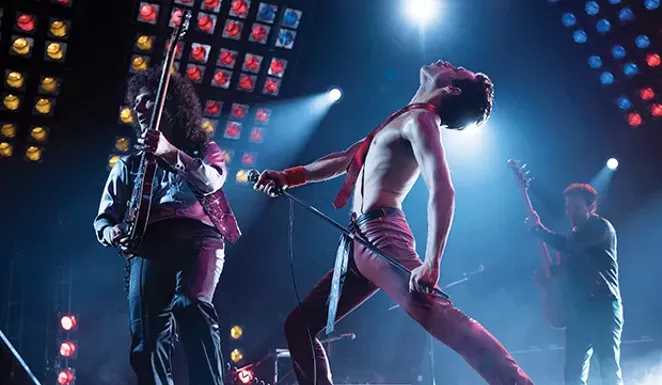 Movies are about moments – big moments that erase our cynicism about cinema and remind us of its capacity to dazzle as well as touch us. This happens in a way only possible with a medium that seamlessly combines so many other art forms. There are instances that prompt us to consider things in a different light, encourage us to think about issues from a different perspective and empathize with others in a way we could never expect.
While sometimes memories of the overall plot of a film or its minute details may escape us, certain scenes stand out like a beacon in a bland cinematic landscape. What follows is a list of the 10 best scenes from the movies in 2018. While some of the films they're from might not have been completely successful, during these moments perfection was achieved and they've proven powerful enough to stay with this viewer long after the credits have rolled and the lights have come up.

Bohemian Rhapsody – Having just reconciled with his bandmates after a long acrimonious split, Freddie Mercury takes the stage with Queen at the 1985 Live Aid concert in England. He soon has the crowd of more than 70,000 in the palm of his hand, mesmerizing them with his energy and charisma to deliver one of the great moments in rock 'n'roll history. As Mercury, Rami Malek gives one of the great physical performances of the year, replicating one of the singer's seminal moments with a verve that does him justice.

Boy Erased – Struggling to accept his son's homosexuality, Baptist preacher Marshall Eamons (Russell Crowe) meets with his estranged boy Jared (Lucas Hedges) in an effort to apologize and say that he's doing his best to understand him. In doing so, he comes to realize what a strong, proud man he's raised. Crowe and Hedges bring a subtle tension to the scene that slowly transforms into an example of unconditional love that's surprisingly sincere and powerful.

Game Night
– Furiously trying to find the password to his neighbor's computer, Max (Jason Bateman) is unaware he's bleeding on a curious white terrier as well as the room's white shag rug from a gunshot wound he got earlier in the evening. Trying to clean the dog, Max only makes things worse as the wet canine shakes to get dry, splattering the walls and his neighbor's wedding pictures in the process. Bateman's droll comments perfectly complement this simple gag that's a perfect example of how to steadily build on a simple joke to create a small piece of comic brilliance.
Green Book
– Dutifully writing to his wife, Tony Lip (Viggo Mortensen) gets some help from Dr. Don Shirley (Mahershala Ali), who lends his eloquence to help his new friend say what's truly in his heart. As with much of the film, director Peter Farrelly finds the perfect balance of humor and poignancy to drive home the theme that the so-called differences between these two men and their respective races can be bridged by recognizing their commonalities.
If Beale Street Could Talk
– Friends such they were children, Fonny (Stephen James) and Tish (KiKi Layne) walk with ease and confidence down a neighborhood street before stopping and sincerely looking at one another, knowing that their inevitable marriage is in the offing. While this sounds like a simple moment, the conviction between James and Layne and director Barry Jenkins' subtle touch makes this scene the most moving and romantic movie moment of the year.

The Incredibles 2
– Kicked to the sidelines, superhero Bob Parr (voice by Craig T. Nelson) has been relegated to caring for his three children, a task that leads to a meltdown of epic proportions. Nelson's enthusiastic voice work and the exaggerated expressions on Parr's face, thanks to Pixar's army of animators, make for a scene that all parents who've reached their breaking point can recognize and relate to.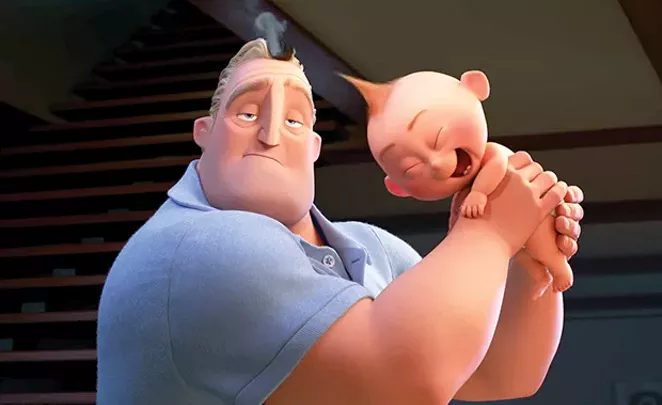 The Old Man and the Gun
– Barely staying one step ahead of the law, serial bank thief Forrest Tucker (Robert Redford) runs into the man who's on his tail, John Hunt (Casey Affleck), and, in the process, lets the young man know just who he is and what he's up to. This subtle scene is a brilliant example of underplaying by both actors who deftly straddle the line between comedy and drama, each conveying more with their silence than what's being said.
A Star is Born
– Recognizing that his drinking is getting the best of him and that his career is in jeopardy, singer Jackson Maine (Bradley Cooper) confesses to his faithful brother Bobby (Sam Elliott) that he's always considered him his hero, knowing he may not have the opportunity to say so in the near future. As director, Cooper paces this moment perfectly, diverting the audience's attention before delivering this devastating confession that leaves the duo on screen, as well as the viewer, sincerely moved.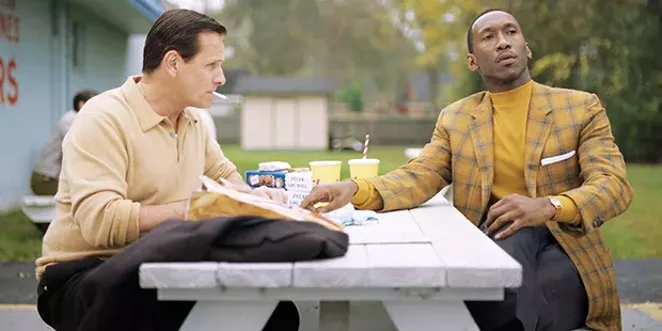 The Wife
– Having endured her husband's (Jonathan Pryce) many infidelities over the years as well as his insufferable ego, Joan Castleman (Glenn Close) lets loose with the accumulated fury she's suppressed over the course of their marriage to initiate a reckoning that will change their lives forever. Giving a wonderfully calibrated performance, Close gives her character full voice to vent her frustration over the injustices she, as well as all women, have had to endure under the sway of an oppressive man.

Wildlife
– Having watched his parents' marriage fall apart, Joe (Ed Oxenbould) has his mother (Carey Mulligan) and father (Jake Gyllenhaal) stop by the photo studio he works at to sit for an unexpected family portrait. Quiet yet devastating, director Paul Dano lets this moment quietly play out as Mulligan and Gyllenhaal, without saying a word, convey great regret over what they've done to their son, ending the film on a powerful, melancholy note.