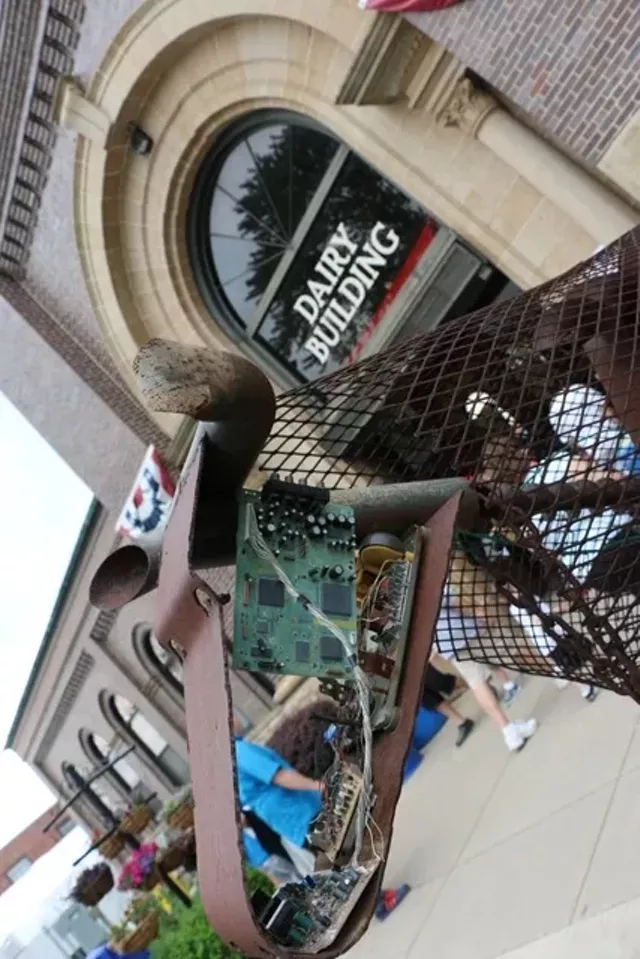 TWO (2) --
"The journey not the arrival matters," wrote poet T.S. Eliot. "All journeys have secret destinations of which the traveler is unaware," stated philosopher Martin Buber. Anytime I go anywhere, it is unexpected beauty or inspiration that I eagerly anticipate. The fair is large enough there's sure to be adventure. Unfortunately the day I visited the fair, almost all the animals were gone and I couldn't find the produce and crafts building (I don't know why I couldn't find it and I don't really know why it was such a bummer to me, but it was.). Mainly though, the entire time I was waiting for something spectacular to happen. It never did. It was a bummer.
THREE (3) --
Walking in the great outdoors is exercise toward a better state of mind and body. I love fresh air. BUT – it is always so hot at the fair you can't walk far or fast usually or even slow for that matter. I've been at the fair when I thought I would have heat stroke. The temperature at the fair on the day I went was only 82 degree and overcast but it was still SO hot the back of my hair was doused. Usually I'll walk through the misters, but I had my camera. Something else I might add, the dairy building is not air conditioned anymore. What the luck. Though I must admit, I did walk three miles. I know because I mapped it on a walking app. Yes.
FOUR (4) --
"There is no finer investment for any community than putting milk into babies," said politician Winston Churchill "Don't limit a child to your own learning, for he was born in another time," explained Bengali poet Rabindranath Tagore. The Illinois State Fair is a great place to bring the kids (or yourself for that matter) for the day to broaden their horizons. They love the carnival and activities such as rock climbing and the big slide. We always liked to tote our kids to the educational tents and Conservation World. Lots of fun, as I remember. BUT then I passed a screaming child with a mom who looked on the verge of collapse from frustration. The cloud of unhappiness made me remember temper tantrums and fussiness (and temper tantrums and fussiness in 90 degree weather).
FIVE (5) --
The butter cow mecca. Repeat -- "There is no finer investment for any community than putting milk into babies," said Winston Churchill. What is it about the butter cow? Folks flock in droves to get a look at the butter cow. Is it tradition? Is it a destination that always brought relief from the heat? Do they come out of curiosity for what the artist has crafted this year? At first I thought this year's exhibit was based on the selfie because the butter woman held a camera and was taking a photograph. But after I stood up from the bench I saw that the butter boy was milking the butter cow. But perhaps it still was a cellphone she's holding. I sat on a bench awhile and people watched. Everyone was taking pictures with their cellphones. Everyone was taking photos of their kids or themselves. And I was no different. Here I was, sitting at the butter cow, taking pictures of people taking pictures of the butter cow. I was never one to follow the crowd. I don't like it. BUT ... I like it at the same time! I like it a lot.
Y'ALL COME BACK NEXT TIME YA HEAR!