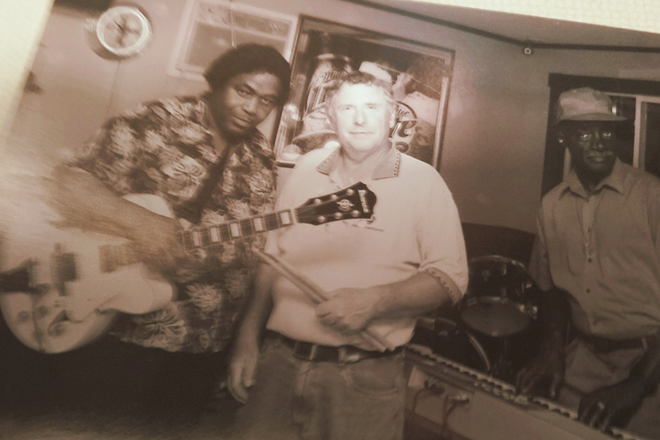 Well, ladies and gentlemen, it's time for our annual Thanksgiving issue and that means we should all take the time to think about thanking things. So here in our music column called Now Playing, we should not even have to think about what to thank and just get directly to giving thanks for the music. That includes avid listeners, venues offering spaces to play, songwriters, singers and musicians of all stripes and colors, plus anything and everything else related to the making of music that allows us to enjoy this life even more than we already do.
Now that that is done, let's get to the feast and see what's out there for us to partake in, musically speaking, that is. As readers of this space know, I have been pushing the Wednesday nights before Thanksgiving for a long time as the biggest party night of the year. 2022 is no exception to the rule, but here's a different event to know about when The Wakery hosts an AF (that's alcohol-free) Wake Up Wednesday evening at the Pasfield House from 7 to 11 p.m. For your $15 cover, there's entertainment by The Lovelorn (stripped-down version) and The Vaudeville Valley Circus, plus AF cocktails and Elsie's Bakehouse pastries to purchase, plus raffles and silent auction items with all the proceeds going to help establish a permanent downtown location for The Wakery. In an extra bonus factor, the possibility you'll wake up on Thanksgiving remembering the eve and being mentally prepared for the holiday is much more certain.
On the other hand, if you're determined to tie one on and knock one off, check out X-Krush at the Curve Inn, RockHouse at the Main Gate and Downstate at Whiskey Jack's, along with these out-of-town gigs of Thomas J Beverly at Oogie & JJ's near Glenarm, Lincoln's Dead at Daughtry's Pub in Chandlerville, Drew Cooper at the Backroom Lounge in Riverton, Ready for Petty at Connor's Corner Pub in Tallula, The Tangents at Two Dog Saloon in Roodhouse and Captain Geech and the Shrimp Shack Shooters at the Hangout in Jacksonville.
For some after-Turkey Day Friday fun, Motorheads hosts a double bill of local tribute bands with Damned Torpedoes (Tom Petty) and Folsom Prison Five (Johnny Cash) under the clever title of Petty Cash, Stone Cold Blues Band makes a too-rare appearance at Boone's for the Friday Night Jazz show and the Collective works it on out at the Blue Grouch, while Michael Burnett and Avery Kern join forces for a night to remember at Brookhills Golf Club.
Moving on to Saturday, you fans of John Denver (and I know you're out there) will certainly enjoy a Rocky Mountain Christmas tribute to John at the Hoogland Center for the Arts by Ted Vigil, a nationally known singer, songwriter and tribute artist. And why not add one more tribute band to the list as Kashmir does Led Zeppelin at Danenbergers with a real recreation of the 70s concert shows using costumes, lights and vintage gear?
Also on Saturday, JJ Bradley Band slides into Third Base, Groove Daddies weave the old-time magic at Weebles and UNCHAiNED blows it up at the Curve Inn. For out-of-town stuff, take a trip to Pana to see the always-delightful Mandy Rose at Station 502 or truck it to Winchester to catch Jeff Young and the Bad Grandpas having a good time at Big Daddy's Dog House.
That does it for me, but remember to check our listings for all the other music happening, and while you're out there, thank a musician for what you came out to experience.