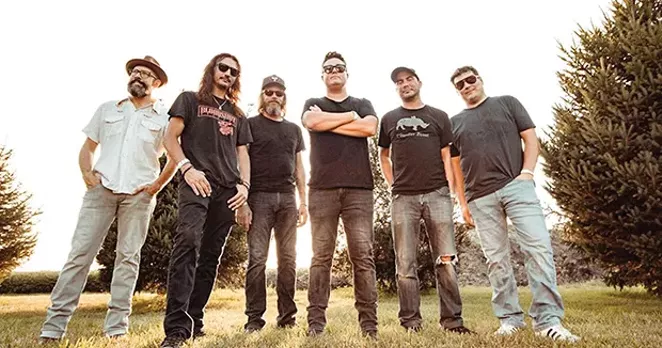 Here we are again at that Thanksgiving time of year, and boy, are we thankful for lots o' things! Since we are a music column in origin and existence, let's give thanks for the music makers and for the audience that appreciates the music made.
I've been saying it for years, ever since the late 90s when my dear friend Mike Parkes, bartender extraordinaire and proprietor of the original Brewhaus, informed me that the Wednesday night before Thanksgiving Day was officially the biggest bar night of the year. It seems so obvious now, and even Springfield has caught on to the experience, but things were not always that way. If you take a look at our Wednesday night Pub Crawl in last week's (Nov. 15) issue, you'll see numerous bands playing at various venues, all set to take advantage of the advantages offered to folks looking to party hardy on the night before Thanksgiving. For some reason, it took us all a while to realize that New Year's Eve had long ago faded as the big party night of the year and become what folks term "amateur" night. And dare I suggest this to my Celtic friends so fond of the juice of the barley, but St. Patrick's Day is just a warmup compared to the hoopla surrounding Thanksgiving Eve. The day has become so popular as a party night that it has earned the title of "Blackout Wednesday" or "Drinksgiving" to some. So let's take a moment to look at the offerings in our area on the big night.
Out on the Petersburg square Deep Lunar Blue lands in Hand of Fate Brewery while in other parts of Menard County, NCR takes on The Boar's Nest in Athens. Off the Wall heads all the way out west to Rushville for a Wallers adventure at The Lipsticked Pig as Ryman's Way shuffles north to Lincoln for a gig at Cafe Billiards. Down in Thayer (where? Thayer!) Short of Stable rides into BREWzrz Pub as The Kitchens clean up clear down in Shelbyville at The Moose Lodge and Cactus Ranch sticks it to the South Fork Pub in Kincaid.
Closer to home, X-Krush squeezes out at The Curve Inn as JukeRox rattles up the Third Base Sports Bar. After Sunset shines on at Crows Mill Pub and George Ranks opens the doors for Wayward Motel and Good Times & Company. On the acoustic side of things, Jimmy Riemer and Kyle Smith pair up at Finley's Tap House on the far west side as Max Fessler slips into 3Sixteen in Chatham. While Mike Burnett hangs out at Always After Five, Joshua Reilly comes up from Florida for a show at The Backroom Lounge in Riverton, which is likely sold out by now.
Along with these extra added events specifically booked just for the blackout night, regular Wednesday gigs will get a boost as well. A couple of popular open mics will be even more popular with the pre-holiday gatherings as the Wide Open Mic keeps going at Bar None and Kortney Leatherwood hosts his weekly night at Weebles. Even the karaoke nights and DJ happenings will benefit from the mid-week "party-on Garth" night of nights. Then, after all that, you get to celebrate a good day of giving thanks on Thanksgiving and prepare yourself for a full weekend of live music happenings.
Yes, it just goes on and on and on, and you are the beneficiary of all the goodness. Are you thankful enough yet?