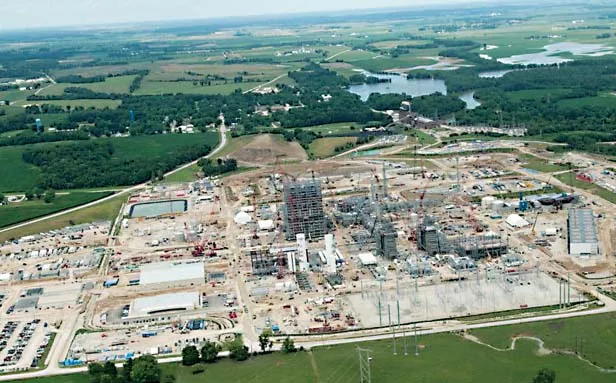 A proposed state-of-the-art "clean coal" power plant in Taylorville has been sidelined, but the project could still continue as a natural gas power plant.

Nebraska-based Tenaska, Inc. says its proposed Taylorville Energy Center is necessary to prevent power shortages as old coal plants go offline, but opponents question whether it's really needed and why taxpayers should pay for it.

Tenaska originally proposed building a power plant southeast of Springfield that would turn Illinois coal into substitute natural gas (SNG) through a process called "coal gasification." The gas produced would have been burned to create electricity, with some of the CO2 emissions injected into the ground. Tenaska is seeking a state tax credit worth an estimated $8.7 billion over 30 years for the project.

Tenaska announced this month that the company is willing to drop the coal gasification plan and burn conventional natural gas instead. Tenaska still hopes to build some gasification capabilities into its design, essentially making the current natural gas proposal the first phase of a two-phase project.

"The … plan allows Illinois to take advantage of today's low natural gas prices to build a necessary new source of electric power resulting in lower overall rates," said Tenaska vice president Bart Ford. "In the future, when economics favor the use of Illinois coal, equipment can be added to convert coal to clean SNG, capture carbon dioxide and provide for geologic storage."

Tenaska spokesman Dave Lundy points to a study by Siemens subsidiary Pace Global LLC which projects that the Taylorville project will save Illinois ratepayers $437.7 million over a 20-year period.

Pace Global experts and others predict a rash of coal plant closures as stricter pollution rules take effect nationwide and the falling price of natural gas makes it a more economical fuel than coal. Those coal plant closures could lead to increased energy prices due to reduced supply, they say. With Tenaska's proposed Taylorville plant producing power using natural gas at what may then be below-market rates, the project could wind up saving ratepayers money.

But Tenaska's shift didn't change opinions among the project's opponents, who say taxpayers shouldn't subsidize a private company's energy speculations.

Mark Denzler, vice president and chief operating officer for the Illinois Manufacturers' Association, says he was present during negotiations on SB678 when Tenaska representatives acknowledged building several similar power plants in other states without seeking tax subsidies.

The Illinois Manufacturers' Association is a member of the STOP Coalition, a group of more than 330 businesses and trade organizations around the state opposing the Taylorville project. Among them is Exelon, the power generating company that owns Commonwealth Edison and generates much of the state's power supply.

Denzler says Tenaska's plan of splitting the Taylorville project into two phases means the state would already be deeply invested in the project when and if coal gasification becomes economical.

"If this passes, they're going to come back in two or three years and say, 'Look, we've spent $200 or $300 million in taxpayer money already. You can't tell us no now,' " Denzler said. "I just think they're a little less than forthright."

He says Illinois is already a net exporter of energy to other states, with "more than enough capacity to make up for what we're losing" as coal plants close.

Tenaska says 319 coal plants nationwide are scheduled to close in the coming years, totaling nearly 43,000 megawatts – enough to power 30 million homes. Coal makes up about 46 percent of Illinois' energy portfolio, Tenaska notes, and the Illinois Power Agency estimates that 40 percent of the state's coal capacity may shut down.

"This decrease in the supply of electricity will force electricity prices and capacity prices to go up if adequate efficient replacement capacity is not built," Tenaska said in a prepared statement.

Rep. John Bradley, D-Marion, introduced an amendment to the tax credit, Senate Bill 678, in the House to incorporate Tenaska's changes. With the current legislative session scheduled to adjourn on May 31 and lawmakers preoccupied with contentious Medicaid and pension reforms, the Tenaska bill faces an uncertain future.

Bradley declined to call the bill for a hearing before the House Public Utilities Committee on Wednesday, indicating that negotiations may still be in progress. If the committee passes the bill, it goes to the full House for consideration.

The Illinois Senate narrowly approved the bill with a vote of 30-28 in November 2011. If the House approves the amendment, the measure would go back to the Senate for another vote.

Contact Patrick Yeagle at pyeagle@illinoistimes.com.