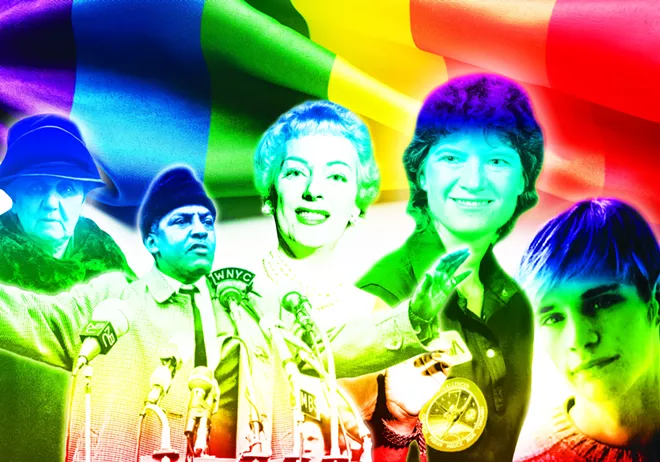 Illinois' public school students may soon learn about Jane Addams in a new light.
"Illinoisan Jane Addams, the mother of social work, founder of the Hull House, and Nobel Peace Prize recipient, was in a committed 40-year relationship with her partner, Mary Rozet Smith," read a statement from Equality Illinois during the debate over House Bill 246. "The nation's first gay rights organization, the Society for Human Rights, was formed in 1924 in Chicago. The organizer of the 1963 March on Washington, civil rights activist Bayard Rustin, was a gay man. And Sally Ride, the first U.S. woman in space, was a lesbian."
Gov. J. B. Pritzker signed House Bill 246 into law as Public Act 101-0227 on Aug. 9, making Illinois the fourth state to mandate teaching lesbian, gay, bisexual and transgender (LGBT) history. The law requires that history classes in public schools "include a study of the roles and contributions of lesbian, gay, bisexual and transgender people in the history of this country and this state."
The law adds LGBT to other group histories that must be taught in Illinois schools, including African-Americans, women, the labor movement and persons with disabilities. It also requires textbooks purchased with certain state grant funds to include the roles and contributions of all people protected under the Illinois Human Rights Act. Private schools are not affected by the new law.
The LGBT history law takes effect July 1, 2020, so local school districts will have to work it into their curricula starting next school year. Districts can decide how to implement the law, but many are trying to figure out how they are going to do that.
"We are awaiting guidance"
"We have discussed the new legislative mandate with our administrative team on multiple occasions. However, we are awaiting guidance from the Illinois State Board of Education on their recommendations for implementation," said Riverton Community Unit School District 14 Superintendent Brad Polanin. "As of now, no guidance has been released by either the General Assembly or the State Board.
"We do plan to implement the new requirement as a unit in our social studies curriculum, but to be better prepared and consistent with any recommendation, we would prefer to wait on developing the unit of instruction until we receive further notice," Polanin said. "In any case, we will ensure that implementation occurs during the next school year, regardless of information, or lack thereof, that is provided, in accordance with the mandate."
School District 186 spokesperson Bree Hankins said Springfield public schools are also looking for guidance, which they anticipate receiving soon.
"In the meantime, we have begun to identify what materials and topics are available in our current curriculum and how we could use those resources to implement this with intention and fidelity," Hankins said. "Our discussions around this are ongoing and we will consider additional resources if necessary to ensure that our curriculum is inclusive of LGBT contributions throughout history."
The LGBT history law cosponsor, Sen. Heather Steans, said the bill was designed to give local districts flexibility to incorporate its provisions.
"The legislation is not prescriptive at all as far as when you teach anything or in which grade," Steans said. "It only requires that you buy non-discriminatory textbooks and that you build in at the appropriate grade level your LGBT history curriculum."
The Illinois State Board of Education (ISBE) is authorized to provide annual textbook funding, subject to appropriation, to public school districts and state-recognized, non-public grades K through 12 schools. Those textbooks must have been pre-approved by ISBE as being "non-discriminatory as to any of the characteristics under the Illinois Human Rights Act. Textbooks authorized to be purchased under this Section must include the roles and contributions of all people protected under the Illinois Human Rights Act," which includes LGBT individuals, according to the wording of Public Act 101-0227.
But the ISBE has not received an appropriation for the textbook program since it first became effective in fiscal year 2012, according to ISBE spokesperson Jackie Matthews.
"ISBE will work with partners over the course of the 2019-20 school year to ensure that curricular and content resources are available and that public schools and districts have an opportunity to review and search curricula that best meets their needs," Matthews said. "ISBE's collaboration with stakeholders is still early in the process, and these discussions will take place throughout the 2019-20 school year."
Meanwhile, several organizations that supported the LGBT history law are working with local school districts and teachers to provide suggestions on its implementation. The Illinois Safe Schools Alliance is developing resource materials for educators and administrators.
"These guides will provide school-based staff with how-to's that align with state standards and can be integrated into existing curriculum," said the Illinois Safe Schools Alliance's Grecia Magdaleno. "It is our hope that these findings will give Illinois schools the foundation to integrate LGBT-inclusive curricula with fidelity and a sense of confidence."
The Alliance offers professional development programs across the state that are listed at www.ilsafeschools.org, and they are actively surveying educators to see what is needed at the local district level to incorporate LGBT history into the curriculum.
"We are able to collect feedback from districts on the concerns, needs and opportunities around implementation and are actively exploring more ways to do this," Magdaleno said. "We are, for example, developing a feedback form that will be attached to upcoming promotional materials and are convening a subcommittee focused on compiling content and resources for educators."
Equality Illinois has joined other LGBT-supportive organizations to determine what local school districts need and how to meet those needs.
"We've been hearing from teachers and administrators that they want to do it right, but they need help," said Mike Ziri, Equality Illinois director of public policy. "Our organizations have been meeting regularly with the State Board of Education and teachers' unions to make sure we can make this process as seamless as possible for school districts. They want resources and guidance. Teachers already have a lot on their plates."
"Recognizes the diversity of California and the nation"
Illinois is the fourth state to pass a law dealing with LGBT history in the classroom.
California approved a new history and social science curriculum framework in 2017 "that is inclusive and recognizes the diversity of California and the nation," according to California Department of Education spokesperson Scott Roark.
Instructional materials were developed during a lengthy process that involved thousands of comments from the public and input from leading researchers and teachers, Roark said. The new materials followed guidelines established by the 2011 FAIR Education Act, which made California the first state to specifically mandate the study of LGBT Americans, Native Americans, African Americans, Mexican Americans, Asian Americans, Pacific Islanders, persons with disabilities and members of other ethnic and cultural groups.
Once approved, the use of these instructional materials is not mandated by the California Department of Education – their use is a decision made at the district level, Roark said.
"The materials update the teaching and learning of history and social science and convey important new information about the challenges and contributions made by these individuals and ethnic groups," Roark said.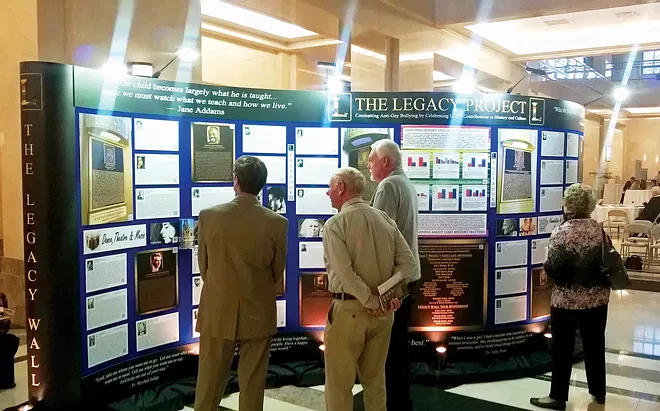 New Jersey Gov. Phil Murphy signed a law in January that "calls on local boards of education to include instruction on the contributions of people with disabilities, as well as LGBT people, in an appropriate place in the middle school and high school curriculum," said Department of Education spokesperson Mike Yaple.
The New Jersey Department of Education adopts education standards, which describe what all students are expected to learn in each grade, but local school districts approve the actual curriculum that helps students meet the standards, Yaple said. He added that the department held an Equity for All conference this summer with 45 professional development sessions for more than 1,000 educators, has written newspaper op-eds on equality and provided schools with transgender guidance at the start of last school year.
Colorado has taken a step toward LGBT history in the classroom. The state's legislature passed a law that requires the governor to appoint a commission that will make recommendations to the State Board of Education for the inclusion of the history, culture and social contributions of minorities, including LGBT individuals, into the Colorado Academic Standards.
A review of those recommendations will occur in conjunction with the state board's regular six-year standards review that is scheduled to occur no later than 2024. The state board ultimately has the authority to adopt some, all or none of the commission's recommendations, according to Colorado Department of Education spokesperson Jeremy Meyer. Then it will be up to local school districts to implement the standards.
"In Colorado, curriculum decisions are determined by local school districts and not the state," Meyer said. "Each local school board must ensure that their schools meet or exceed the Colorado Academic Some states don't appear to be as eager to join Illinois in implementing an LGBT history in the classroom law. According to an August 2019 Education Week article, teachers face restrictions in some states on how they can discuss gender and sexuality issues in the classroom, and six states have anti-LGBT curriculum laws that apply to sexual health education.
A U.S. News and World Report article, also from August 2019, said that Alabama, Louisiana, Mississippi, Oklahoma, South Carolina and Texas have laws prohibiting the "promotion of homosexuality." These laws "prohibit schools from teaching lesbian, gay or bisexual people or topics in a positive light in health or sexual education classes," according to the article.
"We give our students a frame for understanding"
Many former students remember the "flash cards" used to hone mathematics skills in grade school. "LGBT history cards" may be next.
GLSEN is an education organization working to end discrimination, harassment and bullying based on sexual orientation, gender identity and gender expression. GLSEN has developed curriculum materials to help teachers introduce LGBT history to their students, including a series of LGBT history cards. Examples of these cards include:
1649: Richard Cornish of the Virginia Colony is tried and hanged for sodomy.
1779: Thomas Jefferson revises Virginia law to make sodomy (committed by men or women) punishable by mutilation rather than death.
1952: Christine Jorgensen is the first American who comes forward publicly about being transgender and speaks openly about her experiences with gender confirmation surgery and hormone replacement therapy. Her transition causes an international sensation, and for many, she is the first visible transgender person in the media.
1962: Illinois becomes the first U.S. state to remove sodomy law from its criminal code.
2009: President Obama signs the Matthew Shepard and James Byrd, Jr. Hate Crimes and Prevention Act, also known as the Matthew Shepard Act, into law. The law expands the 1969 U.S. federal hate-crime law to include crimes motivated by a victim's actual or perceived sexual orientation, gender identity or disability, and becomes the first federal law to include legal protections for transgender people.
2015: The Supreme Court rules that states are constitutionally required to issue marriage licenses to same-sex couples, legalizing marriage equality in all 50 states.
Daniel Hurewitz has been teaching LGBT history at Hunter College in New York for more than a decade, and he offered advice on a podcast for Queer America about approaches that teachers can take when introducing LGBT history to their students.
"Students haven't necessarily had a classroom discussion about (LGBT issues) before, but it's probably also true that they haven't necessarily had a sophisticated discussion about racism or sexism before, and we still bring up those topics in our classes," Hurewitz said. Teachers need to create an atmosphere "where everybody feels safe, including the most conservative student that thinks homosexuality is a sin against God," Hurewitz said.
Hurewitz suggested that LGBT discussion could be infused into topics already discussed in history class, such as the "bachelor society" of the 1800s Gold Rush, social reformer Jane Addams' lifelong relationship with Mary Rozet Smith, the court-martialing of gay soldiers during World War II or the Civil Rights Movement of the mid-20th century.
"Bayard Rustin became one of the key mentors to Martin Luther King Jr. He taught King about nonviolence, about how to use it, how to make it a practical technique," Hurewitz said. "The reason we don't know about him is because he had relationships with other men.... When a Harlem congressman, Adam Clayton Powell, tried to force King to do what he wanted and King resisted, he twisted his arm by saying that if King didn't do what he was asking, he was going to issue a release or make an announcement that King and Rustin were having an affair.
"Rather than face down Powell, which is what I wish King did, threatened in that way, King fired Rustin. Better to get rid of Rustin than to be labeled gay," Hurewitz said. "That was the power of this homophobic world."
Hurewitz also recommended that teachers include several key events in their history class that pertain directly to the LGBT population, such as the 1969 New York City Stonewall Riot, the anti-homosexual "Lavender Scare" occurring at the same time as the anti-Communist "Red Scare," and the 1980s AIDS epidemic.
"The students that we're teaching are not our generation," Hurewitz said. "We give our students a frame for understanding the world that they're already in."
"The teaching of history has been set a little too straight"
Steans, the Illinois Senate cosponsor of House Bill 246, said the law isn't just about teaching history.
"LGBT youth experience a lot more bullying and harassment in school than non-LGBT youth, and there's also a much higher risk of suicide for that population," Steans said. "National studies have been done that show when you have an inclusive curriculum, LGBT youth in those schools feel a lot less bullied.
"The end goal here is, as people see themselves in history being positive members of society and getting affirmed, they feel more valued at a time when a lot of youth are going through their identity crises," Steans said.
According to GLSEN's 2017 School Climate Survey, Illinois schools were not safe for most LGBT students, 88 percent of whom have heard others use the word "gay" in a negative way, and 80 percent of whom heard homophobic remarks frequently. The survey found that 72 percent of LGBT youth faced verbal harassment based on their sexual orientation, 25 percent were physically harassed due to their sexual orientation, and 12 percent were physically assaulted.
"According to data from GLSEN, only 24 percent of LGBT youth in Illinois will ever hear anything positive in class about someone like them," said Ziri of Equality Illinois. "LGBT youth will see themselves in the history they are taught, and non-LGBT youth will learn that a diverse group of people have contributed toward society."
Equality Illinois issued a statement during the Illinois General Assembly debate over House Bill 246 to urge for its passage.
"The teaching of history has been set a little too straight. LGBT identities have been erased by omission. Now, it is time for our public schools in Illinois to tell the whole story," the statement said.
"This is not morality; these are facts"
The LGBT history law got through the Illinois General Assembly with the bare minimum number of votes needed for passage – 37 to 17 in the Senate and 60 to 42 in the House. Much of the opposition to the bill centered on the law being one more unfunded mandate for school districts.
"Over the past 10 years, more than 125 new school mandates have been signed into law. The majority of these mandates come with no funding or inadequate funding," said Zach Messersmith, director of government relations for the Illinois Association of School Boards, a member organization of the Statewide School Management Alliance, which opposed House Bill 246. "Underfunding of mandates from the state level leads to more pressure on local taxpayers to foot the bill.
"But we believe that our districts will be prepared to implement these changes just as they have complied with new mandates over the years," Messersmith added.
Equality Illinois' Ziri said supporters don't view the law as yet another unfunded mandate.
"Since the late 1980s the Illinois General Assembly has consistently ensured that the Illinois School Code, especially the history provisions, includes the history of traditionally marginalized people in this country," Ziri said. "In the 1990s you had black history added to the school code. More recently, in 2010, the history of people with disabilities, different immigrant communities and their experiences were added."
And what about the criticism that teaching LGBT history amounts to promoting a certain lifestyle, as several groups in opposition to the law claim?
"This is not morality; these are facts," Ziri said. "It's a fact what Jane Addams and Harvey Milk did. It's not pushing morality. We are stating facts and allowing young people to see themselves in history, which is so important."
NOTE: The acronym "LGBT" has been used in this story to describe the lesbian, gay, bisexual and transgender community because that is the acronym used in the text of House Bill 246 which became Public Act 101-0227. Several of the people interviewed for this story, however, used the acronym "LGBTQ" with the "Q" standing for "queer." In order to be consistent, the LGBT acronym was used throughout the story.