Aaron Graves, president of the union representing Springfield School District 186 educators, was arrested Sunday on suspicion of domestic battery.
Details of the incident were not immediately available from Springfield police, who responded to Graves' home on South Park Street shortly before 2 a.m. After being booked by police, Graves was released after posting $300 bond.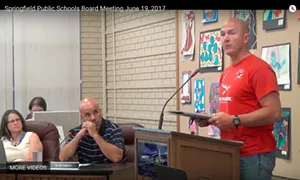 In an interview with
Illinois Times
, Graves said that he was not physically violent with his girlfriend, who lives in the same house. "She was upset with me for various reasons and came in and woke me up, upset," Graves said. "She came in, upset with me, yelling and screaming at me, being physical with me. I wake up from a sleep, I argue back and it comes to the point of her wanting to call police. The police show up. Because of what she says, they take me away."
In a request for temporary order of protection granted Monday, Graves' girlfriend says that the incident began after he went to a bar following a birthday party for the five-year-old daughter that she and he have in common. She says that she found him passed out on a bed at home, and when she woke him up and told him that he hadn't paid his bar tab, he attacked her. "He jumped up and grabbed my neck with force, choking and shoving me around, cussing at me," the woman wrote. She says that her 15-year-old daughter, who was present, took photographs of red marks on her neck and she showed the pictures to
Illinois Times
during an interview.
In her request for an order of protection, the woman also says that Graves was arrested on suspicion of domestic violence in 2018, on Father's Day, after he found her reading through text messages that he had been exchanging with another woman. She says that she was in bed with her daughters when Graves attacked her. "He drug me out of the bed, physically restraining my arms behind my back, knees in my back, to rip the phone out of my hand," the woman wrote. She says that she didn't press charges.
The woman also didn't press charges after an incident she says occurred in January 2018 that required a hospital visit. She says it started after she confronted him with suspicions that he'd been cheating on her. "He pulled my arms behind my back and body slammed me face first into the corner of a foot stool," the woman wrote. "My upper lip split open. Flapping open and blood gushing. I went to the E.R. at Memorial Medical Center and they had to suture my lip back together and refer me to a specialist for lip deformity. My lip is forever scarred and deformed."
In her request for an order of protection and during an interview with
Illinois Times
, the woman said that she declined to press charges after the 2018 incidents because Graves is the nephew of former Sangamon County Circuit Court Judge Leslie Graves and is also friends with Fourth District Appellate Court Judge Peter Cavanagh, and that she was frightened. "I was afraid to press charges so I lied to the hospital nurse and doctors and said I slipped on icy steps and face planted (on) the steps," the woman wrote in her request for a protective order, recounting what she'd said in the emergency room after suffering her lip injury.
During an interview, the woman told
Illinois Times
that she doesn't think Graves is a bad person, and she wouldn't be afraid to let him teach her children. "He is a good teacher," the woman said. "Kids just mesh — they gel — with him." But she said he has a temper issue.
"He's an aggressive person," said the woman, who began dating Graves more than seven years ago. Does she love him? "I used to," the woman answers. "I did love him very much. I don't anymore. ... He's chiseled my soul away over the years."
Before becoming president of the Springfield Education Association, Graves, then a middle school teacher, had been
accused of getting physical with a student
on a bus during a 2016 field trip. He was not charged with a crime.
"They're separate incidents, neither of which I'm necessarily proud that occurred but not necessarily indicative of who I am," Graves said. "I can understand why somebody might be concerned."
Graves said that he believes he can be an effective leader of Springfield teachers despite his arrest.
Contact Bruce Rushton at brushton@illinoistimes.com