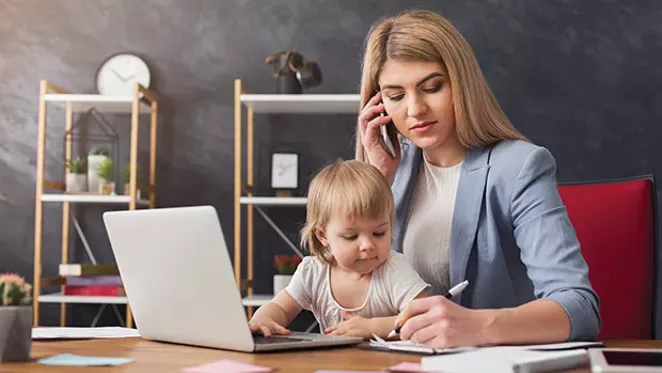 When Molly Lamb returned to her job as deputy director of the Office of Health Protection at the Illinois Department of Health after maternity leave last May, her five-month-old son Jhett was with her. Molly and Jhett were the first participants in IDPH's pilot "Infant at Work" program, which allows eligible mothers, fathers and legal guardians to bring infants under six months old to work.

"Research shows that allowing a parent and infant to remain together in this earliest stage of life supports critical bonding, healthy infant brain development and parental well-being. It also enables exclusive breastfeeding, which improves lifelong health. This program can help alleviate the difficult transition that new parents face in returning to the workplace, said Melaney Arnold, state public information officer at IDPH.
Now a year into the program, IDPH has seen positive outcomes for both parents and the agency. After another year, IDPH will submit a final report to the Department of Central Management Services, which will determine if the "Infant at Work" program is suitable for other state agencies.
"Promoting health and wellness is a pillar of IDPH and we want to lead by example," said IDPH director Nirav D. Shah when the program was launched.
To participate, eligible IDPH parents work with their supervisors to come up with an individualized plan outlining when the child is expected in the office, which can rage anywhere from one day a week to full time. The parent provides emergency contacts, identifies alternative care providers in the office and provides a list of supplies and equipment to bring to their workspace. They also discuss their work objectives and any challenges they foresee with their supervisor, who ultimately signs off on the plan.
The program is designed to be adaptable; for example, a parent who initially decides to bring a child just one day a week may later alter the plan to bring them full time.
"Everyone's done it a little differently, but that's what is excellent about the program – it gives flexibility for the mother and the father to get what they need to be able to be successful," said Lamb.
IDPH has noted several benefits of the "Infant at Work" program for participating parents, including lower daycare costs, increased financial stability, lower stress, easier breastfeeding and the ability for working fathers to be involved with their children. The agency, in turn, has experienced benefits including increased employee loyalty, higher morale and employees returning to work sooner.
As a nursing mother, Lamb especially appreciated the ease of having her son nearby. She also had a huge reduction in the "mom guilt" that is familiar to many working mothers.
"To be able to have my baby with me decreased stress and guilt and enabled me to spend that intimate time with him. I felt incredibly privileged to be able to have that time with him," she said.
Lamb's coworkers took having an infant around in stride. Although there was some initial worry that the presence of a baby would cry too much or otherwise be distracting, in the end, "Having the baby there was kind of a morale booster," she said. "He had a lot of 'office moms.'"
The IDPH's "Infant at Work" program is part of a growing national trend in state agencies. Similar programs have been implemented by the Nevada State Health Department, the Vermont Department of Human Resources, the Arizona Department of Health Services and the Washington State Department of Health.
Infant at work programs exist outside of state agencies, as well. According to the Parenting in the workplace Institute, babies are welcome at hundreds of American workplaces in industries ranging from manufacturing to technology to retail to academia.
Christy Freeman Stark of Springfield brought her son, Luke, to work with her at her gallery, Christy Studios, full time when he was four weeks old. The situation worked well for her, in addition to saving the cost of daycare,
"I could run my business and not worry about what was going on at work while I was stuck at home," she said, "and I could feed him and take care of him and be with him all day and all night. That first year is so crucial and time flies so fast that you want to be there for every moment," she said.
Your humble author can personally rec
ommend the benefits of bringing an infant to work. When I worked at the Springfield Art Association, I brought my son to work with me for the first year of his life. Although it was occasionally a challenge to split my attention between my baby and my work duties, overall, I cherished the privilege of being able to spend that time with my son. I hope it's something that more workplaces will consider implementing.
Erika Holst is the mother of a seven-year-old and an employee of the Illinois State Museum.