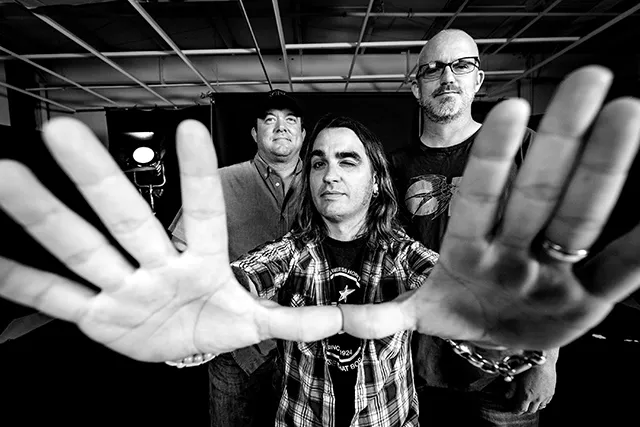 Off we go into October of 2018 with a blast of low-end sounds and high-end musicality, all available for your perusal simply by heading out the door and into a venue hosting live music.

We begin with a memorial tribute on Tuesday evening, Oct. 9, during the award-winning Curve Inn open mic to honor the memory of Alex Borisov Jr., a kind soul, brilliant guitarist and all-around good human being who passed away nearly a year ago, way too soon at age 63. Sam Draper and Kortney Leatherwood, hosts of the Curve's open mic, a spot where Alex regularly played music with his daughter, invite one and all to "join us as we raise a glass and make some music in memory of our friend Alex Borizov."
Next, give it up for our Friends of Sangamon Valley as they present a Friday night fundraiser and celebration for the hard work and dedication of FoSV volunteers and donors. Things kick off with a sunset walk at the extraordinarily beautiful Nipper Wildlife Sanctuary near Loami, continuing with a 7 p.m. concert performance by Ben Bedford just down the road at Sheedy Shores Winery. Come wish Ben a "bon voyage" as he leaves soon for a five-week European tour in support of his latest record, The Hermit's Spyglass, which is attracting a good deal of critical attention here and abroad. Please support this vibrant and vital area organization that protects the environment while saving and sustaining our remaining natural habitats, even recreating lost ones.
On Saturday from 9 a.m. to 5 p.m. Small Deeds Matter hosts a Fall Family Fun Day benefit at Spartan Sports Park in Chatham to raise funds to aid low-income children and young teenagers entering a local music program sponsored by HISO Music. Along with your regular fall fun stuff and team sports activities, expect live music performances by Absolut Chaos and others, hosted by DJ Yinka. Get outside and give a little, if you please.
More giving occurs on Sunday when our local bassists collude to create the ninth annual BassBerg at The Curve Inn from 2 to 7:30 p.m. The bottom-most event features several area bass players and their bands going as low as they can go in a benefit for St. Jude's Children's Research Hospital, including an all-bass rendition of the War hit "Low Rider". Along with being "all about the bass," there's a raffle for two new Yamaha basses (four- and five-string), a silent auction and other donation opportunities, plus tributes to recently departed friends of the four-string instrument. Founded by bassist Bill McKenzie, BassBerg, an all-volunteer operation, has donated more than $10,000 to St. Jude's since its "lowly" beginnings as the bass response to the now defunct Guitar Town and DrumFest events. When they go low, bassists definitely go lower (in the best way imaginable).
In giving the gift of good music, the Red Beard Brigade and our friends at Danenberger Family Vineyards have outdone themselves in presenting a season's worth of First Friday concerts this year. In the final series of 2018, the concerts extend all weekend long, bringing in world-class, upcoming and still-going Red Dirt and Texas-based cool country music. This Friday features our very own Micah Walk opening for The Dirty River Boys from El Paso, Texas. On Saturday comes your Sampson Jones Gang, Dalton Domino and then Cody Canada and The Departed while Sunday delivers Joe Stamm, Kody West and headliners Shane Smith and the Saints.
Keep on the giving side of life when you can and take the music as a gift.