"The sad part is, I never smoked."
Zevernett Holloway had been inhaling the equivalent of 28 cigarettes per day for the past 43 years by simply living in her Springfield home.
"I did not know about radon until I heard about it about five years ago," Holloway said. "Then I met Nick through this program, he came out and tested. I tested very high, and he equated that to being very dangerous."
Nick is Nicholas Benning from Southern Illinois University (SIU) School of Medicine, who is part of a team formed by SIU, Springfield's two hospitals and the Sangamon County Health Department called the Access to Health Collaboration. Benning helps area residents to measure the level of radon gas in their homes and then remediate the gas if necessary.
"You are constantly in that gas, you are living in it, and in Ms. Holloway's case the level was 14 picocuries, well above the state's action limit of four picocuries," said Benning, who noted that a picocurie is the rate of radioactive decay of radon. "For every one picocurie the lung cancer risk equates to smoking about two cigarettes per day. So to test at 14 picocuries is equivalent to smoking 28 cigarettes each day."
Thanks to the Access to Health Collaboration, Benning was able to get a radon remediation system installed free of charge in Holloway's north end Springfield home.
"They installed this system that runs in the dirt part of my basement and there is a system on the outside too," Holloway said. "I just got the results back from the new system and it is now at 0.4 picocuries, which is acceptable."
"I like to keep passing the word on, I have another friend that just had a system put in," Holloway said. "I think the more this gets out by word of mouth, we are going to make our lives safer."
Holloway's story is a small but important outcome of the Community Health Needs Assessment, an in-depth survey and resulting action plan performed every three years by HSHS St. John's Hospital, Springfield Memorial Hospital and the Sangamon County Department of Public Health. The results of the 2021 assessment were released to the public last month.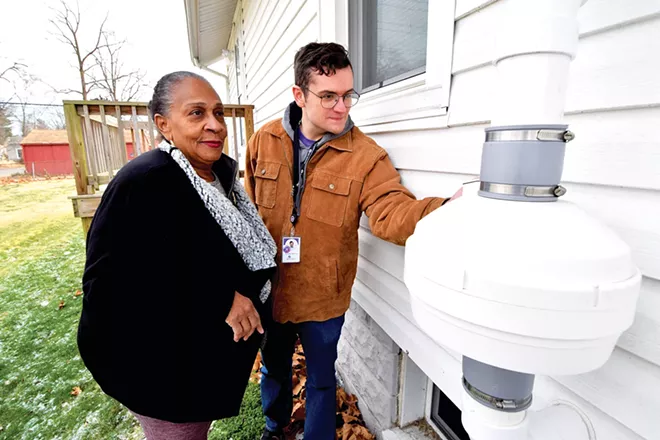 The assessment's findings continue to show that health care encompasses many facets of citizens' lives, and a holistic approach is necessary to improve citizens' overall health. That could mean radon remediation, rent assistance, transportation and a host of other services that people normally don't think of as "health care."
The assessment partners point to significant progress in addressing Sangamon County's health care needs, but admit there's still a long way to go. And the largest hurdle seems to be that health care in all of its forms is not equally available to everyone.
"Racial inequities woven through every one of the health care measures"
"The disparity in household income between Black and white families here is the greatest disparity of any metro area in the whole country," said Becky Gabany, system director of community health for Memorial Health.
Gabany said that Black households in Sangamon County have a $26,000 median household income, whereas the average median household income in the county is $60,000 and for white households it is $65,000. This economic disparity was a recurring theme in all of the focus groups the health care partners conducted for the 2021 assessment.
"One person said 'disparities in economy are disturbing but it's not shocking to us, we are living it every day,'" Gabany said. "We see racial inequities woven through every one of the health care measures we studied. So it's important for us to look internally as well as externally for what we can do to improve the situation."
Kimberly Luz, the division director of community outreach for the HSHS Illinois Division, said the assessment partners deliberately looked at health care through an "equity lens."

"Instead of just addressing high blood pressure or any other chronic condition, we are looking at why certain subsets of the population are impacted more by high blood pressure," Luz said. "We are examining why some people have a better chance at early diagnosis, management, treatment and lifestyle changes for these very manageable chronic conditions."
Gail O'Neill, county public health director, said that educational attainment is also divided along racial lines, which exacerbates the gap between the health care services that are available and the ability of certain people to learn about and access those services.
"We have plenty of health care in our community, so saying 'access' sounds kind of silly when you know there is plenty of health care," O'Neill said. "But some people haven't learned how to use the system, are under-insured, are unaware of the services available or of the risk factors for certain health conditions."
"These things seem simple, like people with diabetes being sent home with insulin, but what if they don't have a refrigerator in which to store it?" O'Neill said. "What if they don't have the basic things to help with their situation? Using the emergency department as a health care provider is not the best way for anybody to manage their illnesses and their risk factors."
"Trying to put food on the table"
All of the assessment partners have long realized that health care isn't limited to patients visiting doctors or hospitals. The 2021 assessment affirmed this holistic approach to health.
"Only 20 percent of your health is determined in health care settings," said Lingling Liu, the community health and equity, diversity and inclusion coordinator for Memorial Health. "The other 80 percent is your physical environment, your job status, education and health habits that all happen outside of the health care environment."
For those on the lower end of the economic spectrum, health care often takes a back seat to basic daily survival needs.
"It's very hard to be focusing on healthy eating or mental health when you're trying to put food on the table," said Memorial's Gabany. "It's very hard to prioritize cooking a certain meal if you don't have a working kitchen.
"We have to change our thinking and recognize that health care isn't always provided within the walls of our hospitals," Gabany said. "We really have to understand what people's environment is at home and work, what kind of stressors are they under, what kind of resources do they have available."
Luz, of HSHS, agreed.
"When we diagnose somebody with an issue and we put them on a treatment plan, we need to consider whether they have transportation to get the prescription we are putting them on, do they have the money or insurance to purchase that prescription," Luz said. "They might be a single parent working three jobs to provide for their family, or their lifestyle might not allow them to take this medication on a timely basis."
The Access to Health Collaboration, the group that got the radon remediation system installed in Zevernett Holloway's home, was formed to knock down as many of those holistic health barriers as possible. The collaboration sends community health care workers into underserved neighborhoods to assist residents with a host of health-related issues. Erica Austin is the deputy director of SIU School of Medicine's Office of Community Care and is the co-coordinator of the Access to Health Collaboration.
"Our community health care workers help our clients find primary care physicians, help them to alleviate burdens by locating different social agencies in our community who can help them with other needs they may have," Austin said. "We help find rent assistance, help to remediate radon, perform pest control, remediate mold. Our job is to help them be independent in their health but also to help guide them to reach that.
"Health is wealth. A lot of times people put their actual health needs on the back burner, not realizing that all of this ties together," Austin said. "If you are in a house that has radon or mold, that's detrimental to your health. If you can't pay your rent, that undermines your mental health. Health goes far beyond just going to a doctor."
"If there's a need and we're not aware of it, shame on us"
The assessment partners point to continued progress that has been made toward holistic health and narrowing the disparity gap since the previous Community Health Needs Assessment three years ago.
"I think health care providers are learning what we have known for years in the health department, trying to take the services to where people are and try to develop trust," said O'Neill, public health director. "If there's a need and we're not aware of it, shame on us, but every person's opinion and thoughts can help us go in the right direction."
Luz, from HSHS, pointed to the expanded Access to Health Collaboration through SIU School of Medicine that has helped the residents of Enos Park and Pillsbury Mills neighborhoods in Springfield. Other initiatives that were formed or expanded by the assessment partners based on the triennial health assessment include homeless services, child welfare services, mental health responder teams, human trafficking protocols, maternal and infant health initiatives, substance use and case management.
"I'd like to show people that this is what we've done over the last six years to address some of these issues," Luz said. "These are the successes that we have had, and this is the platform that we are going to move forward from. But to really move the dial on health care, it takes time."
Memorial's Liu said individual citizens can join the effort to improve health across the board.
"Really be a strong advocate within your own circle when it comes to equitable access to health care, and de-stigmatizing some of the health issues that might be taboo topics for certain populations," Liu said. "Be outspoken, educate yourself on those issues, and influence your own circle so we get to a place where where mental health, HIV-AIDS and other things are no longer stigmatized."
One of those issues that traditionally has borne a stigma is homelessness. For several years the two local hospitals and the health department have actively participated in the Heartland Continuum of Care to address the unique health issues facing the homeless population.
The Continuum of Care began a strategic planning process last fall that coordinator Josh Sabo said has a lofty goal.
"We want to reach a consensus about how we can actively work together to get to a place where we can end homelessness in our community," Sabo said. "There are 13 communities across the country, including Rockford, Illinois, that have reached that functional zero mark and that's what we are after.
"The experience of homelessness decreases life expectancy and touches so many aspects of peoples' lives," Sabo said. "We've had agencies doing great work but they are all under-resourced. Our goal is to bring the data and best practices to the table and demonstrate that people in our community can measurably improve the care of people over the next five years."
"There really is a distrust issue"
Despite the evidence that the Community Health Needs Assessment has caused incremental but important changes to area health care, residents remain skeptical.
"We were hearing that people really didn't want another survey," Memorial's Gabany said. "Overall, there was quite a bit of lack of trust and folks really expressing that they need to see action. One of the quotes was, 'This is not new, so why do we only keep talking about it?'"
Luz, from HSHS, said the COVID-19 pandemic "has given us a better opportunity to observe that there really is a distrust issue, but those of us in the health care profession see this constantly.
"Often people who are working in higher positions in health care don't always make that connection between community and distrust," Luz said. "So the pandemic is bringing to light what people distrust, why they distrust, and how that is different by population."
Luz said that trust begins at the grassroots level, which is why all of the assessment partners have tried to identify community leaders within certain ethnic and religious populations to carry the health care message forward.
But O'Neill, director of public health, admitted that trust has to be earned, and the misinformation surrounding the pandemic hasn't helped the cause.
"People are a lot more educated and have access to a lot of information quickly, but whether it is correct information or not is one thing," O'Neill said. "Overall, the trust factor is something we really have to work on.
"COVID pulled us together and we learned a lot about how people get information, how important it is to have people answering the phones and answering questions," O'Neill said. "As a society I think we want things black and white and when things change, we are not used to that."
The Sangamon County Community Health Needs Assessment
Since 2015, HSHS St. John's Hospital, Springfield Memorial Hospital and the Sangamon County Department of Public Health have collaborated on the Community Health Needs Assessment.
Nonprofit hospitals must complete an assessment every three years as mandated through the Affordable Care Act. Every five years, county health departments must complete the Illinois Planning for Local Assessment of Need as mandated by the Illinois Department of Public Health.
The HSHS St. John's version of the assessment can be found at: https://www.hshs.org/StJohns/About-Us/Community-Health-Needs-Assessment.
Visit 2021-CHNA-Report-Sangamon-County-SMH.pdf (memorial.health) to view the Springfield Memorial Hospital version of the assessment.
Freelance writer David Blanchette is a frequent contributor to Illinois Times and always likes to explore new topics and issues. He resides in Petersburg.