Though predictable, Otto a timely tonic
Films like Marc Forster's A Man Called Otto are the kinds of movies people tend to dismiss out of hand. It wears its heart on its sleeve, it paints its moral in broad strokes, and there's a predictability to it cynics will scoff at. Tom Hanks takes on the title role, a bitter widower who's yet to get over the death of his wife, a man with too much time and anger on his hands. Watching over the cul-du-sac where he lives like a hawk, he berates his neighbors if their garbage can lids aren't on firmly and harangues any errant driver who has the temerity to disobey the community's rules of the road. He's content to wallow in his misery.
This is all disrupted when a lively family moves in across the street, initially drawing Otto's ire over the father, Tommy's (Maunual Garcia-Rulfo), inability to parallel park. The old man doesn't realize that he doesn't stand a chance in the face of Marisol (Mariana Trevino), a force of nature who thrives on adversity and exudes optimism. She recognizes the hurt Otto carries and combats it with the tenaciousness of a bulldog, one kind gesture and one delivered meal at a time.
Do I have to tell you that Otto becomes enamored with Tommy and Marisol's daughters, Luna (Christiana Montoya) and Abbie (Alessandra Perez)? Or that he reconciles with an old friend he had a falling out with? I'm sure you won't be surprised when he has to rally his neighbors to fight a rather rickety plot device involving a shady eviction. No, Otto contains no surprises, and I'm fine with that. Films like this are necessary, and I would argue vital, to combat the constant barrage of overwhelming negativity that buffets us. So instead of disparaging stories like this sight unseen, take a chance and take some comfort in the messages they contain. I promise, it won't hurt a bit. In theaters.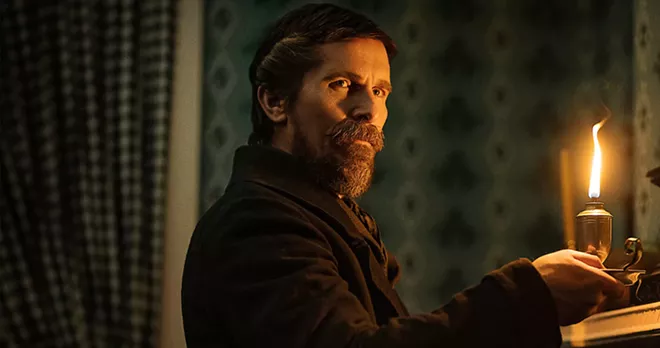 Eye slowly comes into focus
Scott Cooper's The Pale Blue Eye sports an intriguing premise and an absorbing mystery. Based on the novel by Louis Bayard, the time is 1830, the location is the West Point Military Academy and the murder victim found on the grounds is cadet LeRoy Fry. Desperate to catch the killer before he strikes again, the powers-that-be recruit Augustus Landor (Christian Bale), a widowed, retired police detective to crack the case. Unfortunately, his outsider status prevents him uncovering key bits of information, so he recruits one of the cadets to investigate his peers, one Edgar Allan Poe (Harry Melling).
The mystery is captivating from beginning to end, its twists and turns logical and surprising, the denouement clever and haunting. Bale, as always, is exceptional, while Melling could build a career around portraying Poe. Adding an intriguing layer to the film are the allusions to Poe's later works. Credited with inventing the mystery story, it's logical the events portrayed here would act as the impetus to do this. It's no accident the detective he creates in The Murders in the Rue Morgue, C. Auguste Dupin, shares the same name as Bale's character. His relationship with the doomed Lea Marquis (Lucy Boynton) refers to the tragic heroines in his story. In the end, Eye proves to be not simply a captivating mystery but a rewarding exercise for those familiar with Poe's works and inspirations. Streaming on Netflix.
Wry M3GAN an effective, cautionary tale
Yes, technology run amuck has become a bit of a tired sci-fi trope, but in Gerard Johnstone's M3GAN, the focus is on bad parenting, putting the generation that's become far too dependent on technology to raise their offspring under the microscope. Orphaned Cady (Violet McGraw) finds herself under the care of her workaholic Aunt Gemma (Allison Williams) who uses an android she's invented, dubbed M3GAN (Model 3 Generative Android), as her caregiver. Of course, this too-good-to-be-true scenario cannot last, and before you know it, the 'droid starts taking her commands of protecting Cady a bit too literally. Bullying, verbally and physically, or any other sort of abusive behavior towards her is not recommended, unless you want to end up on a cold slab in the morgue.
There's a lock-step nature to Akela Cooper's script, but the humor teased out of it separates it from other genre entries. Still, there's enough intelligence at play so the director doesn't have to lean too hard on the physical gags or ironic jokes. As M3GAN gains awareness, the logic Cooper employs so her horrific character can have the upper hand is quite clever. The film doesn't insult our intelligence, while a third-act surprise doesn't come off as manipulative, it being wisely and quickly set up early on. As much fun as the film is, its message is spot-on and couldn't be timelier. M3GAN effectively reminds us the price for this sort of techno-driven self-alienation is far too great to be ignored. In theaters.