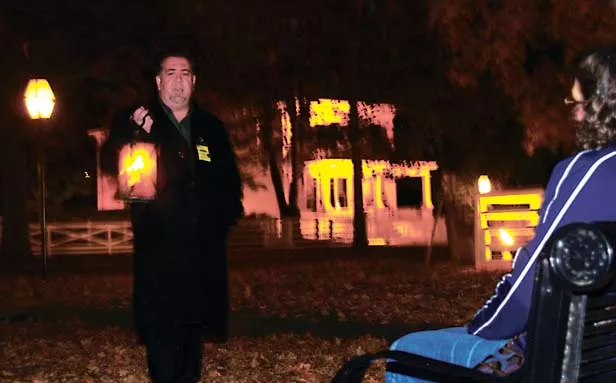 No one currently working in the Lincoln-Herndon Law Office smokes a pipe. So, what could possibly explain the aroma of pipe tobacco that employees at the historic site claim to notice from time to time? Is the aroma embedded in the walls and woodwork? Or is it the ghost of Abraham Lincoln's long deceased law partner, lighting up in the spirit world?

Garret Moffett, proprietor of Springfield Walks Tour and Guide Services, asks these questions and many more on the highly successful Lincoln's Ghost Walk: Legends and Lore. The ghost walk, which leads visitors on an evening walk from the Old State Capitol to the Great Western Railroad Station, with a few stops in between, explores the professional and social life of Abraham and Mary Todd Lincoln with a special emphasis on the Lincolns' interest in spiritualism, a particularly popular pastime in mid-19th century America.

As Moffett, dressed in the style of Lincoln's Danville law partner and self-appointed bodyguard Ward Hill Lamon, leads the tour to its final destination, the stories become ever more ghostly, until finally the coincidental passing of a freight train at the Great Western Railroad Station underscores the tale of a funereal ghost train riding the rails from Washington, D.C. to Springfield, where Lincoln is buried. Or is he? After all, questions about Lincoln's burial and tales of ghostly sightings persisted well into the 20th century. On Lincoln's Ghost Walk, you'll learn the lore surrounding Lincoln's burial at Oak Ridge Cemetery. In the end, you must decide where you believe Lincoln is buried.

Are the spirits of a friendly hostess or a young boy still able to converse with us in this world? For those hardy souls who would rather meet ghosts in person, so to speak, Springfield Walks offers the Haunted Springfield Tour. Stepping off at St. Paul's Cathedral, the tour allows participants to enter sites and participate in their own "investigations" into the paranormal world of ghost hunting. Although sites vary from one tour to another, several of the sites on a recent tour are part of what is called a "triangle" of locations that seem to attract a particularly high level of ghost activity.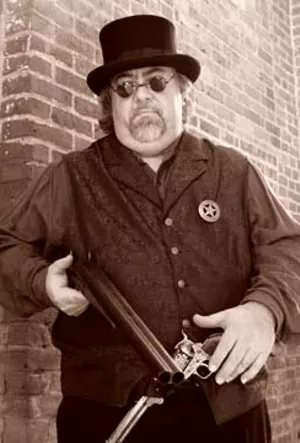 Melissa Herbert, a veteran of ghost walks in New Orleans, took the Springfield walk on a recent Saturday night. Herbert says she appreciated the fact that her tour guide, Monica, made it clear that participants didn't have to believe in ghosts to enjoy the history of the sites. However, Herbert also enjoyed having an opportunity to communicate with the spirit world. "I've never been on a ghost walk where you could go off on your own to get a feel for what you thought," she says. "Other ghost tours focus on the historical experience rather than the personal experience."
Especially popular in September and October, the Haunted Springfield Tour is a fun way to prepare for Halloween. But if you're skittish, you may start jumping at things that go bump in the night. Bring a friend to hold your hand and leave children under 10 at home.
If ghost walking is just not your cup of tea and you're looking for some good, clean fun, you may want to consider the Hidden Lincoln tour. Developed by Moffett and Erika Holst, curator of collections for the Springfield Art Association, this 90-minute tour explores the day-to-day habits of one A. Lincoln and is appropriate for all ages.
Springfield Walks tour guides are engaging storytellers focusing on the unusual and sometimes quirky side of Springfield history. It has been a winning combination since 2004, when Moffett led the first Lincoln's Ghost Walk. The tour, with a script written by Moffett and submitted for discussion and approval to local representatives of the Springfield Convention and Visitor's Bureau, the Abraham Lincoln Presidential Museum and the National Park Service, brought a new kind of tourist attraction to the Springfield area.
Building on the increasing popularity of tours mixing historic fact with ghostly lore, Springfield Walks also offers The Haunted Dead Walk featuring Springfield ghost stories beyond the Lincoln lore. For those who are more interested in real world events, the Wicked Springfield tour focuses on the sordid history of crime and politics in the capital city.
In addition to constantly assuring that his tours are both historically accurate and hauntingly appealing, Moffett makes the most of his love for history by writing. His latest book, Haunted Springfield, will be available soon from History Press. Moffett is also working to develop bus tours from Springfield to other haunted sites.
To learn more about current and upcoming tours, visit the Springfield Walks website at
www.springfieldwalks.com
or call 217-502-8687.
Contact Grace at writtenbygrace@yahoo.com.