Visitors from around the globe pop into the 66 Memories shop in Atlanta, Illinois, to catch some kitsch associated with the mother of all roads. You can join them with just a 50-mile drive up I-55 and satisfy your nostalgia need too.

The combination souvenir store and museum boasts a hand-painted wooden sign documenting travelers from Europe, Asia, South America, Africa, New Zealand, Canada and almost every state in the union. The sign is a testament to Route 66's worldwide draw and Atlanta's efforts to capitalize on it.
"We've found there's lot of nostalgia" about the highway, says Susan Hoblit, a lifelong Atlanta resident who grew up along Route 66. "It's just fun." Last year, 55 tour buses stopped in the small town, along with numerous motorcycle groups and car clubs.
The town of 1,600 residents sits midway between Chicago and St. Louis on Illinois' portion of the storied road. Civic leaders acquired a 19-foot, hot dog-holding Paul Bunyan statue that used to call hungry travelers to a diner in Cicero. The town also supported the 2009 reopening of the historic Palms Grill Cafe.
Desserts and fountain treats are popular at the cafe, a former bus stop decorated to look like diners in the 1950s. You can order blue plate specials, sandwiches, handmade milkshakes, pies and sundaes and drink coffee in sturdy mugs. You might hear multiple languages at surrounding tables, listen to music from bygone days and gab with the waitresses wearing old-style uniforms and white tiara-style caps.
Hoblit says recently she noticed a lone bicyclist leaving the Grill with a to-go package and asked him about it. The man had flown to Chicago from England and was biking Route 66 to California. He had seen the Grill's advertisement for pie and had to stop.
While the cafe remains the destination for thousands of Route 66 aficionados, other Atlanta treats are waiting.
Several buildings host outside murals depicting life in the earlier days of Route 66. A corner park displays town landmarks and a few highway souvenirs.
Nearby are a clock tower and the Atlanta Public Library, built in 1908 as the state's only octagon-shaped public library. It is on the National Registry of Historic Places and features wooden trim and shelves, overstuffed armchairs and a children's room. Volunteers hand wind the clock in the tower weekly.
Down the street is the wooden J.H. Hawes Grain Elevator, also on the National Registry. Farmers used it from 1903 to 1976, after which it was abandoned until 1988, when the town bought it. Several businesses supported the restoration, and visitors can see some early innovations in the elevator, including a vertical bucket conveyor system powered by a gasoline engine.
The elevator usually is open for tours only on Sunday afternoons in June, July and August, but visitors can call 309-830-8306 to arrange a free tour or simply walk around the grounds.
More of the town's history is at the Atlanta Museum on Arch Street, where you can view photos, public records, historic documents and memorabilia. Upstairs is a new visitors' center.
You also can access the Route 66 Arcade Museum through the history museum. The room is filled with vintage pinball and video games. Bring plenty of quarters so you can "Misspend Your Youth One Quarter at a Time," as the museum's slogan says.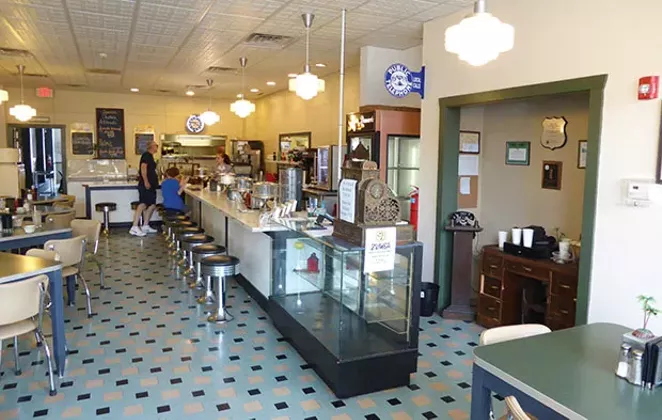 Save some coins for the shops on the main drag, including the Arch Street Artisans Shop, the Gunnar Mast Trading Post and the 66 Memories Museum. Arch Street offers work from local artisans, and Gunnar has collectibles, books, photos and other nostalgic items.

The 66 Memories Museum houses the private collection of a local resident, who has gathered a 1964 Rolls Royce, a wooden cigar store statue and that sign reminding you Route 66 is a worldwide attraction.

For more information on Atlanta, call the Logan County economic development office at 217-648-5077. (The town's website is not always current.) Call 217-648-2112 for hours and activities at the Atlanta Library. The Palms Grill Cafe's number is 217-648-2233; the Cafe also maintains a Facebook page.

Mary Bohlen is a Springfield-based freelance writer and retired journalism professor from the University of Illinois Springfield. She first wrote about Atlanta in 2016 and still enjoys visiting there.