About an hour and a half south of Springfield, meandering down highway 127 to where it intersects Interstate 70, is the town of Greenville. According to the town fathers it has been hailed as "a Norman Rockwell town," or "a town for all seasons." With the picturesque square featuring the Bond County Courthouse, a Civil War statute and murals outside the old-fashioned buildings, just driving around town is a fun thing to do.

If you come to town on Saturday afternoon, there are several great treats awaiting a family out to enjoy an afternoon getaway. While downtown, the first stop you'll want to make is the quirky and fun DeMoulin Museum. The museum is advertised as "featuring lodge initiation paraphernalia and regalia, band uniforms, lodge and church furniture, and vintage photos and other artifacts."

The museum reflects the rich and diverse history of Demoulin Bros. and Co., headquartered in Greenville, which today is the nation's leading manufacturer of marching band uniforms and color guard uniforms. Founded in 1892, the company initially manufactured lodge furniture and fraternal regalia. Then it made military uniforms for World War I and World War II. In the early 1900s it started making uniforms for town bands and for high schools and colleges across the country. In addition, DeMoulin made graduation caps and gowns until the early 1980s. Today's products, in addition to band uniforms, include public safety uniforms for law enforcement, fire departments and transit works. The company, which also has a plant in Centralia, employs about 250 people.

John Goldsmith, the founder of the DeMoulin Museum, followed a dream initiated by his mother, Norma, who was an employee of DeMoulin's for 50 years. "Mom had adopted this as her hobby," he said.

In 2005, Goldsmith published a book titled Three Frenchmen and a Goat which, as you can guess, was all about the DeMoulin Bros. and Co. After the book, the museum was the next step to share the story of this amazing trio of brothers and the products they offered in the Greenville area. With 99 percent of the items coming from Norma Goldsmith's collection, this was truly a family affair. The museum just opened this past March and already has had more than 600 visitors.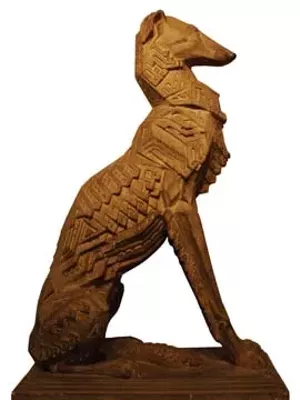 Amy Dreweil, a senior at Millikin University in Decatur and a history major, works at the museum on the weekends. This young historian said that the bucking goat and collapsible chairs are two of the items the DeMoulin Brothers were known for. "This was the brainchild of William Northcott, a former lieutenant governor of Illinois."
John Goldsmith and Amy Dreweil explained that Northcott became active in the Modern Woodmen of America Lodge and was interested in coming up with an entertaining way to add members. Knowing that Edmund "Ed" DeMoulin was a talented inventor, Northcott asked him to create some initiation gags to boost that group's membership. This was the beginning of what would become a major business. All three DeMoulin brothers were educated in the family blacksmith business but it was Ed DeMoulin who originally had moved to Greenville and opened a photography studio. Brother Ulysses was the business mind of the three DeMoulin brothers and together their talents combined to create a wide array of wonderful items that can be seen in this fun museum. "The initiation paraphernalia first started in 1896 and took off until around 1930," Goldsmith said. A master blacksmith named Erastus made the factory's first lodge goats at the family blacksmith shop in Sebastopol and then transported them 20 miles by wagon to Greenville.
The museum offers postcards of some of the prank items, which include an Invisible Paddle Machine, a Ferris Wheel Coaster Goat, a Trick Chair, a Lung Machine and much more. Goldsmith explained how some of these items worked: "The Trick Chair would collapse on the floor when a candidate would sit down and a wire was pulled in the back. The Traitors Judgment Stand was a platform that would collapse and fire a cartridge when someone stood on it."
One of the quirkiest of the prank items is a guillotine accompanied by a mannequin in an executioner uniform and wig made by the company. Goldsmith said that it had originally gone to a lodge in St. Louis who sent it back because it was too scary. While adults all react the same way, he said that children get a kick out of it and look at it through different eyes.
The factory also made church furniture and the museum has a sample of the latest band uniform made in the still-active factory. "Diversity kept them alive," Goldsmith added.
A new book is due out soon about the DeMoulin Brothers and famed illusionist David Copperfield penned the entry. Out of the array of items in the museum, John Goldsmith said his personal favorite is of a bowling shirt for youngsters that were on the DeMoulin bowling team. "It is that personal connection," he shared. "This museum is a story about people. It is a people-driven story about the founders and employees."
Located at 110 W. Main Greenville, the museum is open Friday 1-3, Saturday 10-2 and Sunday, 2-4. Call 618-664-4115 to schedule a tour or for questions.
Contact Cindy Ladage at
cindy.ladage@royell.org
.
More museums in Greenville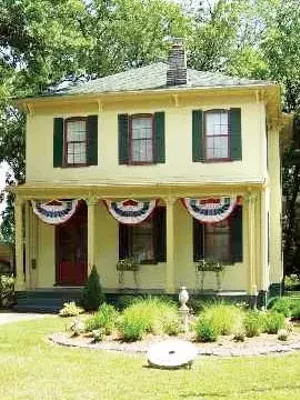 Also in downtown Greenville is the Hoiles-Davis Museum, established by the Bond County Historical Society. The museum houses a large collection of Civil War memorabilia, World War I bond posters, domestic arts and Indian artifacts. It is located at 318 W. Winter Ave., Greenville, 62246. Call 618-664-1590 for hours and information.

At Greenville College, there is also the Richard Bock Museum which is dedicated to Richard Bock, a famous sculptor who crafted a number of significant works in the Chicago area. The museum boasts a collection of more than 300 bronze and plaster sculptures, as well as a number of personal letters. Photographs of the sculptor's projects are also on display. Located at Greenville College Campus, Greenville. Call 618-664-6724 for details.

Outside of town at the American Heritage Museum at I-70 and Rt. 127 at the 45-mile marker, is a huge site where tractor shows and other events take place to educate the public about how farmers once worked their farms and managed their homes. During the shows many activities are ongoing, but in the off season the newly opened Li'l Red Barn Museum is open Saturdays 9 a.m. to 3 p.m. May through October. Inside the museum there is a feed store, tool store and many more items that kids large or small can enjoy! At times farm machinery is also available. For more information about the Li'l Red Barn Museum or to set up a tour, contact Michele McEvers at 618-488-0590.

Upcoming events include the Family Fall Festival which will be Saturday, Oct. 9 and the Christmas Light Display will be in December.

For a listing of hotels, antique stores and more of what Greenville has to offer, call the Greenville Chamber of Commerce at 618-664-9272.

–Cindy Ladage