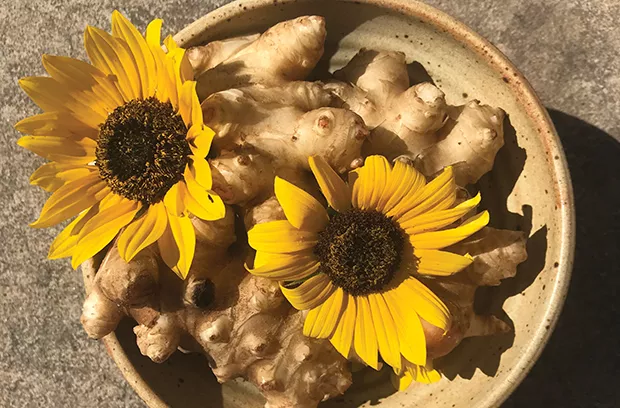 I was 17 years old in 1970 when Joni Mitchell released her album Ladies of the Canyon. I've always found her music to be very impactful, and her early recordings are among my favorites. A line from the album's track "Big Yellow Taxi" has always stayed with me: "Don't it always seem to go that you don't know what you've got till it's gone."

This lyric has been running through my head these days while working at Nonesuch Restaurant. Nonesuch's concept and mission has been to cook solely with Oklahoma ingredients. It always feels a bit like Christmas morning when the deliveries of local produce come in through the back door. Earlier in the season local farmers and foragers brought in baskets of wild elderberries for us to pickle. More recently bushels of fallen blemished apples were being brought in to be fermented into cider vinegar. This week, after an early hard freeze ruined much of the hot weather vegetable crops, bushels of hardy sunchokes are being delivered. The menu is constantly changing based on what's currently available.

My old house in Springfield was surrounded by all these things. There was a large stand of elderberries not far from my back door. The ground beneath the old apple trees left over from the Spaulding Orchard days would be covered with fallen spotted apples. We had a planting of sunchokes that kept getting thicker each year. But I never appreciated all these riches, and I never thought of doing anything with them. Now as an apartment dweller, and seeing how these ingredients are coveted by my fellow chefs in Oklahoma, I am really missing all these things. Knowing what I know now, I would be cooking and preserving all that backyard bounty that was formerly unappreciated and wasted.

Working with the bumper crop of sunchokes coming in through the back door of Nonesuch has taught me many things. Sunchokes are a species of sunflower native to central North America. In the late summer the sunchoke plant produces beautiful yellow flowers atop 12-foot stalks. Below the ground, it produces edible tubers that resemble ginger. The tubers are crisp and crunchy when raw and have a slightly nutty taste. When cooked, sunchokes have a texture that resembles a fingerling potato, but slightly sweeter. Peak season is from late fall through early spring. Sunchokes were once a food source for Native Americans. Early European colonists sent its tubers back to Europe where sunchokes became a popular crop. Sunchokes gradually lost popularity in America and fell into relative obscurity only to re-emerge as a food source in American supermarkets in the 1960s.

Because sunchokes are low in calories and high in fiber, they are becoming popular as a low-carb substitute for potatoes. However, there is one unique characteristic that gives this prolific root vegetable a shady reputation and the nickname "fartichoke." According to Chef René Redzepi of the renowned Noma restaurant in Copenhagen, sunchokes contain inulin, a carbohydrate that can cause gas and bloating, especially when eaten raw.

Inulin is an unusual type of carbohydrate that has recently become a trendy prebiotic supplement for gut health. Plants containing inulin are naturally sweet and satisfying, but without help from the bacteria in our gut, inulin would be indigestible. When enough inulin reaches the lower part of the intestinal tract, gut bacteria breaks it down and produces methane gas, causing flatulence. However, inulin becomes problematic only if you consume a large amount of it. Studies have shown that if you consume small amounts of inulin-containing sunchokes, these gaseous effects won't occur. Furthermore, consumption of small amounts of inulin on a regular basis will cause the gut microbiota to adapt – the proportion of beneficial bacteria will grow, while the gas-producing bacteria diminish – and after a while you will be able to eat sunchokes without discomfort.

Sunchoke Soup
Serves 4
Brown butter brings out the earthy, nutty flavor of the sunchoke

Ingredients:
-1/4 pound bacon, cut into 1/2-inch pieces
-2 lbs sunchokes
-Juice of 1 lemon
-6 tablespoons unsalted butter
-1 large leek, white and pale green parts only, split in half, washed and sliced into half-inch pieces
-2 large shallots, thinly sliced
-2 medium cloves garlic, thinly sliced
-1/4 cup finely chopped fresh sage leaves
-6 cups low-sodium homemade or store-bought chicken broth
-2 bay leaves
-Salt and pepper
-Sherry or white wine vinegar

Preparation:
-Cook bacon in a large skillet over medium-high heat, stirring occasionally, until brown and crisp, about 10 minutes. Drain bacon on a paper towel and set aside. Reserve the bacon fat.
-Prepare an ice bath. Add the juice of 1 lemon.
-Scrub the sunchokes. Slice them thinly and store in the acidulated ice bath to prevent any discoloration or browning.
-Melt butter in a large Dutch oven over medium-high heat, swirling constantly until it is a deep brown and has a nutty aroma, about 1 1/2 minutes.
-Add sunchokes and stir. Cook, stirring occasionally until sunchokes are well-browned, about 10 minutes.
-Add leeks and shallots and continue to cook, stirring occasionally, until softened, about 5 minutes longer.
-Add garlic and sage and cook, stirring constantly until fragrant, about 1 minute.
-Add chicken stock and bay leaves. Bring to a boil, reduce to a simmer and cook until sunchokes are tender, about 10 minutes. Discard bay leaves.
-Carefully ladle small quantities at a time into the blender and purée the soup until smooth and velvety.
-Season with salt and pepper
-Whisk in vinegar, a little at a time until desired flavor is reached.
-Serve hot soup in bowls, garnished with bacon and drizzled with bacon fat.