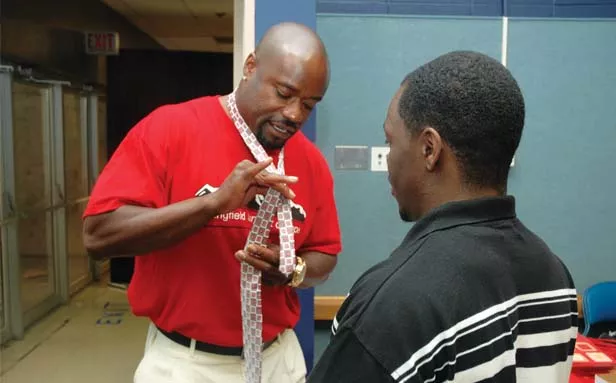 A statewide effort to help restore offenders on probation back to society has come to Springfield through efforts by the Fifth Street Renaissance, Springfield Urban League and Tower of Refuge, Inc.

The first "Summit of Hope" in Springfield invited more than 600 individuals on probation at the state and county level, and from Department of Corrections, to the Prairie Capital Convention Center for an all-day outreach event June 28. For some, like Vicki Robinson, who is on state probation, it is the first time she has not felt judged for her past mistakes. "I'm not just a number," she says. "I am Vicki." Robinson has served time in state and federal prison and has been out on parole since 2007. She currently has a job, she says, but she wants a better one. Volunteers helped her prepare for a job interview. "Now I know what I need," she says.

"They're fighting stigma," says Ann Locke, director of health initiatives at the Springfield Urban League. Without the gathering of resources, Locke says most past offenders wouldn't have access to identification or interviewing skills, both keys to finding a job after their release. Volunteers from local churches, health clinics and other social service agencies staffed tables and welcomed visitors for everything from interviewing skills to testing for HIV.

Dr. Izu Nwafo, an internal medical physician, drove from Oak Park to perform physicals at the summit. He says he was doing everything he could for those who stopped by his table. "Some of them haven't seen a doctor in a while," says Nwafo. Volunteers like Pastor Bill Grafton of Lutheran Memorial Church guided individuals and their families between booths. Grafton was Robinson's guide. "I thought it was very helpful," he says, adding that churches should do more to show compassion to offenders.

Summit of Hope events have helped pair offenders with social services in Marion, Peoria and Quincy, and there are plans for an event in Chicago.

Tears flow freely as Hastine Hughes pauses to remember her release from the Illinois Department of Corrections nearly six years ago. As a volunteer at "Summit of Hope," she says she understands what it means to feel hopeless. She reassured offenders who attended the all-day event that there is still hope.

"When I was released from Department of Corrections, they didn't have this kind of stuff," says Hughes. The Springfield resident had lost her four children and the support of her family after being homeless and addicted to drugs and alcohol. When she was released from DOC in 2005, and after a short relapse, she entered treatment. During the 125-day treatment, Penny Harris, coordinator for the Fifth Street Renaissance, helped her find a job and an apartment.

"Penny gave me the keys to my apartment but they also gave me the keys to live without a drink or drugs," says Hughes.

After graduating from the Fifth Street Renaissance program, Hughes was approached by the program's director, Penny Harris, to take a job at the Cook Street store.

"I didn't think I was worth anything," she says. Now, at age 60, Hughes is working toward finishing her high school diploma and plans to attend Lincoln Land Community College sometime next year. She wants to be a substance abuse counselor so she can repay the help she has been given.

"It's never too late, no matter how old you are, no matter how long it takes," she says. "My life is beautiful. I have my family back and I have me back."

"Without any services, without any help, without any support, what are you going to do?" says Paul Carlson, District 5 parole supervisor. "You're going to go out and commit more crimes. What we're doing here is letting them know that the community does support them, that we want them to be a success."

Contact Holly Dillemuth at hdillemuth@illinoistimes.com.