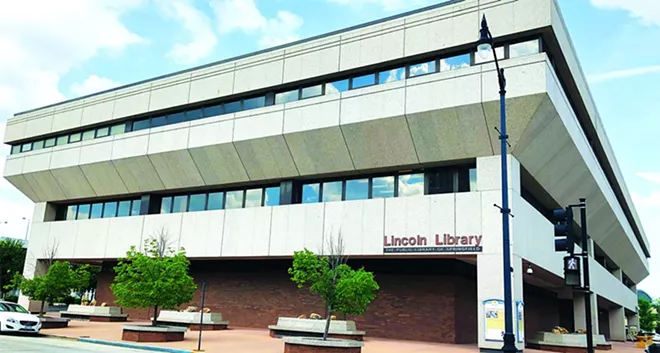 According to a study by Scholastic, summer reading is critical for helping kids maintain learning while school is out, foster social-emotional development, discover the joys of stories and elevate the importance of lifelong learning. Reading helps open doors to new experiences and perspectives, improves overall literacy, lowers stress and is a free or low-cost form of entertainment for both children and their parents. Check out the following Springfield-area and virtual programs designed to keep you and your children reading all summer long.
The Abraham Lincoln Presidential Library and Museum
Inspired by Abe Lincoln's love of a good book the Abraham Lincoln Presidential Library and Museum offers a summer Reading Club. The Reading Club is geared toward students ages 8-12, but all ages are welcome. Books are already selected. Information about titles and club meeting dates and times can be found on the ALPLM website.
Springfield's Lincoln Library
Beginning in June and lasting until the end of July, Lincoln Library is offering reading programming for children and adults to help you "read beyond the beaten path." Programs are designed for all age groups, including preschool, elementary, teen and adult, and include events, incentives and prizes throughout the summer. Simply create an account on the reading website Beanstack and track your minutes spent reading or titles completed. Reaching various Beanstack goals equals small prizes for kids and virtual badges for adults. Community events sponsored by Lincoln Library include Family Story Time on Lincoln's Lawn every Thursday evening, Movie Mondays at the library to take a break from the heat and various Take & Make crafts throughout June and July. See the Lincoln Library's calendar of events for more details.
Chatham Area Public Library
Similar to Lincoln Library, the Chatham Public Library also encourages readers of all ages to track their reading on the Beanstack website throughout June and July. Prizes and raffle tickets for gift cards are just some of the incentives offered for busy readers. The Chatham Public Library will also offer BookCamp this summer for children 4 years old to fourth grade. BookCamp sessions are for three days and last between 60 and 90 minutes, featuring age-appropriate games, crafts and reading activities focused around a camping theme. In addition to BookCamp, the Chatham Library will have several summer reading events to get your children excited about library trips, the first being a Butterfly Encounter on Thursday, June 9.
Rochester Public Library
The summer reading program at Rochester Public Library is digital and kicks off on June 2. Readers download the READsquared app from their favorite app store to record their summer reading, missions, events and more. They can also log their reading onto a desktop computer via the library website. Weekly incentives and prizes are available for ages Pre-K through adults. The library also has regular story times for different groups from infants through 5-year-olds and a teen book-to-movie group. Sumer recreation includes Pet Doctor for a Day, table tennis and archery.
Sherman Public Library
The Sherman Public Library has no shortage of kid-friendly activities for the summer, including live amphibian and animal shows, a butterfly encounter, sand art and tie dye projects, a foam cannon, juggling and magician shows, and take-and-make crafts for every week. Sherman also has a summer reading log that your student can complete. Kids set a reading goal of 15 minutes or more, five days a week for eight weeks. Each week they get a camp-themed prize and a "brag tag" to add to a necklace. At the end of the eight weeks, they turn in their completed log to be entered to win grand prizes. For parents, the Sherman Library Book Club meets every second Tuesday of the month in the evenings. Not wanting to commit to a particular title? The first Wednesday of every month is B.Y.O.B. (Bring Your Own Book) for adults. Simply bring along whatever you are reading to discuss it with others.
Northside Children's Community Library
The Northside Children's Community Library, located in the basement of Third Presbyterian Church in Enos Park, strives to provide free access to books and technology, innovative programming and tutoring services to meet the educational and cultural needs of all Springfield-area children. Children are invited to stop by to read, check out books, use computers or study. In addition to thousands of children's books, the library has toys, games, puzzles and art and craft supplies. The children are permitted to borrow books without an ID, and no late fees apply. The library, operated by volunteers, is open 1-4 p.m. on Saturdays and hopes to soon have enough volunteers to also resume operating on Tuesdays and Thursdays.
Barnes & Noble
Barnes & Noble is also encouraging children in their pursuit of summer reading gains. If your student reads at least eight of Barnes and Noble's recommended titles this summer, they are eligible to earn a free book. Book lists (by grade) and reading journals are available for free in the Children and Youth section of the bookstore.
Scholastic Home Base
For days when you can't make it to the library or elsewhere, check out Scholastic's summer reading program, Home Base. This free app provides books and games to kids, as well as hosting online author events and character encounters. Readers are given the opportunity to track their daily reading and can print a copy of their reading progress at any time.
Pamela Savage is a freelance writer living in Springfield. She and her bookworm sons plan to make use of all of the summer library and community programming above.