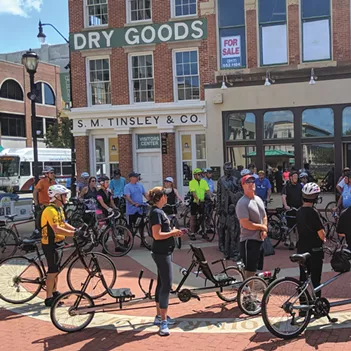 Summer is here, and it's time for fun. Springfield offers all sorts of family-friendly fun and the best thing is – it's free. Here's a highlight of just a few events that you may want to add to your summer schedule. And don't forget the dog, there's something in store for the family's four-legged friend as well.
Live music from the Levitt AMP Springfield Music Series is back on Thursday evenings at the Y Block (next to the Governor's Mansion), June 2 through Aug. 4. Bring a blanket or chair and a cooler of snacks and be prepared to be wowed by the opening artist at 6 p.m. and the headlining artist at 7 p.m. There are activities to keep the kids entertained as well. For specifics, visit LevittAMPSpringfield.org.
Bike & Hike Sundays at Washington Park is traffic-free fun for the whole family through September (springfieldparks.org/parkblog). Take a break and walk through the beautiful rose gardens, cool off in the shade of the Grecian garden and wander through the beauty of the botanical garden. Bring a cooler with your lunch and some shredded lettuce, defrosted corn or peas so you can feed the ducks lunch, too. (Contrary to popular belief, feeding bread to ducks is not good for them or their environment.) To add something extra, the Thomas Rees Memorial Carillon plays at 2 p.m. on Saturday and Sunday. For more concert information, visit carillon-rees.org.
The Park District also offers free, family-friendly movies on Friday evenings throughout the summer at various locations. Check out the Movie in the Park schedule at springfieldparks.org.
If you have wheels that are powered by you, Springfield has miles of trails to explore. The bike trail system, managed by the Springfield Park District, connects Springfield to several surrounding communities and is open to walkers, runners, bicyclists, rollerbladers, strollers and wheelchairs. View trail safety and etiquette and download a map on the Springfield Park District's website, springfieldparks.org.
You can also mix your exercise with some history lessons as you take a trip back in time with the Walk, Hike and Bike tours through the Illinois Department of Natural Resources' Office of Land Management. Be inspired by outdoor experiences that connect you to museums and monuments in the capital city. Descriptions of each one-hour or two-hour outing can be found at www2.illinois.gov.
History Comes Alive and you can be a character in it as you listen to Abraham Lincoln give one of his moving speeches and later share a cup of tea at the Vachel Lindsay Home with Abe and his wife, Mary. Learn of the many opportunities to see history come alive at: visitspringfieldillinois.com.
The summer's history lesson is not complete until you hear history from the African American perspective, past and present, at the Springfield and Central Illinois African American History Museum. The museum is open Tuesday-Saturday from 12- 4 p.m. with a variety of ongoing exhibits. Additionally, if you have a student in fourth, fifth or sixth grade, there are 20 spots for summer camp held June 13-17 and the registration fee has been waived.
Explore the cultural and natural resources of Illinois' past and present at the Illinois State Museum. Join museum staff and kick off summer on the porch of the ISM on June 9, 10:30 a.m.-2 p.m., where you will learn how to use sunlight for art, make giant bubbles, create a shape mural and more. Admission is free.
Harness the wind at Southwind Park's Kite Festival, June 25-26. Southwind Park is an 80-acre park that is ADA compliant and completely accessible for all ages and abilities, including those with physical and cognitive disabilities.
If you like ice cream, drive a few miles to the Sherman Village Park Amphitheater for the Ice Cream Social Music Series at 5 p.m. on Sundays, featuring music of the Land of Lincoln Chorus. Find the specifics at shermanil.org.
And finally, bring your dogs along for an adventure. The Centennial Dog Park in Centennial Park, 2746-2532 Lenhart Road, provides dogs over an acre to run and play while their owners look on. The park is ADA accessible and has separate play areas for large dogs and small dogs, along with shade, dog water fountains and dog waste stations.
Lincoln Park will host the Furever Funfest on Saturday, Aug. 6 from 8-11 a.m. The fest features a dog kissing booth, dog paw art prints, doggie vendors, dog and me yoga, photo booth and a fun 5K. For details, go to SpringfieldParks.org.
And this is just a fraction of the fun Springfield has to offer. So, in between family vacations, enjoy all the free activities and make up for the last two years when you had to stay close to home.
Holly Whisler is a freelance writer from Springfield who is looking forward to spending more time outside this summer.