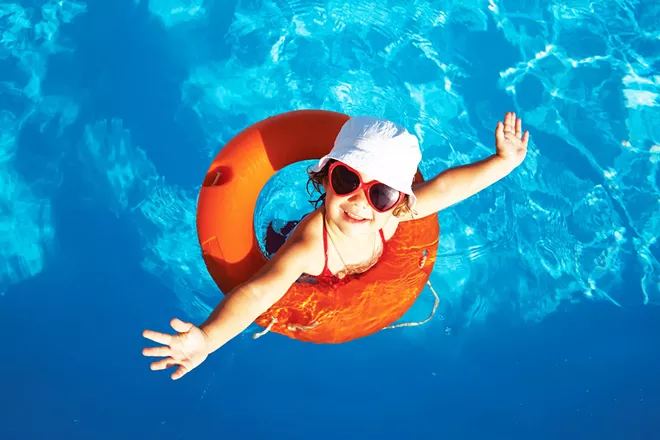 I cannot believe I am saying this, but the lazy, hazy, crazy days of summer are almost upon us. And for those of us home with children of all ages, "hazy" seems an apt descriptor for these long, strange, busy-but-not-always-productive summer days.
Despite our best attempts at keeping our families busy with camps, vacations, sports and lessons, most of us still end up with huge swaths of time spent bored at home. And while boredom can be both an opportunity to rest and a boon for creativity, there is only so much we can take when it comes to the listless whining that sometimes accompanies bored kiddos.
When you are looking for something different to do this summer, check out this list of easy, low-cost summer boredom busters, designed to appeal to kids of all ages.
Indoors
Build a fort - Simple and classic, if you can stand the unavoidable mess.
Play "The Floor Is Lava" – For my kids, this is always a natural progression from fort building.
Popsicle bath – Great for younger kids. All the joy of a popsicle with none of the sticky hands!
Organize your toys – Legos with Legos, animals with animals, etc. It's a great way to kill some time and restore some order.
Movie marathon – Come up with a theme like Toy Story movies, or 1980s sports movies, and press play. Don't forget the popcorn!
Play a card game – Try a classic like Uno, War, Go Fish, Rummy or Crazy Eights. There are loads of newer family-friendly card games, too, like Taco Cat Goat Cheese Pizza or Guess in 10.
Make paper airplanes – then take turns competing to see whose plane flies farthest.
Keep a journal – Ask your children to document what they've been up to this summer.
Draw a comic book or graphic novel – If you don't have a writer, have your child document their summer in drawings.
Break out the board games – Family favorites include Sorry, Candy Land or Trouble.
Cooperative games like Outfoxed or Space Escape are also engaging.
Make your own board game – Get a big sheet of paper, some art supplies and something to use as game markers and let your kids write the rules.
Make your own playdough – Warm water, salt, cream of tartar, vegetable oil and food coloring come together nicely to make homemade playdough that will last for ages. Pro tip: Kneading the dough while it's still warm can be super satisfying and comforting for a sensory kid.
Do a science experiment – Make homemade slime, explode a soda-bottle rocket or use lemon juice to write secret messages that reveal themselves when held to a light.
Bake a family favorite treat – Break open a cookbook and choose a baking project.
Recycle your dried-out markers – Sort your dried-out markers by color and then soak the tips in warm water to create watercolor creations that you can use for painting.
Outdoors
Potion station - Give your kids containers of dish soap, vinegar, dish soap, colored water and some baking soda and let them make a mess. Have a hose nearby.
Kinetic sand – Sand is very love/hate, but I find kinetic sand to be pretty fun. That said, it can be messy and definitely is an outdoor activity at our house.
Design a bicycle or scooter course – Break out some sidewalk chalk and cones. If you don't have cones, get creative with rocks, pool noodles or whatever you can find in your garage.
DIY bicycle wash – Ride bikes through some muddy puddles, then clean them up with loads of suds, sponges and buckets of water.
Tend to a garden – The proven benefits of gardening with children include healthier eating, boosted confidence, increased planning and analytical abilities, lowered stress and improved mood.
Involve kids in outdoor chores – Pick up sticks, remove dandelions, rake up leaves, fill the bird feeders.
Go fishing – While a license is required for fishing in Illinois waters, including lakes, reservoirs, rivers and streams, licenses are not required for anglers under the age of 16.
Learn to skip stones – My sons love to do this once they are finished fishing.
Pack a picnic – Involve the kids in choosing their own snacks and treats and dine in the great outdoors.
Water balloon baseball – Fill some water balloons and let the batter burst them/
Play HORSE – It's a classic basketball game for a reason.
Star gaze– Stare into the night sky, with or without a telescope. There are all sorts of apps for spotting and identifying constellations, including Google Sky and Sky View.
Go picking – Whether here in town, or a short day trip away, there are loads of choices for picking blueberries, strawberries and other summer crops in central Illinois.
Community
Visit Free Little Libraries in your neighborhood – Leave a book and take a book, and enjoy the walk along the way.
Visit the actual library – Get ahead on your summer reading, and check the monthly calendar for upcoming special events or kids' activities.
Fly a kite – Southwind and Centennial parks in Springfield are both ideal for kite-flying.
Get craft supplies – Check out Creative ReUse Marketplace or another craft supply store and see what projects your children can come up with.
Attend the downtown farmers market – Have your children decide what produce they'd like for dinner this week, and let them help prepare it.
Find a new playground or park – Ask your children to keep a journal of their favorite parks' features, or make a list of all the parks (there are more than 40 in Springfield alone) and cross off each one you visit.
Take a hike – Get outdoors and see what you can find. Bring a magnifying glass or a scavenger hunt list along.
Host an outdoor movie night – Borrow, rent or purchase a movie projector, find a white sheet, pop some popcorn and invite your friends and neighbors to come enjoy.
Pamela Savage is a Springfield mom of two who plans to use these suggestions when her boys complain about being bored this summer.