"If you can't stand the heat, get out of the kitchen." –Harry Truman

Or at least minimize the heat. Kitchens today are far cooler than in Truman's time, not least because of air conditioning. And it's hard to imagine the inferno that earlier kitchens would have been. The heat generated by cast iron stoves or open fireplaces would have been welcome in winter, but on 90-plus degree days? Yuk!!

These two salads are one-dish meals that require little cooking time. The steak and potato salad requires no cooking at all if the star ingredients are preplanned leftovers; stove time is minimal for the sushi rice salad, too.

Contact Julianne Glatz at realcuisine.jg@gmail.com.
---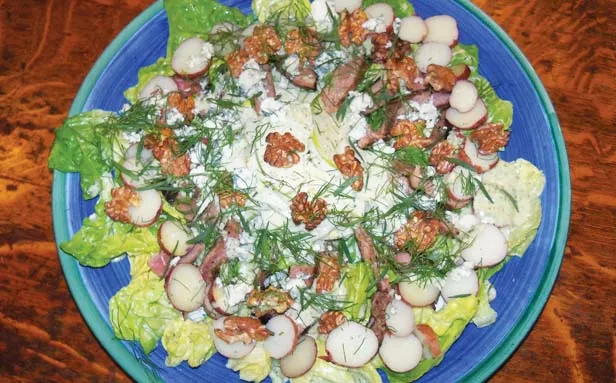 RealCuisine Recipe
Steak and potato salad
with fennel apple slaw and tarragon dressing
Here's a salad for meat and potatoes folks. While it's certainly possible to grill steak and cook potatoes just for this dish, I almost always prepare extra when making a steak dinner to have for this salad a few days later. This recipe is loosely based on a steak salad I ordered at Chicago's venerable Berghof restaurant years ago. They used beef, and I usually do as well, but when making it for the accompanying picture, I used a (leftover) savory lamb shoulder steak I purchased from Knob Hill Livestock at the Old State Capitol Farmers Market (www.knobhilllivestock.com/products.html)
1 – 1 1/2 lb. steak – use whatever cut you like best, but it should be one that can be easily cut into thin slices.
Salt and freshly ground pepper OR cracked peppercorns
1 lb. cooked potatoes, cut into
bite-sized slices or cubes
1 large or 2 small heads bibb or Boston lettuce, washed, dried and torn into bite-sized pieces, 6 – 8 c. total
2 fennel bulbs
2 medium tart apples, such as Granny Smith or Jonathan, peeled and cored
2 T. chopped fresh tarragon
Freshly ground pepper to taste
1/2 c. toasted walnuts
Crumbled blue cheese, optional
For the dressing*:
1 large free-range organic egg
2 tsp. dried tarragon
2 T. chopped fresh tarragon
2 T. chopped shallot
1/4 - 1/3 c. seasoned (sushi) rice wine vinegar
3/4 c. vegetable oil, such as canola or a light tasting olive oil
Salt and sugar to taste
Sprinkle both sides of the steak with salt and pepper OR, instead of ground pepper, press cracked peppercorns into the meat. Grill over hot coals to the desired degree of doneness. Let rest while preparing the rest of the salad.

In the container of a blender or food processor, combine all the ingredients for the dressing EXCEPT the oil. Blend or process for a couple of minutes until the ingredients are smooth. With the motor running, add the oil in a thin stream. Adjust the seasoning with salt, sugar and additional rice wine vinegar if necessary, and set aside.

Chop enough of the fennel fronds to measure 2 T. and combine with the chopped tarragon. Cut the stems from the fennel bulbs, and discard. Slice the fennel and apples as thinly as possible, discarding the cores.

In a bowl, toss the fennel and apple slices with just enough dressing to coat and set aside. Thinly slice the steak across the grain and set aside.

Toss the lettuce with just enough dressing to coat. Mix in freshly ground pepper to taste and spread on a large platter. Mound the fennel and apple slaw in the center. Fan the steak slices and the potatoes decoratively around the platter. Drizzle with a little more dressing. (You'll have extra; refrigerate any leftovers.) Sprinkle with the walnuts and the blue cheese, if using (or pass the blue cheese separately), and top with the chopped tarragon and fennel fronds. Serves 4-6.

*If you have concerns about using raw eggs, or just don't have the time to make the dressing, a reasonable substitute can be made using 1 c. ranch dressing. Add the dried and fresh tarragon and seasoned rice wine vinegar to taste.
---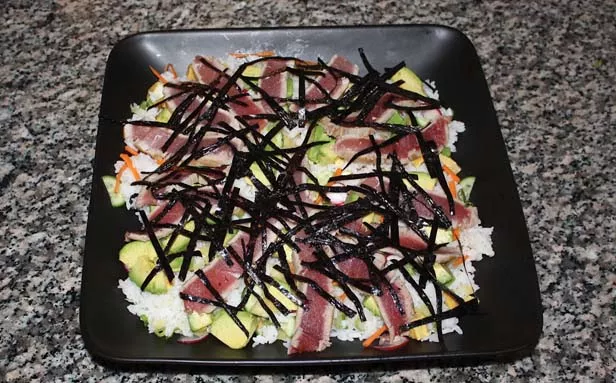 RealCuisine Recipe
Sushi rice salad
with seared tuna

It's fun to roll your own. Sushi, that is. But it takes a bit of practice. I make sushi rolls, called makizushi, occasionally, and it always takes a couple to get the hang of it again. More often, I make this rice salad. It has the flavors and textures that make sushi so popular, and it's a snap to put together. It's cool and refreshingly light with no oil or other fat in the dressing, perfect for sweltering summer days.

For the rice:

2 c. Japanese short-grained (sushi) rice
2 1/2 c. water
1/3 c. seasoned (sushi) rice wine vinegar
Wash the rice in a colander under cold running water until the water runs clear. Combine the rice and the water in a large saucepan and bring to a boil over high heat. Reduce the heat to medium, cover the pan and cook the rice until all the water has been absorbed, about 20 minutes. Alternatively, use a rice cooker according to instructions.

When the rice is cooked completely, but before it becomes mushy, turn out onto a large shallow bowl or platter, tray, or sheet pan. Immediately drizzle the rice wine vinegar over the rice. Toss gently but thoroughly with a wooden spoon or spatula, being careful not to mash or break up the grains of rice. Cool to room temperature. Makes about 6 cups.
For the omelette:

4 eggs
2 tsp. soy sauce, preferably Kikoman
2 tsp. sugar
Whisk the eggs together with the soy sauce and sugar. Spray a non-stick pan with cooking spray and heat over high heat. Add the egg mixture and reduce heat to low. Cook until the eggs have set. Cool to room temperature, then cut into cubes.
To finish the salad:

1-1 1/2 lb. tuna, at least 1 inch thick
1/4 -1/2 c. pickled ginger, julienned (cut into thin strips)
1 c. EACH of a variety of vegetables according to your preference and freshness, not more than 4 c. total. Suggestions: snow peas, daikon, scallions, radishes, bean sprouts, cucumber, avocado*, julienned carrot, chives or garlic chives and zucchini
1 sheet of Nori, ( the Japanese seaweed used to make sushi rolls)
For the sauce:
1/4 c. EACH soy sauce, and lemon juice
2 T. wasabi (Japanese horseradish), or more or less to taste
Sprinkle both sides of the tuna lightly with salt. Spray a heavy skillet (preferably nonstick) with cooking spray and place over high heat. When the skillet is very hot, sear the tuna for 30 seconds to 1 minute on each side, depending on the thickness of the tuna. It should still be rare in the middle. Set aside to cool to room temperature.

Cut whatever vegetables you're using into bite-sized pieces and/or thin slices as appropriate. Seed but do not peel cucumbers and zucchini. Using scissors, cut the Nori sheet into thirds and then into very thin strips and set aside.

Mix pickled ginger, vegetables and omelette cubes very gently into the rice. *If using avocado, scatter it over the finished rice instead of mixing it in. Check for seasoning. You may wish to add more vinegar.

Combine the soy sauce, lemon juice and wasabi in a small serving bowl.

Mound the rice on a large platter. Cut the tuna into thin slices and fan them around the rice mixture. Just before serving, sprinkle with the thinly sliced nori.

Serve the wasabi mixture on the side. Serves 4-6.

Variations: For vegetarians, simply omit the tuna, or substitute strips of teryaki-marinated and grilled tofu for it. Substitute cooked shrimp, salmon, or crabmeat for the tuna. Use brown sushi rice instead of white. Brown sushi rice doesn't have white sushi rice's pleasant stickiness, so the salad's texture will be different, but equally delicious.