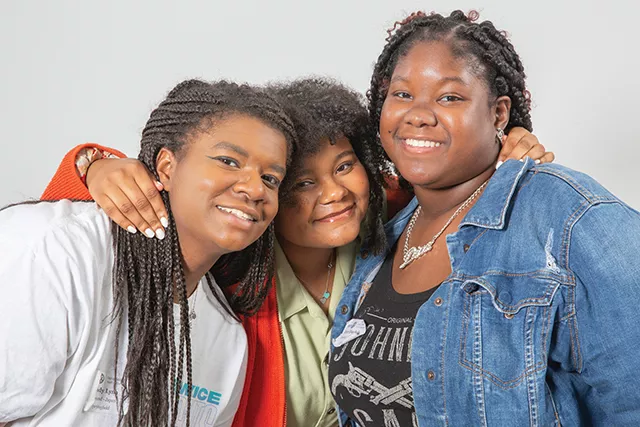 "I learned so much about myself and discovered how to deal with situations in a different way," says Maia Ojugbele, a Rotary Youth Exchange student who spent a year in Taiwan. Maia, Mandy Lynn and Yasmin Martinez-Powell are all Springfield High School students who traded a year at SHS for a year overseas. Mandy went to Wakayama, Japan, and Yasmin was in Tokyo. Maia and Yasmin are back at SHS as seniors. Mandy is a freshman at SIU-Edwardsville.

Maia's mother, Vel Ojugbele, saw the opportunity as a way for her daughter to prepare for college and become more independent. Maia went to Ashikaga, Japan, through the Sister Cities program. This piqued her interest in studying in Japan for a full school year. Initially she was disappointed to be assigned to Taiwan instead of Japan, but Maia now is glad she went to Taiwan. She learned an entirely different language, met many wonderful people and learned new problem-solving strategies after being immersed in the Taiwanese culture. She considers it a life-changing experience that enabled her to grow and mature.

Maia lived in Taoyuan, 45 minutes south of Taipei. She was impressed by the beautiful countryside. She is proud that she can talk about her dreams and philosophy in Chinese. A highlight was experiencing the spectacle of the sky lantern festival where she wrote her hopes and dreams on a paper lantern released into the sky. She says there is "the me before and the me after" her experience. She discovered things about herself and moved ahead in life.

In Tokyo Yasmin attended the Keio Girls Senior High School that helps girls thrive in a male-dominated society. Yasmin says she became more independent, learned to solve problems, matured and grew more confident. "I had great experiences, feel older and my perspective of the world grew a lot bigger," says Yasmin. Highlights were visiting the Hiroshima Memorial Park, going to Tokyo Disneyland, climbing Mount Fuji and making friends with Rotary Youth Exchange students from many other countries.

Yasmin's mother, Keisha Powell, says it takes a certain type of parent to send her teenage child off for a year so far away. Yasmin's parents told her they first needed to see that she was committed in order for them to lend their support. Yasmin did the research and completed all of the paperwork. While the experience may be somewhat scary for a parent, Yasmin's father, Pedro Martinez-Bravo, says he was comfortable because Rotary was behind the program. To help with finances, Yasmin raised more than $5,000 from supporters.
Mandy says she was shy and dependent before going on the exchange. As a 16-year-old, she was "scared to death" at the thought of taking the train to Chicago. She considers it an amazing accomplishment to travel by herself in Japan while not being fluent in the language. She is also proud of herself for overcoming her fear of public speaking. "I was terrified of speaking in front of people because of the fear of being judged," says Mandy. "But because of all the speeches I had to do in Japan in a foreign language, I forgot how it feels to be nervous to speak in public.

"I hope that a lot more students can go on this adventure because it will be an unforgettable experience," says Mandy. "I think going with Rotary Youth Exchange was the best decision I ever made in my adolescence." Maia's advice to other students is "do it!" She says that students who go abroad need to understand the country's requirements and be sensitive to other cultures. Yasmin says it is not a vacation as some people think. "In the beginning, it is not fun," says Yasmin. "You don't know the culture, and it's harder than going to college." The students go full circle. "You think you don't want to leave home, then you do, and then you don't want to come home," says Yasmin. "It's not a year in your life, it's your life in a year," says Maia. "If you feel comfortable, you're not growing."

Students going "outbound" undergo a rigorous process and are assigned host families through a Rotary Club in the city where they will be living. Students earn language and other credits that count towards their high school graduation requirements and also take some online credits which help them graduate on time. For more information about the Rotary Youth Exchange Program and how to apply, go to https://www.csrye.org/ or contact Barb Malany at barbmalany@yahoo.com.
"I'm thankful to get the experience," says Yasmin. "Not many have the courage to do it."

Karen Ackerman Witter is a freelance writer whose goal is to connect people, organizations and ideas to achieve greater results. She was a Rotary Ambassadorial Scholar at Bangor University in Wales in the late 1970s, which was a life-changing experience.