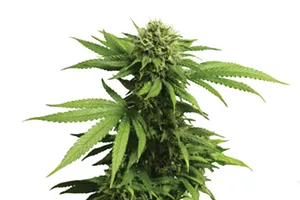 Lines were long and the wait lasted 20 minutes the day after cannabis became legal in Illinois.
I speak not of Springfield's sole pot purveyor for consenting adults, but a Subway near my office, which got slammed during the first lunch rush of 2020 as dieters jammed the counter and drive-thru in search of veggie wraps, no mayo, hold the cheese. To be fair, they were down a counter person.
A couple miles away, in downtown, there was no line worth mentioning when I drove past Illinois Supply and Provisions shortly after 8 a.m. last week. It was a different story by 10 a.m., when I arrived for real, but hardly a repeat of New Year's Day, when the first customer showed up 16 hours before doors opened on the first day of legal sales.
I skipped opening day, when Lt. Gov. Juliana Stratton was amongst throngs that celebrated legalization by paying prices far higher than on the black market or in other states with legal pot. I'm guessing the lieutenant governor, reporters in tow, cut to the front of the line when a Chicago dispensary opened at 6 a.m. She bought a package of Mindy's Edibles Glazed Clementine Orange Gummies, billed as a reefer-lite sort of confection with a minimal amount of psychoactive substances aimed at folks who don't like to smoke or even get very much high. She paid with a $100 bill.
It is a good thing that Stratton is lieutenant governor instead of a dishwasher at University of Illinois Springfield, where anyone who wants a cafeteria job must pass a drug test. Then again, dishwashers have more responsibilities than lieutenant governors.
The midmorning wait on Jan. 2 lasted 40 minutes at Springfield's only pot shop. Portable toilets installed for the previous day's crowd remained on the sidewalk, as did security guards. You can never be too careful when dealing with cash, and what a lot of cash there was.
Bud cost $65 per eighth ounce, before the government's share – it works out to $575 per ounce including excise and sales taxes, plus an extra $3 if you used a debit card, and there were no volume discounts. Overstocked Denver shops have been known to mark down quality weed to $100 an ounce, plus $25 in taxes. Illinois Supply and Provisions has two ATMs on premises. The state says that nearly $3.2 million was spent on weed in Illinois during the first day of sales and more than $2.2 million on the second day, when I showed up.
At one point, the guy behind me started counting twenties, as if making sure there were 52 cards in his deck, and it appeared that there might have been. Once prices come down, another customer said, she'll set up a hotbox, which involves large quantities of burning embers placed next to the air intake of a leaf blower inside a finite space, all while breathing deeply.
There are many strains of pot, each with its own particular psychoactive qualities, flavor and aroma. Ever had Ebola 7 or Purple Monkey Balls? What about Amnesia? Some folks are into Deep Shit. Are you the wake-and-bake sort looking for morning energy or do you need to take the edge off after a rough day spent earning sufficient money to afford this stuff? Do you desire citrus notes or would you prefer something with a sweeter taste?
Illinois Supply and Provisions offered just two strains, Platinum Valley OG and Strawberry #17. No Alien Tits or Badass Donkey Dick for you! I picked strawberry.
Buying weed here isn't like in Colorado or Washington, the first two states to legalize recreational pot, where, typically, someone checks your ID at the door, then you approach the counter and survey dozens of strains in glass cases and hanging from walls in plastic pouches, within easy reach of clerks but not you. You can look, maybe even smell, and when you've made your selection, they check your ID a second time before taking your money and sending you on your way.
Illinois Supply and Provisions reminded me of the opening segment of "Get Smart," when the star walks through a series of doors en route to his destination. While placing, and waiting for, orders, customers go through two rooms and two ID checks before finally reaching the sanctum with cash registers. You never see weed but, so far as you know, there is no strain called Soylent Green. There were shelves, mostly empty save for a few pipes and packs of rolling papers, as if this were a Soviet grocery during famine season.
After yet another ID check, a cashier takes your money and hands you a brown paper bag, stapled shut. Once home, you tear open the bag, then the plastic pouch within and think to yourself: This isn't very much. You take a tiny pinch – it's been awhile – and light up.
This ain't no Mindy's Edibles Glazed Clementine Orange Gummies.
The smoke, as billed, tastes like berries and seems to expand within your lungs. You strain, strain, strain, trying not to cough, and when you finally exhale, your wits briefly float away. The effect is instantaneous, no need for a second puff. Much of the next two hours is spent gazing at the fire, listening to Coltrane and thinking that legalizing pot was a very good idea.

Contact Bruce Rushton at brushton@illinoistimes.com.