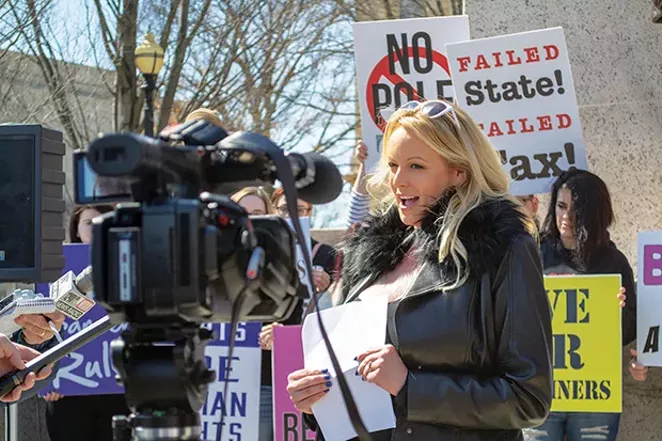 Stormy Daniels walked from her car to the Lincoln statue on the grounds of the Illinois State Capitol, gave her brief prepared remarks and left without taking questions. She was protesting the "pole tax" (Live Adult Entertainment Facility Surcharge Act), which strip clubs pay to help fund rape crisis centers. She said, "Rape crisis centers that exist primarily to help young women should be funded by the entire community, not through a tax that falls ultimately on the backs of young women. Illinois' Pole Tax incorrectly connects adult entertainment to rape, as though strip clubs cause rape. Though the hypocrites, zealots and prudes of the world would like you to believe that there is a connection, it simply isn't true. Funding rape crisis centers by taxing strippers – mostly young women, often young mothers – is cowardice, plain and simple."
The protest was sponsored by Deja Vu Services, Inc. Stormy Daniels was hired as a corporate spokesperson for Deja Vu last fall. A press release announcing her visit states, "Deja Vu felt that Stormy's wide appeal, understanding and communication skills would be a great addition to their public relations and lobbying efforts." Deja Vu calls itself the worldwide leader in adult entertainment and adult retail stores with 200 locations in 40 states and 6 countries, 4,500 employees, 180,000 contracted entertainers and 150,000 patrons daily.
That could have been my story about Stormy Daniels coming to Springfield, But I wanted to report more than that. After a long career in state government, I started freelance writing. It keeps me connected in the community. I meet interesting people and learn something from every story. I've written about health and fitness, the environment, local philanthropy, museums, local businesses, community leaders, the arts, women's organizations, interesting people and more. My topics are eclectic, but I never dreamed I would write about Stormy Daniels.
I first learned Stormy Daniels was coming to Springfield from someone in my Rotary Club, which happens to be an excellent source for stories. I was intrigued about trying to interview her. I emailed her press contact and was told she wouldn't be doing interviews. I read her book, Full Disclosure, cover to cover.

She had three appearances on March 22, the first at the State Capitol to protest the Live Adult Entertainment Facility Surcharge Act, a book-signing in the afternoon at Deja Vu and an evening performance. I made it to two out of three. I have a feeling that she appears more vulnerable speaking before a cadre of reporters than performing on a stage.

After reading her book, I was even more interested in interviewing her. I called and talked to the manager of Deja Vu, Duane Patterson, and continued to email Stormy PR. I talked to Patterson at the State Capitol, and I showed up at Deja Vu early to be first in line for the book signing. Stormy was friendly enough at her book signing, but not available for an interview and pointed to her PR manager. I talked to her PR manager, and he was willing to take my questions by email. At 4:30 a.m. on Saturday, March 23, he sent me the following answers from Stormy to three of my questions.

What would you most like people to know about you?

"That I always try to do the right thing, I'm a good mom and a loyal friend, and there's so much more to me than the infamous 90 seconds everyone keeps asking about. And my name is STORMY, goddamnit. Stop calling me Stephanie!"
What's the biggest misconception about Stormy Daniels? What's the difference between the real Stormy Daniels and the person we all read about in the media?
"Contrary to what keeps getting repeated by lazy reporters, I was never retired, never a 'former pornstar,' I had an active and successful career that I loved before the media frenzy about my unremarkable 90 seconds with Donald Trump engulfed my life. That I never wanted the Trump story to come out, and I only spoke out after I got sick of others trying to bully me into lying for them. And that Stormy really is my real name. No one calls me Stephanie except annoying asshole reporters and people who want to pretend like they know me but really don't. Call me Stormy. That's my name."
What are your aspirations for your daughter?
"That she fulfills her own aspirations for herself. That she lives a happy, healthy, successful life."
She didn't answer my question about the impact of her difficult childhood and all the adults who failed her. Nor how the notoriety surrounding her relationship with Trump has impacted her life. Or, whether she watched Michael Cohen's recent testimony before Congress. And, how she feels about not voting in the last election and what she would tell others about voting. But her book, Full Disclosure, written with book collaborator Kevin Carr O'Leary, provides interesting insights.

Full Disclosure isn't for everyone. It would be a lot shorter if all the colorful words were removed, especially the one that has become common in today's vernacular but is still shocking and abhorrent to many. However, there's a lot more to her story, and I'm convinced she is a lot smarter than most people think. The book tells her unlikely journey of growing up in a dysfunctional home environment to becoming a porn star, writer and director with numerous awards. And it tells how, due to a chance encounter with a famous businessman at a high-profile golf tournament, she became a problem for the president of the United States. Her story would make a good movie script.
She's someone very comfortable in her own skin and her profession and accomplishments in the adult entertainment industry. She is proud of certain body parts, which she affectionately calls Thunderbolt and Lightning. She knows that people judge her for her profession and her looks and often presume she is dumb. There's credible evidence that she's not.
The first 107 pages reveal how Stephanie Gregory became the acclaimed Stormy Daniels, porn star, script-writer and movie director. Reading about the first 27 years of her life, we hear how she happened to meet Donald Trump at the American Century Celebrity Golf Championship at Lake Tahoe, where she was representing her employer, Wicked Pictures. She acknowledges that some readers will skip the first 100-plus pages and jump right to this point in her story. She says, "My life is a lot more interesting than an encounter with Donald Trump. But I get it. Still, of all the people I had sex with, why couldn't the world obsess over one of the hot ones?"

Stormy Daniels has had no charmed life. There are plenty of scientific studies about the impact of Adverse Childhood Experiences, known as ACEs, and the difficulties individuals face as a result. If she took the ACEs test, she would likely get a high score. Stormy says her mother was planning for a boy, becoming pregnant even though her husband didn't want children. Stormy was supposed to be Stephan Andrew but instead was named Stephanie Ann Gregory, born March 17, 1979, in Baton Rouge, Louisiana. She describes her father as smart, an architectural engineer, and they traveled all over for his job. She says she adored him, and he barely acknowledged her existence.

They moved back to Baton Rouge when she was four and about to start school. Her father left and moved to Alaska, and she saw him only occasionally after that. She says her father leaving broke her mother's heart and that her mother became an entirely different person, never cleaning the house or doing dishes again. The picture she paints of the house with its roaches and rats is not pretty. She says her mom dated a "parade of horrible guys" who were just losers. Her mother would disappear for days at a time and leave eight-year-old Stormy alone. When Stormy was nine, her friend's next-door neighbor sexually assaulted her. This continued over two years. She became the victim as she tried to protect her younger friend from the abuse.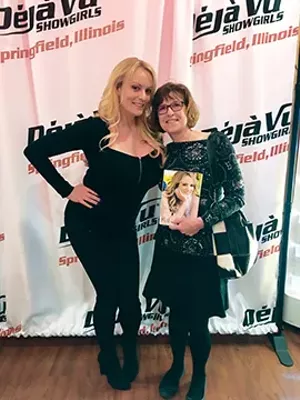 She never sought help from an adult to stop the abuse because she thought it would affirm what people thought of her. "I suppose that's what a serial abuser counts on – the notion that kids blame themselves," she says. "If you didn't tell the first time, it's harder to tell the second time." Later she met two men who provided a stronger support system for her than her biological parents, and she refers to them affectionately as her "two gay dads." She says they, her chosen family, are the ones who have done right by her.
In spite of all of this, Stormy was a good student, accepted into a magnet school and graduated with straight As. While still in high school, she could no longer tolerate her home environment and moved out. One evening when she was 17 and out with friends, she did a guest performance at Cinnamon's strip club and earned $85 in nine minutes. She accepted a job working weekends, and this was the beginning of her long career in the adult live entertainment industry.
She worked other clubs, discovered the benefits of being a "feature" dancer, made connections and kept moving up. She didn't drink and saw the consequences of girls who did. She also was aware that girls with breast implants got more tips, and she says her breast implants were the best $2,200 she ever spent. Connections with another feature dancer led her to Los Angeles in 2002 to work in porn movies with Wicked Pictures. Not satisfied to be just an actress in porn movies, she became a contract star, took on writing and became a director. She's won numerous awards in her industry throughout her long career. The name Stormy came from a name associated with a member of the Mötley Crüe band, and Daniels from an ad for Jack Daniels – a Southern favorite.
The infamous encounter with Donald Trump took place in July 2006. He invited her to dinner, but there was no dinner. Apparently there wasn't much that impressed her about that encounter, except the potential opportunity to be on The Apprentice. Once that opportunity fizzled out she didn't think about him much again.
In 2009 a group of people drafted her to run for U.S. Senator from Louisiana against incumbent David Vitter. He was running on a "family values" platform, but his name had turned up on a list of a Washington, D.C., madam. Stormy thought he was a hypocrite. She doesn't like hypocrites or liars. Her campaign slogan was "Stormy Daniels: Screwing People Honestly." She says her endgame was to inspire someone more qualified to run, while raising issues she thought were important. She dropped out of the race after her campaign manager's car was blown up. "One of my lines on the tour was 'Politics can't be any dirtier of a job than the one I am already in.' But I was wrong," says Stormy. "....just like the entertainment business but with way more repercussions, it's about who you know and it's about money."

This was not the only time Stormy was concerned for her safety. As the story about her relationship with Trump was unfolding in the media, some were encouraging her to sell her story, while others were threatening what would happen if she did. Complicating this was the fact she had not told her husband, Glen, the full story of her relationship with Trump. When offered money to not tell her story, she says it was a "win." She wanted to put it all behind her and not be worried about the safety of her family. After the people in the middle took their cut, $80,000 was deposited into her husband's bank account. She says signing the nondisclosure agreement was about putting it all behind her; if she were greedy she could have sold her story for lots more money.

But it wasn't behind her. She tells her side of the Michael Cohen story and the media frenzy that surrounded it. She believed she had held up her end of the contract and they had not. She felt bullied and was tired of being made to look like a liar. She wanted a lawyer to tell her side of the story. She hired Michael Avenatti. And body guards. She was on 60 Minutes and Saturday Night Live. She says she only spoke out after being bullied by others to lie for them.

I likely never would have read Full Disclosure if Stormy Daniels hadn't come to Springfield. I'm not likely to recommend it to book clubs. But I'm glad I read it. I suspect people will find many things in the book shocking. Her language. The number of men she's been with. Her mother. Childhood experiences. Descriptions of filming a porn movie. Gaining 93 pounds when she was pregnant. Making her husband do porn as a condition for having a baby…so if they ever split up he couldn't use that against her in court. Perhaps the least shocking of all, however, is the description of her relationship with Donald Trump.

Karen Ackerman Witter is a freelance writer who enjoys writing about interesting people, places and issues.