"To this place, and the kindness of these people, I owe everything."


Abraham Lincoln uttered those words in his famous farewell speech to Springfield almost 150 years ago. Since then, Springfield has undergone numerous transformations, riding the tide of change while retaining the pioneer spirit that settled this area in 1818.

As the 21st century creates new challenges and new opportunities, this city is faced with forks in every road, but taking a look at what works elsewhere can help make those decisions easier. We've chosen a few promising ideas from other cities that could make Springfield an even better place to live, improving transportation, housing, health and community.

This city has already made important strides toward environmental stewardship, sustainability and future success, and these ideas continue those efforts. Springfield was good to Lincoln, and it's good to us, so here are a few ideas to return the favor.


In Indio, abandoning property is criminal
Property blight is like a cancer, spreading insidiously and casting its spell of decay and squalor on nearby properties. One boarded-up home can lower property values for a whole block, and problem properties become magnets for crime, drug use and more blight. Sociologists call it the "broken window theory" – ignoring small problems like broken windows and other signs of decay can contribute to a public sense of irreversible decline that keeps people from investing in a neighborhood or community.

Some cities have gotten tough on blight by aggressively going after landowners who allow their properties to fall into neglect. The city of Indio, Calif., situated in the Mojave Desert's Coachella Valley east of Los Angeles, was among the first cities to go beyond mere civil penalties and make it a criminal misdemeanor to allow a property to fall into neglect, even for a corporate entity like a bank. The city now requires banks to register foreclosed properties the moment they are foreclosed so that the city can better monitor maintenance of those properties. Indio's code enforcement division is part of the city's police department, and department spokesman Benjamin Guitron says the law helps shave months off the time it takes to enforce code violations.

"It has really helped us maintain the data and the rate of foreclosed homes and where they're at, rather than finding out six or seven months later that we're dealing with the wrong guy because the house has been foreclosed," Guitron says.

Even with the ordinance, however, he says stopping blight requires contributions from everyone involved.

"It can't be a single effort; it has to be a community effort," he says. "That's what has helped us. The whole community got involved, at all levels."

Steve Combs, president of the Enos Park Neighborhood Improvement Association in Springfield, says his neighborhood alone has 35 problem properties, and Springfield could have as many as 400.

"Some of these homes have been boarded up for years and years," Combs said. "How long do I have to look out my door and see a house that is, quite frankly, a health hazard?"

Enos Park is part of the newly-formed Inner City Older Neighborhood (ICON) Coalition, which plans to push for changes in Springfield city ordinances that would make it easier for the city to act on problem properties.

Combs points to the city of St. Louis, which has created a dedicated team of lawyers, code enforcement officers and even a judge to handle blight. The city also charges an upkeep fee for problem properties, and failure to pay can result in foreclosure by the city. Combs says the city of Wilmington, Del., has even begun to charge a vacant property registration fee that increases with the number of years a property sits vacant, with a one-year waiver for owners who sell, rehabilitate or demolish a vacant property.

Though Springfield already requires registration of boarded-up properties, Combs says there is too much "wiggle room" for property owners who do the bare minimum to avoid city fines, and there is no limit to the length of time a property can be boarded up before enforcement efforts are intensified.

"I think when people look at Enos Park, they see an image not only of this neighborhood, but of the city in general," Combs says. "Let's solve this problem. Let's get these properties into the hands of someone who is going to do something with them."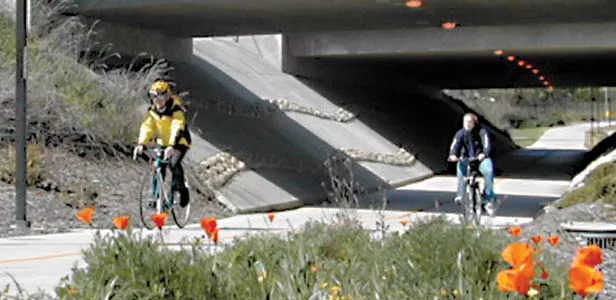 Bike-friendliness in Davis
In sunny Davis, Calif., bikes actually outnumber cars. Home of the University of California Davis, the city of 65,000 is the king of bike-friendly cities. Starting more than 40 years ago, Davis began making bicycle transportation a priority for city planners, and the city now has bike lanes on 95 percent of its roads. Fourteen percent of the town commutes to work on bikes, which is 35 times the national average. Instead of riding buses to school, children ride bikes. Davis even has traffic signals specifically for bikes. The town is so bike-centric that the California Department of Transportation used it as a model for bike laws statewide, and federal bike guidelines are loosely based on the Davis bike standards.

Bikes are a boon because they have the potential to improve the quality of life a city offers. They increase physical fitness, which improves overall health. They reduce pollution and traffic congestion by replacing cars, and thereby reduce the incidental costs of car ownership. They can even mitigate economic inequality by increasing mobility for those who can't afford cars. And although bikes slow the pace of transport slightly, that slowed pace allows better observation and appreciation of the environment and the community.

In contrast to Davis, Springfield has a ways to go toward bike-friendliness. Bike lanes and bike paths are a rarity here, and awareness of bike safety and etiquette is low, both among motorists and casual cyclers. We may never go bike-crazy like the city of Davis, but we can certainly learn a thing or two from their experience.

What can you do to help make Springfield more bike-friendly? The most obvious answer is to get a bike and learn how to ride it safely. That means learning the laws governing bicycle riders and learning how to share the road with cars. If you already ride, consider taking part in Bike to Work Week, May 17-21, which is being planned by the Springfield-Sangamon County Regional Planning Commission, Springfield Bicycle Club and other local organizations. Business owners can encourage bicycling by putting bike racks at their businesses. Lock your bike up when not in use, and consider registering it with the city to help identify your bike if it is stolen.

Dave Sykuta, chairman of the Springfield Bicycle Advisory Council, says SBAC and other Springfield organizations are working to identify ways Springfield can improve its bicycle amenities and attitudes. Fill out the SBAC survey on the City of Springfield website to register your opinion and show your support for cycling.

If Springfield succeeds at becoming a more bike-friendly city, other options will become viable, such as the popular bike rental program of Paris, France. For a nominal fee, sightseers can rent a bike and travel the city's historic streets at a leisurely pace. Like Paris, Springfield has several historic gems to show off, and biking through the capital city can only enhance the experience.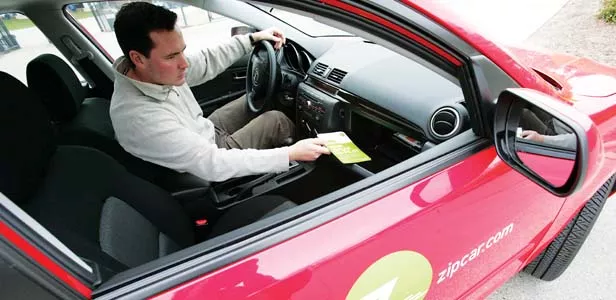 In Champaign-Urbana, Zipcars get around
The automobile has brought mobility, independence and convenience to billions of people around the world since German inventor Karl Benz unveiled what is considered to be the first gasoline-powered vehicle – the ancestor of the modern car – in 1885. But with the good eventually came the bad: pollution, congestion and the general hassles of automobile ownership.

Now, a new idea spreading across the nation claims to have solutions to those problems, and its successes in other cities seem to back up the hype. Car sharing, a concept in which users reserve a car from a pool of readily-available vehicles situated around a city, offers environmentally friendly, short-term car use to people who need the mobility, independence and convenience a car offers – but only once in a while.

Jan Kijowski, marketing director for the Champaign-Urbana Mass Transit District, says a partnership between CUMTD, Zipcar and the University of Illinois at Urbana-Champaign has worked well.

Kijowski says the cities have invested in the program by providing special parking spaces for Zipcars and by guaranteeing the profitability of the program with subsidies that end after the program posts two consecutive quarters of profit. The program started in January 2009, but in March 2010 the Zipcar program in Champaign-Urbana posted its second consecutive profitable quarter, meaning the cities' financial obligation is complete and their Zipcar program is now self-sustaining.

The partnership offers short-term car use to drivers who need temporary transportation, including UIUC students as young as 18, who normally could not rent a car, and international students, who may have trouble renting cars for other reasons, Kijowski says. She points out that it's also useful for trips to the home-improvement store when an all-day rental car isn't necessary and a taxicab just won't cut it.

It works like this: Users pay an annual fee that depends on their city's arrangement ($35 for UIUC students and $50 for non-students), plus an $8-per-hour fee for each reservation. Each user gets a Zipcard that unlocks their reserved car and lets them use the service in any city with a program. Cars can be reserved for an hour or a whole day, and they can be returned to any Zipcar station.

So far, Zipcar users have been respectful of the cars, Kijowski says.

"It's one of those neat things where a social community has developed, and people take care of the cars because they're part of the community," she says. "It's rare that people will leave them messy or misuse them. People seem to be really responsible."

Asked whether she'd recommend car sharing programs to other communities, Kijowski replies without hesitation.

"Without a doubt," she says. "It's obviously something that people want. We've had nothing but positive experiences with it." Urbana-Champaign has reduced congestion and parking demand while improving accessibility, sustainability and infrastructure. Zipcar estimates that each car it provides takes 15 cars off the road, resulting in less fossil fuel usage and undoubtedly fewer headaches for car owners who pay insurance, registration and other fees only to use their car once in a while.



Artists in residence in Paducah
In a 25-square-block section of Paducah, a community of creatives is creating jobs, revitalizing a once-troubled neighborhood and attracting nationally-renowned talent to the small Kentucky town of 27,000. They are brought together by their love of the arts – and some pretty sweet economic incentives.

In its nine years, the Paducah Artist Relocation program has drawn as many as 70 artists from all over the nation to the city's Lowertown neighborhood, turning what was once a crime-ridden, blight-infested city with 70 percent vacancy into a thriving, attractive economic engine. The city even won a Great American Main Street Award in early May, showcasing its success at transforming itself, in part through the power of art.

"It had basically gone into ruin," says Jessica Perkins, marketing manager for Paducah Renaissance Alliance. "It was full of dilapidated homes and neglected rental properties owned by people who didn't even live here."

Perkins says the city began cracking down on code enforcement, buying up and seizing blighted properties. The relocation program sells those properties to artists with financing to purchase and rehabilitate existing structures or to build new ones. Empty lots are even available for as little as one dollar to artists with approved plans for new construction, and the city pays up to $2,500 for architectural services or other professional fees.

Perkins says the artist colony has helped foster a new atmosphere of community in the city. "It's a very close-knit neighborhood, very community oriented," she says. "They've kind of created their own culture, so to speak. It's just given us something quirky and cool to bring visitors to."

Paducah now boasts 1,000 new jobs, 234 new businesses and only 14 percent vacancy. Though Perkins says the city's success is due to an assortment of different efforts, the artist relocation program has been a big part of the revitalization.

"What made it successful was having political leaders and community leaders who believed in it and were willing to take a risk," Perkins says. "They had a lot of foresight and wisdom in being able to look beyond the here and now."

Springfield developer Carolyn Oxtoby says she's been advocating for a downtown artist neighborhood for several years, but the challenge has always been rent costs. Many empty downtown buildings are set up for office space, which commands higher rent than apartments, she says, but the empty offices are unlikely to find renters soon.

"Right now, people are paying property taxes and insurance on empty buildings," Oxtoby says. "They've got negative cash flow, when they should be turning those buildings into apartments. I get calls every day seeking apartments, and I'm always full."

Oxtoby says development must begin sooner rather than later, because the Downtown Residential Assistance Program, which provides loans and rebates to encourage development of residential units downtown, will expire in 2016 because it is tied to the downtown tax increment finance district (TIF), which ends in six years. If an artist community is created here, she says, it would likely thrive.

"Right now, I'm watching people go in and out of the Prairie Art Alliance (at 221-223 S. 6th St.), and it always seems busy," she says. "There seems to be plenty of interest in art here."



In San Francisco, 'open source' means you can find out anything fast
In software, the term "open-source" refers to a community effort to solve a problem or develop a new idea using shared information. Apply that principle to government, and you've got a powerful new concept that can increase efficiency and public participation by making information easy to access.

The City of San Francisco is a model of open-source government. Mayor Gavin Newsom is connected to his city via Twitter (@SF311), and he receives status updates from citizens about potholes, graffiti or other nonemergency issues. One user, Doloris Clean (@DPClean), represents the city's Dolores Park area, reporting areas that need attention with pictures of the problem. The city responds via Twitter with a case number and an assurance that the problem will be resolved. The result? Better identification of problem areas, quicker response times by city workers and more satisfied citizens.

But it goes beyond a simple Twitter feed. San Francisco has also released mountains of public data – public parking locations, city salaries, operating expenses and more – to the public for analysis and development of new tools that make the data relevant to the city's inhabitants. The effort has resulted in popular tools like an interactive map showing crime trends and even smartphone applications to track city buses or show the nearest recycling spot.

Other cities like Chicago, Portland, Boston, Austin and New York have mounted similar efforts and reaped similar rewards: smartphone applications showing traffic trends and health department restaurant ratings, among other useful information. The State of Illinois began to move in this direction under Gov. Pat Quinn, releasing several websites full of data on budget numbers, public service opportunities and the use of stimulus funds. Even the federal government is jumping on the bandwagon, releasing websites like Data.gov, Recovery.gov and FedSpending.gov to make readily available unprecedented amounts of data about how federal money is used.

But those tools are useful beyond helping people catch the next bus or even learning how their government works; the open-source approach lets people see their government being proactive to adapt in the digital era and helps foster a sense of openness, reinforcing the concept that government really is for the people, by the people.

Springfield has already taken steps in the open-source direction by setting up an online portal to view public records requests. The website saves city workers time by avoiding redundant requests and can help the public find information faster. To take it a step further, imagine being able to quickly and easily look up city ordinance violations for the blighted property down the street or notifying the city via Twitter about a fallen tree in the road. Springfield does have a Twitter account (@Springfield_IL) and Facebook page, which the city uses to keep followers informed of road closings and other announcements, and the city's website already allows residents to report problems. With those steps already taken, it would be only a small change to adopt the faster, more efficient social media model gaining traction elsewhere. If the Internet is the future, governments and their citizens have a lot to gain by evolving with it.



From Chicago, urban farms
In many spots around Springfield, vacant lots sit empty and unproductive, overrun by weeds and tires. Some lots are the abandoned remnants of some former glory, while others are simply a gathering place for the wind-blown garbage of fly-dumpers. It's a common sight in cities across the nation, as some landowners struggle to find new, profitable uses for their lots and others simply don't try. But in some cities, those vacant lots are finding new life as urban farms that grow vegetables while they grow communities.

A Chicago group called the Resource Center operates an urban farm in the Windy City, borrowing unused city property that formerly held the now-demolished slums of the Cabrini-Green public housing development. Known as City Farm, the project enlists the help of volunteers from nearby neighborhoods to work the soil, creating a green space only a mile from the skyline of downtown Chicago. Produce from the farm is sold to local eateries like Chicago's trendy North Pond restaurant, and the proceeds support the farm's operations.

"We're selling it at a premium price, and people want to buy it because it's so fresh," says Andy Rozendaal, director of urban agriculture for the Resource Center. "It's cut that day, and within two hours, they've received their produce. It doesn't have to go across the country, and they see that as premium, fresh, local food."

But because the garden is in a low-income area, it also offers fresh produce at a discount for residents in need, Rozendaal says.

"We try to make sure people don't walk away without available healthy food," he says. "If they can't afford it, they pay what they can afford. We want to make sure that everyone has access to it, not only the rich."

Rozendaal says people in the surrounding neighborhoods generally don't steal from the garden or vandalize it.

"I just think that people know what we're doing, that we're a nonprofit and we're trying to better our community," he says. "They seem to respect us for that."

Not all urban gardens operate like City Farm, of course. Springfield's own community garden, administered by the Illinois Department of Agriculture, allows residents a small patch of earth inside the fairgrounds racetrack to grow food for their own use. Space is limited, however, so more community gardens around Springfield could repurpose unproductive land, foster neighborhood pride and improve access to fresh, healthy, local food.

Rozendaal says his volunteers learn valuable skills and get to meet their neighbors, sometimes for the first time.

"A true garden program gets people from the community to do agriculture together," Rozendaal says. "What better way to get to know your neighbor than the way God intended, getting your hands dirty to grow things and be a creator in this world?"

Contact Patrick Yeagle at pyeagle@illinoistimes.com.