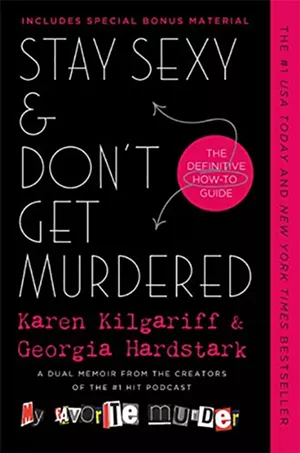 Looking for a good book to read? Something other than a best seller? Springfield's Lincoln Library is here to help. A group of reference librarians contribute to writing a book review blog with 200-word reviews. Their goal is to share the joy of reading and help people find new things to read that they might not have discovered otherwise. Graphic novels, true crime, fantasy, short stories and memoirs are just some of the genres featured in their informative reviews. Check out the blog at https://www.lincolnlibrary.info/blog-entries. You can also sign up for the Lincoln Library e-newsletter at https://www.lincolnlibrary.info/newsletter-signup, which includes a link to the blog. Happy reading.
Here's one of the reviews from the Lincoln Library book review blog:
Stay Sexy & Don't Get Murdered, by Karen Kilgariff & Georgia Hardstark
"If you're a feminist true crime fan with a sense of humor, then do yourself a favor and give a listen to your new pals, Karen and Georgia. These hosts of the popular My Favorite Murder podcast have written a book and narrate the audiobook version themselves. While they dish about the sordid details of various murders on their podcast, their book is more autobiographical in nature.
"Kilgariff and Hardstark open up about their battles with personal demons many women face, such as alcoholism and eating disorders, as well as the influences that may have caused them. They also offer commentary on why so many crime victims are women and how cultural attitudes need to change so that we can all live safely. They encourage women to reject societal pressure to put politeness and conformity above personal safety, while demanding authorities deal more seriously with violence against women.
"Though the subject matter is rather heavy, the ladies inject their trademark humor into the narrative, making this both a thought-provoking and enjoyable listen.