R.J. Cutler's If I Stay is pitched squarely to teenage girls, of which I am not, who are susceptible to melodramatic plots and doomed love stories. Though I fall firmly out of this demographic, that's not to say that I couldn't enjoy or become engaged with a film dealing with a bright young woman on the verge of making some major life decisions who must reevaluate her priorities when tragedy strikes. I'm certainly not above any genre exercise that's rendered with a modicum of intelligence and brought to life with genuine emotion, as this is the key to making any sort of engaging entertainment. And then there's "If I Stay."
Chloe Grace Moretz is Mia Hall, a young woman who has the world at her feet yet lacks the confidence to grasp all of the opportunities that lay before her.
Smart, beautiful and a top-notch cellist, she's unsure as to if she should leave Portland, Oregon to pursue her dream of concert hall stardom or hang around to follow after her musician boyfriend Adam (Jamie Blackley) who's on the verge of pop superstardom.
However, all of this takes a backseat when Mia and her family are involved in a car accident that sends her into a deep coma.
However, her consciousness becomes stuck in some sort of limbo as she's able to observe all that's going on about her while her life hangs in the balance.
As she learns the fate of her family members and sees how this tragedy is affecting her friends and grandparents, she's forced to make a decision – should she stay on this mortal plain to live her no-guarantee-of-success life or move on to the realm of the afterlife, knowing only that it's really, really bright there?
Sillier premises have proved effective but the way Cutler handles this material dooms it from the start. Every character is an idealized version of a real person, none of them coming off as real or genuine in any way, shape or form. You could easily dispense with the names of all the characters as Mia's mother and father (Mireille Enos and Joshua Leonard) could be referred to as "the cool parents," her brother (Jakob Davies) as "the lovable younger sibling," Adam as "the too-cool-to-be-believed boyfriend" and her best friend (Liana Liberato) as "the quirky sidekick." No one in the cast, with the exception of Stacy Keach as Mia's grandfather, manages to provide any shadings of character or human behavior. They're all playing types of people, nothing more.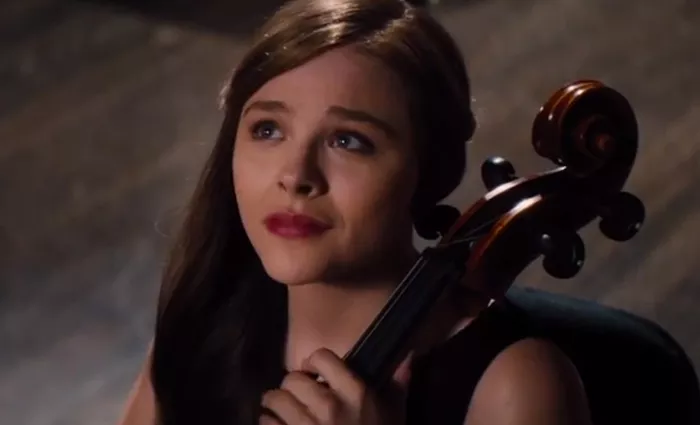 Even Moretz, who I think is a very talented actress, isn't immune to this as nearly every scene she's in is played a bit too broadly, a bit too obviously. Some of the blame for this lies on Cutler's shoulders for not guiding her towards a more subtle turn, but the script does her no favors either, saddling her with horribly written voice-over narration while the lines of dialogue she's forced to speak are simplistic to the point of being insulting.
The film is based on a novel by Gayle Forman, who's built her career in the world of young adult literature by writing for readers much like her protagonist here and while her novels have sold well, the writing in them is of questionable quality, like so many other works of this sort. While I have no problem with this author making an honest dollar, the fact that her works are embraced by young readers as good literature and in turn their film adaptations seen as good movies is troubling. The bar on what is considered fine art has fallen drastically over the course of the last decade and if this generation comes to see movies and novels such as If I Stay as worthy storytelling, this is a slippery slope that opens the door to shoddy storytelling being the norm, which does nothing but lessen us all in the end.