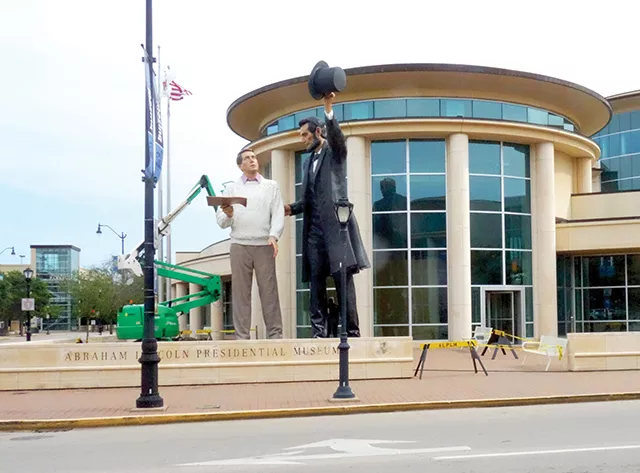 I like kitsch as much as anyone, but I'm not digging the Lincoln-and-some-guy statue freshly installed at the entrance to Abe World.
It's not an uncommon reaction to the works of J. Seward Johnson, whose family made zillions via the Johnson & Johnson Co. while leaving him to follow his artistic bliss. Critics say the stuff is crap, and there is a lot of it.
"Forever Marilyn," her skirt a flutter as in the Seven Year Itch, entices kids of all ages to wander beneath and stave upward in to her metallic crotch. Since the original debuted for a few months in Chicago, versions, perhaps counterfeit, of the 26-foot-tall Marilyn have ended up in China, with one meeting an ignominious end at a landfill and another installed in a shopping mall. "Unconditional Surrender," an oversized rip-off of the iconic photo of a sailor kissing a nurse when World War II ended, has inspired both critics and vandals, with the former declaring that art shouldn't be copies of existing images and the latter decorating reachable portions with spray paint: #MeToo.

Johnson has churned out at least four "Unconditional Surrender"'s, with price tags ranging from $542,000 for Styrofoam to more than $1.1 million for bronze. The 17-ton thing outside Abe World, also, is a replica, one that drifts from one Midwestern town to the next. Nearly 30 years ago, the original, in modest life size, was set up outside a Gettysburg house where Lincoln stayed before delivering his address. Next to Abe is a guy in bad sneakers and worse sweater with a quizzical look on his face and a sheet of paper in hand that's billed as the Gettysburg Address but just as easily could be a map. The sculpture is titled "Return Visit," but I'm thinking "Where's Obed and Isaac's?" with Abe pointing the way via a jaunty gesture of his stovepipe hat.
It's not all bad. Through sheer contrast, "Where's Obed and Isaac's?" brings out the beauty of the building that houses Abe World, something we're tempted to take for granted as we drive past every day. Gyo Obata, the St. Louis architect who designed the museum, isn't giving interviews, which is understandable, given he's 96 years old. Back in the day, he had a certain vision. "Lincoln was a simple, direct person," Obata told the St. Louis Business Journal in 2001. "He was not ostentatious. The design had to be marked by some simplicity and have some architectural space."
Then there's Susan Mogerman, erstwhile chief operating officer of the Abraham Lincoln Presidential Library Foundation who before getting that job was director of the erstwhile Illinois Historic Preservation Agency that once ran Abe World. "We have plenty going on here without statues," Mogerman told Illinois Times. "We want the architecture to speak for itself." That was in 2005, when promoters of Abe on Parade, a public art project that fizzled, suggested putting a life-sized fiberglass Lincoln outside the museum entrance along with scores more all over town.
"The powers that be at the Abraham Lincoln Presidential Library and Museum and the foundation did not want the quote-unquote Disney-fication of Abraham Lincoln," recalls Ward 6 Ald. Kristin DiCenso, who helped organize the doomed project. Tony Leone, Pasfield House proprietor and owner of the only known fiberglass Lincoln produced as part of the project that plopped, also says ALPLM bigwigs didn't like cheesy Lincoln statues and so scuttled Abe On Parade. "It really is a sad story," Leone says.
SPEAKING OF ALPLM, wise guys say artifacts won't be auctioned to retire a debt incurred to buy relics that include a stovepipe hat with a past so shaky the museum no longer displays it. In November, the museum's private foundation told state lawmakers that auction preparations would have to begin as soon as five months ago unless the state paid a $9 million note due in October, but no funds have been forthcoming. ALPLM spokesman Chris Wills says no one from the foundation has contacted the museum about auction arrangements. Nick Kalm, foundation spokesman, was brief in response to an April query: "There is nothing to report at this time," Kalm wrote in an email. State Sen. Andy Manar, D-Bunker Hill, says the foundation has agreed to allow two lawmakers on its board. That qualifies as progress – part of the problem has been mistrust of a private foundation under no obligation to open its books. Stay tuned.
MARSHALL FAULK? Yep, that's who the State Journal-Register has picked to inspire high school athletes at the paper's Best of Capital Region Preps awards ceremony scheduled for June 27 at Bank of Springfield Center. The National Football League parted ways with Faulk last year after a league employee sued, claiming that the running back turned television analyst had talked dirty and exposed himself and pinned her against a wall while demanding oral sex and pulling his pants down. The league suspended Faulk, settled the lawsuit, then didn't renew his contract. There's also a 2003 lawsuit filed in St. Louis, where the mother of three of Faulk's kids accused him of domestic violence – the jury sided with Faulk, awarding him $125. I'm guessing Faulk charges less than folks like Brian Urlacher, who spoke at the event two years ago. That would please bean counters at GateHouse Media, the paper's corporate parent, which last week laid off scores of newsroom employees around the nation while sparing the already-decimated SJ-R.