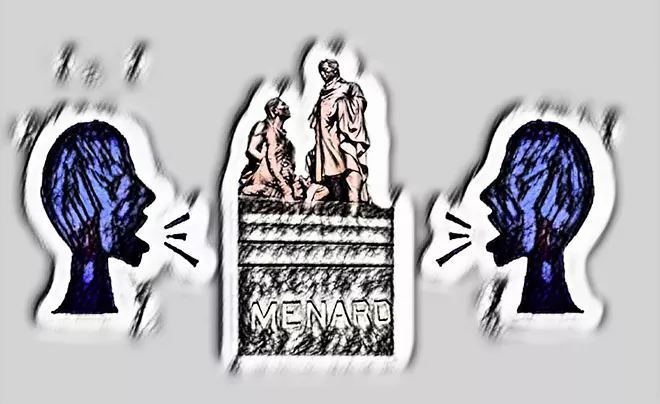 About 45 people recently got together to discuss who is represented – and who's not – around the Statehouse grounds in downtown Springfield. In July, House Speaker Michael Madigan said he wants an audit done and statues of Pierre Menard and Stephen Douglas removed. Menard, the first lieutenant governor of Illinois, owned enslaved people. Douglas also benefited from slavery. State Rep. Camille Lilly, chair of the Illinois House Black Caucus and a legislator since 2010, told Illinois Times, "Myself and other members of the caucus have been talking about statues and monuments on the Capitol campus since we were elected." Lilly said she supports the idea for some statues to go and wants a new statue of President Barack Obama erected.
Citizens have also been discussing the issue, especially in the midst of the Black Lives Matter movement's resurgence. Illinois Times hosted a public virtual conversation on July 30 to explore their ideas. Speakers included activists, historians and even a professional monument builder. Most agreed that the status quo isn't cutting it.
Robert Moore, retired U.S. Marshal and a consultant for community and police relations, spoke about his fight in the early '90s to get a statue of Martin Luther King Jr. moved from behind the Capitol to a more prominent location, an effort that was successful. He defended the statue's current placement across the street from the Capitol, saying it is in regular public view. Dominic Watson, head of the Springfield Black Chamber of Commerce, said the statue needs better upkeep or a total refurbishment and that it belongs on the Statehouse grounds. Tim Drea, head of the Illinois AFL-CIO, spoke about King's 1965 visit to Springfield during which he made a powerful speech about labor relations.
The statue of Menard was erected in 1886. In the bronze rendering, Menard, who was a fur trader, looks down upon a kneeling Native American. "Even looking at it, you can tell that it is a story of supremacy. It's a story of inequality. It's a story that upholds a harmful, dangerous ideal, where a group of people is lesser than another group of people," said Reggie Guyton during the discussion. He's a historical actor and member of the Springfield Black Theatre Alliance. Vincent "June" Chappelle, also a member of the theater group as well as a board member of the Springfield and Central Illinois African American History Museum, said in no uncertain terms of Menard, "There's no reason why someone like that should have a spot on the Statehouse grounds."
Black Lives Matter Springfield and Springfield Call 2 Action are among the activist groups in the capital city calling for change. Elizabeth Scrafford spoke on behalf of both groups. "Folks who promote inequality or promoted inequality, bigotry and oppression should not be celebrated anywhere on state grounds where the work of the people is taken up," she said. "The Statehouse is the people's house, and every Illinois resident should be welcome." Faith Coalition for the Common Good president Roy Williams Jr. added the importance of education. Williams said he worked at the Capitol building for years and heard firsthand how certain aspects of history were omitted during tours. "Whatever happens, whatever statue is moved or whatever statue comes down, we have to educate the kids on why it was there in the first place," Williams said.
"I'm of the opinion that if the people say that it's hurtful, then it needs to come down," said Tiffani Saunders, a professor of sociology and African American studies at the University of Illinois Springfield. She spoke about how statues and symbols are used to reflect the values of a culture. "We're at a unique historical moment ... where we get to decide what are the values, beliefs and ideas we hold as residents of this state today," Saunders said. "Legislators have a moral obligation to ensure that the symbols that are in that building and around that space don't inflict symbolic violence on the citizens of the state." Sarah Webb, an English professor at UIS, said statues tell stories about who belongs – "who matters." She said we should all consider who feels welcome in certain areas or instances and why or why not. "I'm encouraging all of us to think about Springfield and our respective neighborhoods and communities and streets on a larger scale," said Webb.
The topic of inclusion was brought up in terms of the lack of women and other people of color represented at the Capitol during the discussion. But the idea of being past a point in time where putting certain individuals on literal and figurative pedestals as statues was also discussed. Webb posed, "Can we think about other kinds of memorials and other kinds of spaces that are meant to not only memorialize and honor but also educate?" Saunders said she believed if statues are removed, the space should remain vacant and the stories of why those spaces are now empty should be told.
The ultimate decision is not in the hands of Springfield residents, but the powers-that-be at the state Capitol. Rep. Lilly said she is hopeful that after years of inaction, concerns and new ideas will finally be listened to. "We have put legislation on the books for session after session, and nothing happened," she said. "It appears to me that now is the time."
You can view the "Statehouse Statues Solutions" panel discussion in full at: tinyurl.com/y5cpl287
Contact Rachel Otwell at rotwell@illinoistimes.com.