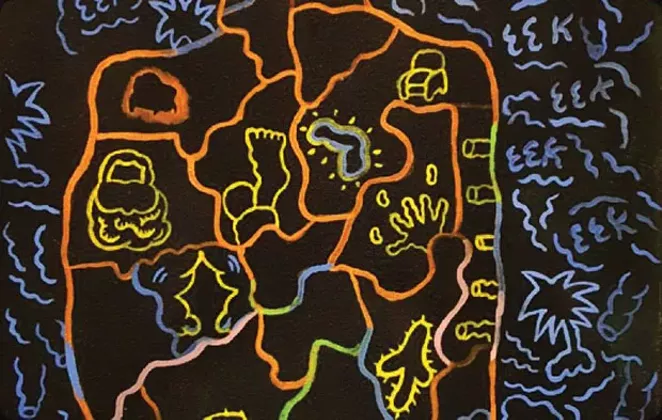 A new exhibit at the Illinois State Museum (ISM) aims to introduce visitors to contemporary artworks. "Just Good Art: The Chuck Thurow Gift" opened Feb. 4. It is a collection of modern paintings donated last year to the ISM by art collector Chuck Thurow. Thurow, a former executive director at the Hyde Park Art Center in Chicago, has donated numerous artworks from his collection in the last few years. The current gift features over 100 artworks by 56 artists, such as Margaret Burroughs, Eleanor Spiess-Ferris, Karl Wirsum, Phyllis Bramson, Theaster Gates, Gladys Nilsson and Paul Sierra. According to the ISM, the gift is one of the largest donations of artworks in its 139-year history.
"Eek," painted by Suellen Rocca in 1967, is among the donated works. "Eek" is a silhouette of a policeman who is surrounded by palm trees, waves and the word "eek." The policeman is depicted in puzzle-like sections, with each body part showcasing objects such as purses, wigs and rings.
Robert Sill, ISM curator, described in an interview the process between Thurow and ISM to put together the vast exhibit. "Doug Stapleton was the curator responsible for negotiating this incredible gift of over 100 works of art from Chicago collector Chuck Thurow," Sill said. "As for how the exhibition was put together, it was a real team effort led by Doug who designed the layout, first on paper using floor plans and elevation drawings, then personally placing the works in the space in arrangements that he saw as relational in terms of themes, styles or like kinds of art."
Another piece of donated artwork, "Portrait of Chuck, Dale & Alfonso," a 1995 painting by Ferris, is actually a painting of Thurow. Thurow's face is clearly shown, yet the painting construes Thurow as if he were mutated with a chicken. According to Sill, this painting stands out as his favorite work in the collection. "As far as the paintings go, I would have to say the Eleanor Spiess-Ferris painting 'Chuck, Dale and Alphonso' is my favorite. The middle figure is a likeness of Mr. Thurow dressed in a chicken costume!" Sill said. "The piece stands out to me because of its layered meanings. It is humorous, whimsical and sort of somber at the same time and contains esoteric symbolism that I enjoy. And I just love her style of painting."
Sill is optimistic about what visitors will get out of viewing the Thurow exhibit. "My hope is that out of this enormously varied exhibition, viewers will find their own favorites that they will share and discuss the art with their friends and their families, and encourage others to come see it and come back themselves again and again," he said.
Sill then talked about upcoming exhibits planned at the museum. "There are many exciting exhibitions planned for this year. Coming up next on March 25, we will be featuring paintings and drawings and prints from the ISM Fine Art Collection of Chicago artist Michiko Itatani," Sill said. "We will then be doing a partnership initiative with the Elmhurst Art Museum bringing in a show that they organized and we loaned works to. It is titled, 'Kings and Queens, Pinball, Imagists and Chicago.'"
"Just Art: The Chuck Thurow Gift" will run through May 7.

Alex Camp is an editorial intern at Illinois Times. He is pursuing his master's degree at University of Illinois Springfield. Contact him at intern@illinoistimes.com.