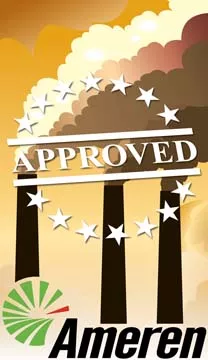 State regulators won't enforce pollution limits on one of Illinois' largest power generators until 2020 under a ruling released Sept. 20.

The Illinois Pollution Control Board last week granted Ameren Energy Resources – a subsidiary of St. Louis-based Ameren Corporation – a variance that allows the power plant operator to put off compliance with a particular set of pollution rules for five years. The decision angered environmental groups that lobbied against the variance.

Requiring AER to comply "would impose an arbitrary or unreasonable hardship," PCB wrote in its 70-page decision. The board reasoned that because AER has already shuttered two of its seven coal plants in Illinois and the company will still limit its pollutant output, the variance would not create a net increase in pollution.

The case arose in May, when AER asked the board to put off enforcement of a "Multi-Pollutant Standard" agreement reached in 2006. The standard, which was based on a federal standard that was later repealed, seeks to regulate sulfur dioxide, nitrogen oxide and mercury emissions from coal-fired power plants.

While AER has begun installation of pollution controls on most of its five operational coal plants in Illinois at a cost of more than $1 billion, the company told the state board it would not have enough cash flow to install pollution controls on its Newton Energy Center near Effingham by the time the stricter pollution standard takes effect. AER blamed the "double whammy" of low power demand and the low cost of natural gas – one of coal's main rivals in energy production. The company says it examined converting at least one plant to use natural gas, but the lower energy output would have relegated the plant to seasonal operation.

AER told the board at a public hearing in August that the company would have to shut down at least two additional power plants and potentially cut about 275 jobs if the variance was not granted.

Under the 2006 agreement, AER would have gained more time to curb mercury emissions in exchange for reductions in sulfur dioxide by 2015. The board's recent order moves that deadline to 2020 but creates a timetable for AER to complete specific steps toward installing pollution controls at the Newton plant.

The Illinois Environmental Protection Agency, which would be charged with enforcing the agreement, filed documents with the board saying AER's request for a variance wouldn't result in more pollution. IEPA declined to either support or oppose AER's request.

The Environmental Law and Policy Center, a national environmental group, objected to the variance request, along with several other groups. ELPC argued the agreement should be upheld, in part because AER has had six years to comply. The group points to research showing pollution from coal plants contributes to asthma, heart attacks and other health problems.

"The board charged with upholding Illinois' environmental standards has thrown a lifeline to highly-polluting coal plants," said Faith Bugel, senior air attorney with ELPC, in a statement reacting to the order. "Today's decision undercuts the state's groundbreaking multi-pollutant standard and creates a disincentive to comply with the standard. The Pollution Control Board will need to decide if it will continue propping up polluters or if it will stand up for children's health and the environment by upholding the pollution reduction standard."

The case prompted a flood of public input. The board received more than 3,000 written public comments from environmental groups who opposed the variance and from labor groups who were concerned with potential job losses.

Brian Bretsch, a spokesman for AER's parent company Ameren, said the company is still reviewing the board's decision.

"This decision is critical to our employees and the local communities surrounding our energy centers," Bretsch said.

Contact Patrick Yeagle at pyeagle@illinoistimes.com.