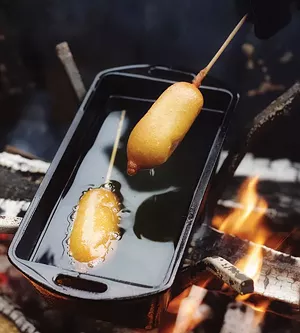 A year ago could anyone have envisioned a summertime in the Land of Lincoln without the Downhome Music Festival, Muni Opera, International Carillon Festival or the Illinois State Fair? For the first time since 1945, the usually bustling fairground has been silenced. The beer tents are empty. No concerts in the Grandstand. No butter cow. It's just not fair.
As committed as I am to clean and healthy eating, I must confess that what I'm really missing is my once-a-year indulgence in all my favorite state fair foods: Vose's corn dogs, fried green tomatoes, honey ice cream from the Illinois State Beekeepers Association and paper cones of piping hot Cullers French Fries with a squirt of malt vinegar. The desire still remains while the means of fulfilling that desire has been taken away. So this summer I'll have to be satisfied with a DIY Illinois State Fair food fix. I'm going to set up outside, invite over a small group of masked friends, stay six feet apart, crank up Steely Dan's "Alive in America," make some corn dogs and fried green tomatoes, and party like it's 2014!
Campfire Corn Dog Recipe
Recipe courtesy of Chef Kieron Hales- Zingerman's Cornman Farms
Corn dogs premiered at the Illinois State Fair in 1946. You could skip all the fuss and buy pre-made frozen corn dogs and nuke them. But you won't get the lovely just-fried texture of the cornmeal coating.
Materials needed
Heavy loaf pan
2 wide-mouthed Ball jars
Heavy wooden skewers or single-use chopsticks, cut to 6 inches length
Tongs
Paper towels
Ingredients
Package of hot dogs
2 cups pancake mix (The kind that requires oil, eggs and milk. Or make your own mix from scratch.)
1 cup milk
2 large eggs
½ stick unsalted butter, melted
4 tablespoons cornmeal
½ teaspoon onion powder
½ teaspoon garlic powder
1 cup AP flour
1 ½ qts. peanut or grapeseed oil. (Or use bacon fat if you really want to up your game.)
Preparation
Cut the hot dogs in half and insert skewer into the cut side, pushing ¾ the way in.
Whisk together milk and eggs in a quart Ball jar. Gradually add pancake mix, and keep whisking until batter comes together. Add the cornmeal, onion and garlic powder. Whisk until just moistened. Be careful not to overmix. Pour melted butter slowly into the batter and stir gently to incorporate.
Fill the second wide-mouth Ball jar with 1 cup AP flour.
Pour frying oil into a heavy loaf pan leaving 2 inches of space at the top.
Heat frying oil to approximately 350 F. (See note below.)
Fully coat the skewered hot dogs in the jar of flour.
Shake off the excess flour and dip in the batter jar until fully covered. Pull up slowly. Allow it to drip for 5 seconds to remove the excess batter.
Carefully dip the corn dog into the hot oil half way and count to 5 seconds. Then gently lower the rest of the corn dog into the oil. Fry the corn dogs no more than 2 at a time to keep the oil temperature from dropping. Turn with tongs to achieve even golden browning. Fry for 2 minutes each side, until golden brown.
Remove from the oil with tongs and place on paper towels to cool.
Serve with ketchup or mustard.
Note: Check oil temperature with a deep-fry thermometer. If the oil is too hot, the batter won't stick. If oil is not hot enough, the corn dogs will be greasy. If a thermometer is not available, put a wooden chopstick in the oil. If you see bubbles starting to appear around the chopstick, it's ready for deep frying.
Fried Green Tomatoes
Though you won't find them fancied up like this at the fair, I like mine topped with a few shrimp and some Creole Remoulade Sauce.
Ingredients
½ cup AP flour
1 large egg, beaten
½ cup ground cornmeal (or ¼ cup corn bread mix and ¼ cup polenta for a crunchier breading)
4 firm green tomatoes (Select tomatoes that are firm, but not rock hard. They should give a little when gently squeezed.)
¼ teaspoon kosher salt
½ cup peanut or canola oil (or just enough oil to cover the tomato slices)
Preparation
Place the flour on a small plate, the beaten egg in a small bowl, and the cornmeal (or cornmeal/polenta mixture) on another small plate.
Cut tomatoes into 1/3-inch slices with a serrated knife. Sprinkle both sides of each slice with a little salt to draw out moisture. Place in a colander set over the sink to drain about 10 minutes. Blot the tomato slices with paper towels to absorb excess moisture.
Dip the tomatoes individually into the flour, shake off excess, then dip into the egg wash and then dredge in the cornmeal. Place the breaded tomatoes on a cooling rack set over a sheet tray.
Pour oil into a skillet to a depth of about 1/2 inch and heat to 350 degrees F.
Carefully lower tomato slices into the hot oil and fry until golden brown, about 3-5 minutes per side. Transfer to a paper towel-lined plate, season with salt and keep warm while frying the remainder.
Creole Remoulade Sauce (optional)
Ingredients:
½ cup mayonnaise
2 T. fresh squeezed lemon juice
1 scallion, thinly sliced
1 T finely chopped parsley
1 T. Creole or whole-grain mustard
½ t.Tabasco sauce
¼ t. garlic powder
¼ t. kosher salt
½ t. paprika
¼ t. cayenne pepper
Preparation:
Whisk all ingredients together in a small bowl. Keep covered and refrigerated until ready to use.
Peter and Bertha Bus send greetings from Hiawatha National Forest in Michigan's Upper Peninsula.