White Oaks Mall has a new anchor tenant: the state of Illinois.
After purchasing space formerly occupied by Sears for $3.5 million last August, the state now plans to move Illinois Environmental Protection Agency headquarters from North Grand Avenue to the mall. The complex now occupied by IEPA is slated for demolition to make room for expansion of a nearby railroad corridor.
A move could happen within two years. "Some time in 2023, they're going to have to be out of there," said Jim Moll, an engineer with Hanson Professional Services who is project manager for the rail corridor project.
More than 700 state workers might relocate to the mall, and design work has started to convert retail space into offices. No final cost estimate or construction timeline has been set. In addition to IEPA employees, the Illinois Pollution Control Board and the Illinois Department of Innovation and Technology will be moving to space that became available when Sears closed in 2018, according to an email from Marjani Williams, spokesperson for the Illinois Department of Central Management Services.
Ward 7 Ald. Joe McMenamin, whose ward includes the mall, welcomed the news.
"It's massively important for White Oaks Mall," McMenamin said. "This is good for Springfield. We're filling up dead space at the mall due to a building that has to be knocked down due to railroad relocation."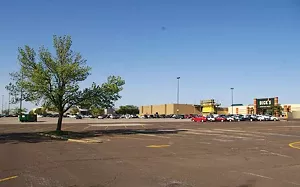 Simon Property Group, the mall's owner, has been reinventing mall space over the past few years as department stores close and smaller merchants battle online retailers. The company has purchased shuttered Sears stores in malls elsewhere with plans to develop restaurants, fitness centers and other non-retail store entities, and it has been buying bankrupt tenants, including Brooks Brothers and J.C. Penney.
Clay Emerich, then White Oaks Mall manager, told the Springfield City Council in 2018 that Simon wanted to purchase both the Sears property and property once occupied by Bergner's, which closed that year – both bankrupt retailers owned their stores at the mall. Each store had approximately 120,000 square feet of space, Emerich told the council.
Simon bought the Bergner's space last year for $1.75 million. It's since been used by Green Family Stores to sell cars. The mall's owner did not purchase the Sears property, however, Sangamon County property records show that the state purchased the Sears space from a limited liability corporation with a Hoffman Estates address where Sears Holding Company is domiciled.
Ryan McCrady, chief executive officer of the Springfield Sangamon County Growth Alliance, a public-private organization aimed at promoting economic development, said that he hadn't heard about plans to move the IEPA to the mall. "They kept that pretty quiet," McCrady said. "I know they had to move somewhere."
McCrady said he had been concerned that the IEPA might move out of Springfield.
"I'm glad to hear that they're staying here in our community," he said.
Contact Bruce Rushton at brushton@illinoistimes.com.