Entrepreneurs with life experience grow their own businesses
Rich and Sarah Van Dorn have had a busy year. In March, the couple relocated from Florida to Springfield, and on Oct. 8 they opened their new business, Stella Coffee & Tea, at 1135 W. Governor St.
"Our daughter lives here, and during the pandemic we would come up to visit and stay in hotels. It was such an expense that we bought a house so that when we visited, we would have somewhere to stay," Sarah Van Dorn said. "My husband is an engineer who works on rockets, first for NASA and now Blue Origin, and he ended up being able to work remotely. So we moved up here at the end of March and started working on our coffee shop concept."
The couple partnered with a supplier out of California to produce their house blend, a medium-bold roast called Orion. "Because of my husband's background, we wanted to have different blends named after constellations – Orion is our first one," said Van Dorn, who noted that the business name, Stella, is another word for "star."
While Springfield already has a number of coffee shops, Van Dorn said theirs is targeted to people who are not in a hurry, as evidenced by the lack of a drive-thru. "I want this to be an old-world coffee shop where you come in and read the newspaper, and can stay there and hang out if you want, not a drive-thru mentality."
Along those lines, the couple has partnered with Oddities and Esoterica, an online bookseller based in Springfield. "We're both big readers, and we have a bunch of books for sale since now we have the owner's inventory at our coffee shop," said Van Dorn.
The other unique factor about Stella Coffee & Tea is the business' commitment to being sustainable. Customers can bring in their own coffee mug and pay a discounted price for the coffee, and the to-go cups are all recycled or recyclable. Even the coffee grounds are recycled into briquets that can be used for barbecue grills.
"The napkins are cloth, and the cups and plates are made from wheat straw," said Van Dorn. "I'll end up doing a lot of dishes, but we won't be throwing things away. We're trying very hard to be sustainable."
Stella Coffee & Tea is currently open Monday through Saturday, 8 a.m.-1 p.m., although Van Dorn said the business hours may be adjusted based on customer demand. The building is also available for evening rentals, and Van Dorn said she already has a couple of monthly commitments.
"One guy has a garage band, but he doesn't have a garage. He rents it out so he and his friends can go jam," she said.
Daisy Jane's grows into more space
Downtown gift shop Daisy Jane's recently relocated to a significantly larger space at 9 W. Old State Capitol Plaza.
Owner Julie Johnson started the business six years ago as a second career following her retirement from the medical technology field. "I had sold things at Studio on 6th and Wild Rose downtown, and my husband suggested I open a place for myself," she said.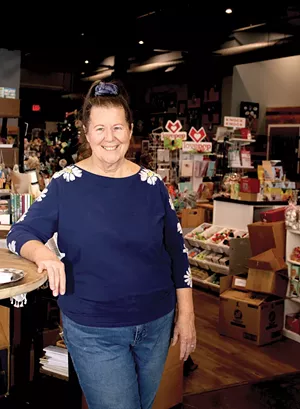 Johnson opened the business in December 2016 in 1,000 square feet of space at 424 E. Monroe. The business has grown over the past few years and Johnson has continued to add new product lines, such as baby and children's items. "We had accumulated quite a lot in our itty-bitty space on Monroe," she said. "We got to the point we were just too crowded for our space, but I didn't want to scale back."
Instead, Johnson decided to expand, and will now occupy 3,000 square feet on the Old State Capitol Plaza. The space, which housed Marley's Pub at one time, has been vacant for more than five years, and Johnson said her landlord purchased the property last year and began making improvements.
Truth Lounge recently moved into the building at the corner of Fifth and Adams streets and The Wakery, a dry bar and late-night coffee shop, is scheduled to open next door to Daisy Jane's in the first part of 2023.
"It will be nice to have another woman-owned business next door," said Johnson, who is encouraged by the various types of new businesses moving into the downtown area.
Johnson said she's also looking forward to being able to expand her existing product lines and add new ones now that she has more space for the business. "I'm always finding new small businesses making unique items I want to try out," she said.
These articles originally appeared in Biz Bites, the digital newsletter for Springfield Business Journal. To sign up for a free weekly digest of what's happening in the Springfield-area business community, visit springfieldbusinessjournal.com.