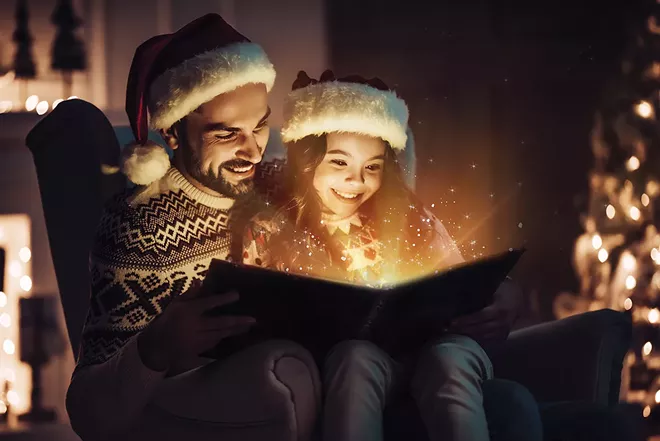 As the winter holidays approach, most families have any number of traditions they celebrate during this time. For me, when I was a child, we delivered cookies to extended family members, and we also read certain books on Christmas Eve. Now as an adult, there are no cookie deliveries for my family, but we have definitely continued the tradition of reading some of the same holiday books each December. Regardless of whether or not reading with your kids is a tradition in your household yet, I would like to share some recent holiday books that are sure to be enjoyed by children and adults alike, both written and illustrated by Matt Tavares.
If your kids are a little older or just aren't fans of Santa, then Red and Lulu may be the book to add to your collection. This picture book, released in 2017, captivated my attention and curiosity immediately, just from the cover illustration. Red and Lulu are two cardinals who live together in an evergreen tree. Unbeknownst to them, their home is cut down and taken away, all while Red is gone and Lulu is still in the tree. We then spend a good chunk of the book following the tree, wondering if Red and Lulu will ever be reunited. As you pay attention to the illustrations though, you realize that we have followed the tree (and Lulu) to New York City. The illustrations continue to be beautifully captivating and demonstrate some of the love we often miss during the rush of the holiday season. When we read this book at my house, we tend to linger on each page, just admiring all we see. So, why has Red followed Lulu and ended up in New York City? Will Red and Lulu ever see each other again? I don't want to spoil it, so you'll have to check it out for yourself.
Matt Tavares' holiday release for 2019 was Dasher. As you may have guessed from the title, this picture book's main character is one of Santa's reindeer. This lovely book tells the story of how Santa went from delivering presents around the world with the help of only one horse to having eight reindeer in front of his sleigh. Besides stories about the red-nosed reindeer, we had not read any books about the rest of them, so it is nice to read an original story about them before Rudolph shows up. And just like Red and Lulu, the illustrations in this book are beautiful to look at. The illustrations are darker in color because most of the book takes place on Christmas Eve, but still something to stare at. And although it is clearly a Christmas story, this is also a story about taking chances, being brave and the importance of family.
Both of these books can be found wherever books are sold, as well as the public library in Springfield. And yes, even as my kids get older and read fewer and fewer picture books on their own, when it comes to this time of year, we will continue to grab books from that same pile and enjoy them before we go to bed. Then hopefully, when they have their own families, these memories will spark their desire to create traditions – maybe even around books – for them.
Deana Metzke is a wife, mom of two, blogger and book lover who is trying her best to raise children who will enjoy reading long after she's gone. She is a literacy coach at a Springfield elementary school. You can find her talking about children's books on Twitter at @DMetzke or her blog, raisingreaders.site.