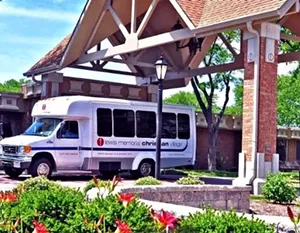 Two residents and three staff at Lewis Memorial Christian Village in Springfield have tested positive for COVID-19. That's according to communication sent to family of patients and a hotline number that regularly updates information about coronavirus. The retirement and assisted living community publishes the hotline number on its website: 217-547-5560. Those numbers were up-to-date as of Thursday, July 30, morning.


A Sangamon County Department of Public Health official also confirmed those numbers and said the facility is cooperating with the county health department and is testing all staff and residents. The facility has 171 beds, according to the county, though it's not yet certain how many residents live there in total. The facility has reported zero related deaths. The county official said contact tracers are also trying to determine how COVID-19 entered the facility.

The Illinois Department of Public Health does not yet include Lewis Memorial on its list of Sangamon County long-term care facilities with outbreaks. The IDPH site lists six total long-term care facilities in the county that have had outbreaks, with the Villas East in Sherman seeing the most cases: 122 staff and residents infected and 26 deaths.

Of those six, all but two are considered closed cases, according to the county. The two facilities listed with active cases are Cedarhurt Assisted Living and Memory Care (3520 Old Jacksonville Rd.) and Centennial Pointe (3440 Hedley Rd.) — both in Springfield.


Update, 7/30/20, 1:51 p.m: A spokesperson for Lewis Memorial Christian Village said the first positive case there was reported on July 21. "We have notified public health officials as required and are following procedures recommended by the Centers for Disease Control & Prevention," said Ray Dickison, who heads a task force on COVID-19 for Christian Horizons, the not-for-profit Lewis Memorial is a part of.
According to the release: Christian Horizons is doing everything we can to ensure we stop the spread of this within our communities. We are in close communication with the local and state health officials to ensure we are taking the appropriate steps currently. We have dedicated units for infection prevention, dedicated staff with enhanced training, enhanced cleaning protocols and management of personal protective equipment and supplies. We have advanced clinical team support with 24/7 telehealth monitoring capabilities for immediate assessment and management of treatment interventions.