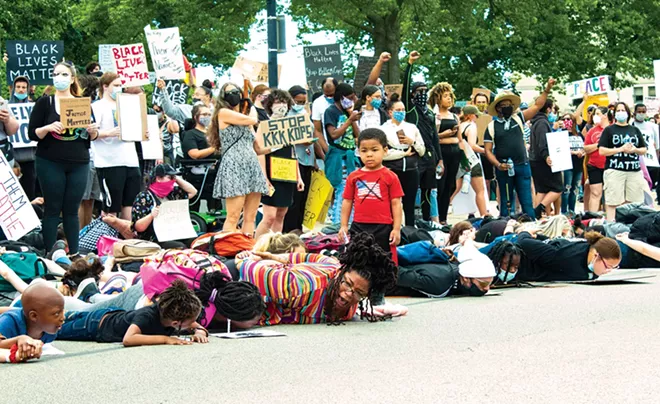 It was far beyond what anyone had anticipated. Several hundred people drove together, their cars poured down Ninth Street and nearby roadways. They headed to the Sangamon County complex, the courthouse and jail. Vehicles were colorfully and creatively decorated with signs, many stating: Black Lives Matter. One read, "No justice, no peace, prosecute the police."
For two hours on Sunday, May 31, the residents and town visitors honored George Floyd with the vehicular procession. Floyd had allegedly used a counterfeit $20 at a market in Minneapolis on May 25. Officer Derek Chauvin knelt on Floyd's neck for more than eight minutes, according to a criminal complaint against him. Black Lives Matter Springfield leaders, Sunshine Clemons and Khoran Readus, planned the car procession in solidarity for Floyd and others killed by law enforcement.
The turnout "was well beyond our expectation," said Clemons. The route took participants down Martin Luther King Jr. Drive on the predominantly black side of the segregated city. East side residents cheered and raised their fists as cars drove by honking. "I saw an elderly lady in her doorway. Both arms were waving frantically, like she was waving for dear life," said Clemons. "I was literally moved to tears."
In Illinois, black residents infected with COVID-19 have died at rates disproportionately higher than whites. In choosing a form for the demonstration to take, "We were trying to be mindful of that," said Readus.
Ward 2 Ald. Shawn Gregory joined Readus and Clemons to kick off the procession. "We're going to work together, and it's OK to have tough conversations," he told attendees. The east side representative had recently been the target of incendiary social media comments by a Springfield police officer who has been reassigned pending an internal investigation. Gregory said support he received at the event "made me know that it's OK to be myself."
Police response
Springfield police chief Kenny Winslow said of the BLM demonstration, "It was very touching to see our community come together under these stressful times and times of high tension." Mayor Jim Langfelder echoed the chief and told reporters, "We understand the sadness everybody's feeling, the anguish, with the tragic and horrifying death of George Floyd."
Amid ongoing protests across the country, the situation in Springfield has been remarkably less tense than in many other cities. Protesters have met repeatedly over the past week without much incident. The same cannot be said of other cities in Illinois.
Former Springfield resident Marina Bassett now lives in Chicago. On Saturday, May 30, she got in her car for a vehicle procession there. But she couldn't find it. "I just very impulsively parked my car and decided I would march." She masked up and joined others by Trump Tower.
Riot police there wielded batons. Bassett said an officer struck her. Pictures show her face swollen and ribs bruised in multiple areas. "I've never been more scared in my life. ... I had no expectations of being on the receiving end of violence." She found out at the hospital that she had a concussion. She hadn't wanted to go. "I don't have any insurance and I feel like hospitals are scary places for exposure to coronavirus," she said. "I was really nervous." Friends insisted.
In Chicago, extensive arrests have been made as protesters take to the streets, peacefully for the most part. Still, there has been damage and looting along the Magnificent Mile, and the havoc has spread into other neighborhoods. Chicago mayor Lori Lightfoot announced on Saturday, May 30, a citywide curfew from 9 p.m. to 6 a.m. for an indefinite time.
"Black and proud"
That Saturday night, as a curfew was announced in Chicago, about 40 protesters gathered outside the Capitol building in Springfield. The demonstration seemed organic.
Tina Freeman led chants such as, "Black and proud," from a megaphone. She's a teacher for Springfield public schools. It was her first demonstration. She echoed protesters' desire that all four officers associated with Floyd's death be charged. "This is a systemic thing," she said.
One attendee served as self-appointed security, with an eye out for agitators. Leroy Newbon said protesters in Springfield who had been meeting over multiple nights were nonviolent and nondestructive. He urged those gathered to learn the city's rules for demonstrations, and follow them accordingly. The 31-year-old has been an activist in Springfield for several years. "A lot of people that live in Springfield think that racism doesn't exist," he said. "It does."
No justice, no peace
On Monday, June 1, three black teenage girls led marchers through downtown Springfield before stopping outside the Capitol near the Lincoln statue around 3 p.m. Themes of remarks included the long and ongoing battle against racism – from government neglect of black neighborhoods to judicial sentencing disparities along racial lines. Youth recited poetry and told each other it was OK to express their feelings of frustration.
One speaker quoted Zora Neale Hurston: "If you are silent about your pain, they'll kill you and say you enjoyed it."
Demonstrators laid down on the street, yelling, "I can't breathe," a common refrain at protests after the killing by police of Baltimore man Freddie Gray.
More than 1,000 people showed up, including about a dozen local clergy. A trio of Dominican Sisters of Springfield were there. Sr. Marcelline Koch is the director of their office of justice. She can't count how many protests she's been to. "It's wonderful to see young people, and young people who get the value of nonviolent protest."
"I agree when they say 'Black Lives Matter' doesn't negate any other life. It simply holds up black lives that haven't mattered in our policies and our behavior in our country," said Koch.
The governor's plan to prevent the spread of coronavirus prohibits large gatherings. City police have said people still have the right to assemble to protest. Sr. Koch said she was cautious, and was impressed with the number of people wearing masks.
Undeterred, Nykeyla Henderson marched through the streets, leading chants. The 17-year-old co-organized the event with friends and people she met through social media. She'll be a senior at Lanphier High School next year.
"We're going to keep this going," she said. "I feel like it has to be my generation." Henderson wore a shirt with a picture of her late father. She said he supplemented her education at home, teaching her about Black History. "He's the reason I'm standing out here today."
"Now we can actually use our young voices to let these people know that you hurt the young community too. You didn't just hurt the older community. You hurt us too, because that could have been our brother. That could have been our dad, that could have been our uncle."
Henderson noted the focus of the day brought out people of various races and backgrounds. "This unity is beautiful right now. No violence is happening right now. We're marching in peace."
You can contact Rachel Otwell at rotwell@illinoistimes.com and follow her on Twitter: @MsOtwell.