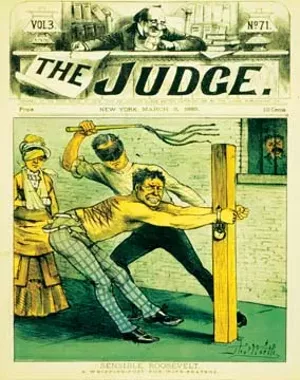 Today, Springfield's downtown square is a peaceful place. Its manicured lawn and grand Old State Capitol suggest that it was a location of thoughtful debate and mannered discourse among our early lawmakers.
But before the Old State Capitol was there, the square was the site of violent punishment for lawbreakers.
Like many frontier towns, Springfield had a whipping post. They were especially common before towns were able to build jails, according to the Encyclopedia of Chicago by James Grossman, et al. (University of Chicago Press, 2004).
Ours was located on what is now the downtown square, but was first an unoccupied square on the fringe of the early settlement, which originally centered around Second and Jefferson Streets. According to Paul Angle's Here I Have Lived: A History of Lincoln's Springfield (Abraham Lincoln Book Shop, 1971), before 1831 the downtown square was "swampy and grown over with weeds" and "contained only the whipping post, a gruesome monument which stood bare and awesome" across from the current JPMorgan Chase Bank at the southeast corner of Sixth and Washington streets.
Sources disagree about the exact location of the post. Early Springfield resident G. E. Cabaniss thought it was more centrally located in the square. He described it in a letter recalling his memories of young Springfield; the letter was printed in the Jan. 12, 1874, Illinois State Journal. "My father, Charles F. Cabaniss, owned half a block on the northwest corner of the public square, on which he built a log cabin, where the family resided some years. While residing there it was my lot to play the part of shepherd boy, and I have often found the cattle grazing on the then commons (where the current Old State Capitol now stands)…And the old Capitol with her basement, hides from human sight the spot where the last whipping post that I ever saw, to which men were tied and punished by the officer of the law with a whip in hand for the crime of stealing."
One of the town's founders, Elijah Iles, applauded the post's effectiveness in his autobiography, Early Life and Times (Springfield Printing Company, 1883). "The culprit had to be whipped upon his bare back. Our sheriff, Gen. J.D. Henry, was tender-hearted and merciful, and laid the lash on lightly. Some, after being whipped, left the district; some made good citizens, and those who did not reform altogether were careful not to commit any act that might subject them to again hug the post and have their backs slashed. This mode of punishment seemed to have a better effect in checking crime than imprisonment in jail or in the penitentiary, and at much less cost."
We've all heard of "hanging judges," but in 1824 Sangamon County had a "whipping judge." According to the History of Sangamon County, Illinois (Inter-State Publishing Company, 1881), the "ill tempered" John York Sawyer presided over the First Judicial District at that time, which included five counties besides Sangamon. The book says Sawyer made the rotund, 350-pound Judge David Davis look like "a common sized man."
"Sawyer was a terror to all offenders," says the book. Once, somewhere in the district (the book doesn't say where), when a man was being tried for petty larceny (theft) and found guilty, the man's lawyer "begged" Sawyer to let him run to his office where he could find materials proving that his client was wrongfully convicted and therefore deserved a new trial.
" 'Oh certainly, certainly,' said Sawyer to him, assuming one of the blandest looks possible. 'The court will wait with greatest pleasure on you…'" the book recounts.
"Scarcely had (the attorney) left the courthouse when Sawyer said to the Sheriff: 'Mr. Sheriff take the prisoner out to yonder white oak tree…strip him to the skin, and give him thirty-nine lashes, well laid on.'"
"Sawyer turned around and looked out the window while (the punishment) was being executed and, in a loud voice, counted the number of strokes on his fingers." Shortly thereafter, the attorney returned, unaware that his client had been severely punished in his absence. He pleaded for a new trial and Sawyer granted his request. But his client whispered to him: "'Don't take it, or they will whip me again.'"
In 1831 the Illinois General Assembly outlawed whipping in the public pillory and mandated jail time for offenders instead, according to the Encyclopedia of Chicago. However, it adds that whipping continued in the prisons.
Two historic accounts suggest flogging might have continued locally after 1831. One account is a 1922 (month and day unknown) Illinois State Register article from Lincoln Library's Sangamon Valley Collection. In it an "old settler" recalled seeing a man whipped in Springfield "in 1833."
The other account suggests that whipping was used as vigilante justice and that Abraham Lincoln was involved.
In Herndon's Life of Lincoln, a biography written by William Herndon (Lincoln's last law partner) and Jesse Weik (World Publishing Co., 1943), the authors recount a story told by Lincoln contemporary Charles Matheny.
According to the book, Matheny said that there was an alcoholic shoemaker who lived near the downtown square who frequently "whipped" his wife. "Lincoln, hearing of this, told the man if he ever repeated it he would thrash him soundly himself," says the book. "Meanwhile, he told Evan Butler, Noah Rickard, and myself of it, and we decided if the offense occurred again to join Lincoln in suppressing it. In due course of time we heard of it.
"We dragged the offender up to the courthouse, stripped him of his shirt, and tied him to a post or stump, which stood over the well in the yard back of the building. Then we sent for his wife and arming her with a good limb bade her 'light in.' We sat on our haunches and watched the performance. The wife did her work lustily and well. When we thought the culprit had had enough Lincoln released him; we helped him on with his shirt and he crept sorrowfully homeward. Of course he threatened vengeance, but still we heard no further reports of wife-beating from him."
Contact Tara McAndrew at
tmcand22@aol.com
.