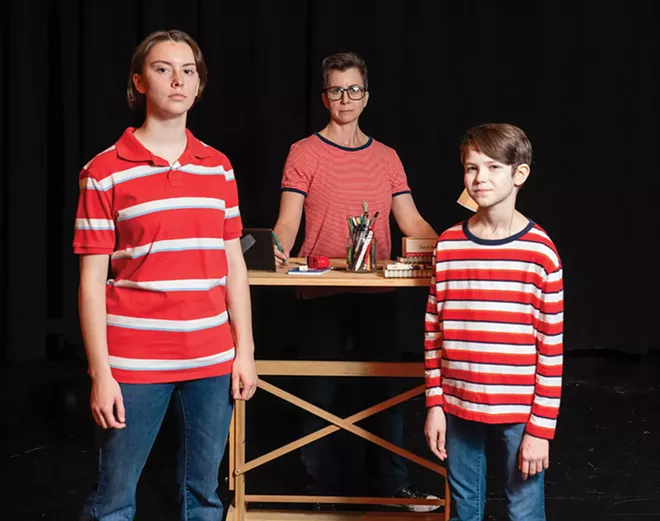 This week a recent Broadway musical makes its Springfield debut as Fun Home opens Friday at the Hoogland Center for the Arts, running Friday-Sunday, Nov. 11-13, as well as next week, Nov. 18-20. Directors Joe-Michael Jackson and Ginny Racette began planning this even before the pandemic. The wait is well worth the time.
Alison Bechdel became known in the 1980s as the first lesbian cartoonist, with the long-running comic strip Dykes to Watch Out For. Her autobiographical graphic memoir Fun Home (2006) was a critical hit. The book was subtitled "a Family Tragicomic." And this is the source of the multiple Tony Award-winning Broadway musical from 2015 about Bechdel's growing up in a family whose father owned the local funeral home and was an English teacher at the high school; a closeted gay man who, as we are told in the first few minutes of the show, killed himself. Not exactly what you expect from a hit show? Well, the show is definitely thought-provoking and also full of extraordinary songs for an ensemble of actors.
It is a must-see show that is actually funny and moving and full of questions and family wounds, secrets and truths. Fun Home has a complex, intricate music score and composer Jeanine Tesori (Caroline or Change, Shrek, Violet, Thoroughly Modern Millie) won a Tony for her work here. The show is almost entirely sung, and has a musical score that blends different styles for each character. There are many times the music soars as the beauty of it washes over us. There is hardly any space of time during the 100-minute intermissionless show that there isn't music. I imagine our local musicians relish playing such a challenging score. Pianist Mike Spainhour agreed. Musical director Mary Myers and vocal director Christie Lazarides both spoke to me about the complexity of the score and the joy of working on it.
One of the interesting things about this show is the fact that Alison is portrayed by three actresses at different stages of her life; sometimes all three are singing together on stage at the same time. This production features 13-year-old eighth-grader Cam Lecocq as Alison as a child; university student Susan Wheeler is late-teen Alison and Mary Young is the adult established artist Alison. Each of the three are given powerful singing moments. The parents are played by Josh Ratz and Mary Kate Smith. Smith has one of the best of the many great songs in the show ("Days and Days") and tells us, with her eyes, everything we need to know. Ratz plays the very complex character of Bruce Bechdel, a mountain-climb of a role that culminates in an aria-like number called "Edges of the World," the closest to a male "Rose's Turn" from Gypsy I've ever seen.
Mary Young as "Adult Alison" is telling the story and, remembering her dad, sings "There's you and there's me but now I'm the one who's 43 and stuck and I can't find my way . . . am I just like you?" And when college-age Alison is feeling anxious as she begins college, she writes her father that "I probably just need to find the right people."
And small-Alison has a revelation when she sees an "old-school butch delivery woman" and gives a show-stopping performance with the song "Ring of Keys." Cam Lecocq has an innate sense of humor and a wisdom that brings to mind one of the precocious children in J. D. Salinger's Glass family.
What I'm getting at is there are so many of these kinds of scenes and songs in this show that you may very well want to see it a second time. It is not often you see a serious drama sung. This cast of actors is exceptional.
Makynzie Ashbaugh, Jesse Smith, Jude Smith and Tanner Stephens all add greatly as they play an ensemble of roles in the show. And Casey Kulavic choreographs two dance numbers that balance out the seriousness of the proceedings.
In some ways Fun Home is a radical show, yet it is also a traditional musical with its ability to have the characters' emotions come out in song. It is joyous and comic and moving and sad.
Hats off to Springfield Theatre Centre for bringing the musical to Springfield. Though the subject is not easy, it's definitely a show for your family to see and to discuss. That said, the show is not for young children. Subjects of suicide, emotional abuse and LGBTQ topics are discussed.
Showtimes for Fun Home are Friday and Saturday at 7:30 p.m., Sundays at 2 p.m. Tickets at the Hoogland Center Box Office: 217-523-2787 or online at www.hcfta.org.
Phil Funkenbusch is a retired historic sites and museums guy, now living in Havana. He can be reached at funkenbuschp@gmail.com.