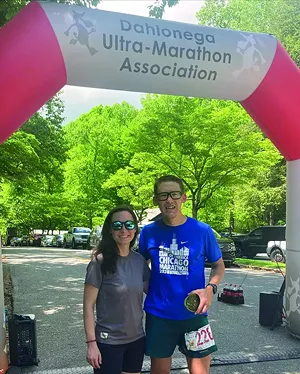 Springfield may have the Fat Ass 5K, but Georgia has Dumbass events, sponsored by the Dahlonega Ultra Marathon Association in northern Georgia. Springfield's Joe Miller, an ultramarathoner, competed in the Cruel Jewel 100 Dumbass event May 13-15 in the Chattahoochee National Forest. He finished in first place with a time of 23 hours, 40 minutes and 42 seconds. He was an hour and 10 minutes ahead of the second-place finisher. Only four people have finished in under 24 hours in the history of the race.
Starting in Vogel State Park in Blairsville, Georgia, the out-and-back course is over trails and mountain roads, with a 33,000-foot elevation climb and descent. "Cruel" is a fitting name since the 100-mile race is actually closer to 106-108 miles. There were 129 finishers, and the last finished in just under 48 hours. Fifty more started but didn't finish.
Miller estimates he burned 10,000 calories during the race. He consumed lots of specially formulated energy foods, gels and an electrolyte drink, as well as pickles (they are salty), maple syrup and boiled potatoes. A headlamp and trekking poles were part of his gear. The race started at noon, which is not very typical and a welcome change from getting up before sunrise to start a race. The experience included single-track trails, lush green forests, mountain roads, steep ascents and steeper descents, 20 aid stations and running in the dark with the light of a headlamp. "I don't recall much flat terrain in the last 30 miles," said Miller. "When the sun came up, it provided a nice boost of natural energy."
A day after winning, Miller was quick to say, "I had so much fun out there! The course is so brutally beautiful."