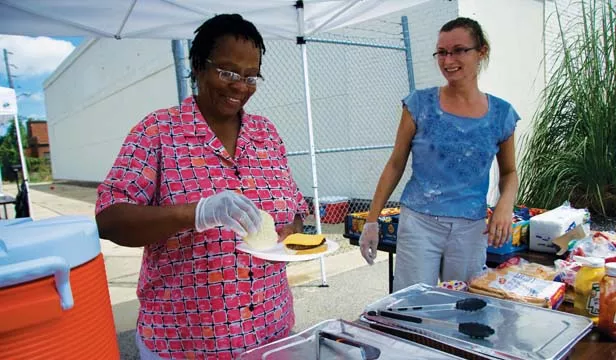 Ask Racine Freeman how long she has been a patient at Capital Community Health Center in Springfield, and she chuckles.

"A long time…a long time," she says with fondness in her voice. Freeman says she also became a member of the CCHC board of directors about a year ago because she wanted to give back.

"They've given our family a better quality of life," Freeman says. "It has really helped me to be able to take care of my family and their various medical needs."

Located at 2239 E. Cook St. in Springfield, CCHC provides primary medical and dental care to uninsured and Medicaid patients. The center now is expanding its staff and services using more than $1 million in federal funds at a time when demand for low-cost medical care is rising. CCHC served 15,769 patients in 2009, an increase of more than 1,300 patients over the previous two years, and an increase of more than 5,700 patients since 2005.

"It has a lot to do with the economy," says Heather Burton, development director at CCHC. "A lot of people who had jobs before don't have jobs now because of the economy. Small businesses can't afford to pay health benefits anymore, so instead of firing people, they're cutting health benefits. A lot of people are choosing between health care and putting food on the table."

Last year, the federal Department of Health and Human Services (DHHS) awarded CCHC a grant of $271,743 through the American Recovery and Reinvestment Act of 2009 (ARRA). The center is now using that money to employ a new family practice doctor, a doctor of internal medicine and six support staff. Burton says CCHC's grant application initially projected the center could treat an additional 1,400 new patients with the added staff, but they have already far surpassed that number. As of June 30, CCHC has taken on an additional 5,512 patients – 1,270 of whom are uninsured. Burton says people travel from as far away as St. Louis and Chicago to use CCHC's services.

A second ARRA grant has helped CCHC keep up with changes in the handling of medical records. CCHC received $773,075 from DHHS to purchase new equipment to handle electronic medical records (EHR), which allow clinics and hospitals to send, receive and store medical records on specialized computers. It's a relatively new concept in the medical industry, but it is spreading quickly.

"Basically, that's where the world is turning," Burton says.

So far, CCHC has spent $189,758.45 of the EHR grant, including the purchase of at least one mobile clinical computer that features an infrared scanner, radio tag scanner, touch-screen handwriting recognition, onboard camera and water resistance. The center's EHR system may eventually generate new technology-based jobs as well.

"Once fully installed and implemented, CCHC will be more efficient and effective in providing primary care to its patients," the center's grant application says. "The quality of care will dramatically increase on several levels. … In general, the new EHR system will synchronize all the health center's moving parts to manage all aspects of the complex environment that defines a health center."

The center is also planning a 23,000-square-foot expansion that will nearly double its current medical capacity by adding 24 new medical exam rooms and several new dental exam spaces. The first phase should be complete in the spring of 2012, Burton says, and the entire project should be complete by 2013. Burton says the added space should allow CCHC to serve 30,000 patients when complete, adding that the center doesn't put caps on the number of uninsured or Medicaid patients it accepts.

"We never turn anyone away," she says.

Contact Patrick Yeagle at pyeagle@illinoistimes.com.