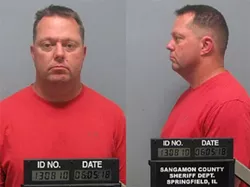 Sherman police on Monday arrested a battalion chief employed by the Springfield Fire Department after he reportedly hurled obscenities at officers.
Chad Bates, 44, spent the night at the Sangamon County jail after he was arrested at his home in Sherman and booked on a felony charge of intimidation and a misdemeanor count of obstructing a peace officer. He was released from jail on Tuesday after posting a $500 bond.
Bates was suspended for six days last year after bringing a gun into a firehouse. He told superiors that he was carrying the weapon because he was worried about his ex-wife's husband. Bates underwent counseling in 2015 after the department determined that he had falsely told police that his ex-wife's husband had slashed his tires. Bates this year prevailed in a lawsuit against the city's civil service commission, which sought to remove him from a battalion chief promotion list due to his disciplinary record. The city recently promoted him from captain to battalion chief on what is supposed to be a temporary basis.
The latest trouble began shortly after 9 p.m. on Monday while officers with an arrest warrant were looking for someone who had fled from a house in Bates' neighborhood, according to a Sherman police report. "Who are you fucking with now?" someone yelled, according to a report filed by Sherman deputy chief Chris Fulscher.
"I initially thought it was someone who recognized me who was playing a prank on me," Fulscher wrote in his report.
It was Bates, whom Fulscher says was walking toward him accompanied by his wife.
Fulscher wrote that he recognized Bates from a pending child abuse investigation. Bates was the suspect in the abuse case, which had been investigated by Fulscher and referred to the state Department of Children and Family Services. According to the deputy chief's report, the state had substantiated the allegation, and Bates is appealing the finding. No details on the child abuse case were immediately available.
"I told Chad that it could be him that I was looking for," Fulscher wrote. "He walked past my location."
Shortly afterward, Fulscher said that he told another officer not to bother when the officer began asking Bates whether he'd seen the person police were seeking. Bates responded with obscenities, according to police reports, yelling that "police just fucked with people." The cussing continued even though Bates' wife was telling her husband to stop, according to police reports.
"Chad was 10 to 15 feet away from my location, as I was traveling away from him, and he said that if I wasn't hiding behind that badge, he'd fuck me up," Fulscher wrote. "I perceived that as a threat/intimidation towards my performance with the child abuse investigation."
Another officer who was present corroborated Fulscher's account in a separate report.
After completing their search for the person who'd fled the home near Bates' house, Fulscher and another officer visited Bates at his residence.
"I told him I wanted to know what his intentions were regarding his statements that he had said," Fulscher wrote in his report. "He smiled, looked in my direction and said that I knew what his intentions were. I walked towards him, told him he was under arrest and told him to place his hands behind his back."
Neither Bates nor his attorney could immediately be reached for comment. Bates has been placed on administrative leave.
In the lawsuit against the city, Bates' attorney had argued that the city's civil service commission erred last fall in barring Bates from the promotion list. Any such prohibition should have been meted out during disciplinary proceedings that concluded months earlier, when Bates was suspended. Sangamon County Circuit Court Judge John Madonia in February ruled in Bates' favor. The city has appealed. Bates was promoted following a May 21 hearing during which Madonia refused to stay his March ruling in favor of Bates.
Contact Bruce Rushton at brushton@illinoistimes.com.