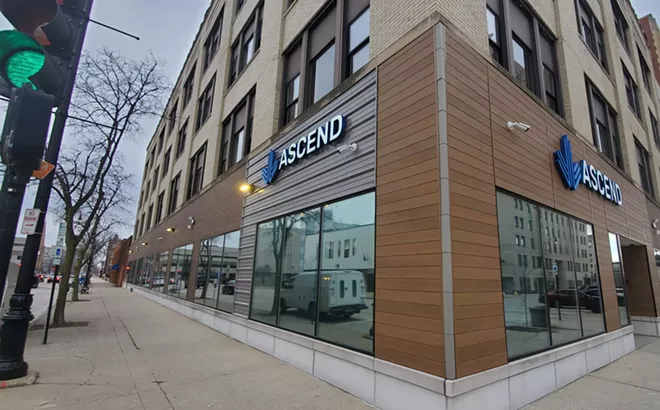 Workers at a cannabis dispensary in downtown Springfield are seeking to unionize. They say bullying, a lack of paid sick time, limited hours and a lack of transparency regarding COVID-19 are reasons why.
Ascend Springfield employees at the downtown location (628 E. Adams St.) are organizing under the umbrella of the Local 881 chapter of The United Food and Commercial Workers International Union (UFCW) which includes employees of cannabis cultivation centers and dispensaries.
In a "fact-sheet" provided by the union, complaints from employees include that there is no paid sick time and paid holidays were canceled days before Thanksgiving last year. There are also claims about a lack of clarity and transparency when it comes to COVID-19. Employees who tested positive for the virus have allegedly been prevented from communicating so with other staff. Management allegedly told staff not to "play the COVID card," according to the document.
"It is important to us that our employees feel valued and safe. We are committed to ensuring that lines of communication are always open and that we are available to answer questions and address concerns of our staff," Chris McCloud provided in an emailed statement on behalf of Ascend Wellness Holdings, LLC. Ascend has dispensaries in five states including Illinois, with two in Springfield.
Eric Craddock of Springfield is an Ascend employee who is part of the effort to unionize. He said employees want COVID-related policies that show management takes the health of staff seriously. Craddock said workers can communicate via an app. He said some have tried to use the app to share news they tested positive for COVID. "Every single time that's happened, those (messages) have been deleted" by higher-ups, he said.
Craddock said staff also want more potential for raises and promotion with the company, and more benefits, such as retirement or savings plans. He said he and other full-time employees have had hours cut, with little to no explanation from management as to why. "I'm not alone in being the sole breadwinner of a household, thanks to the COVID pandemic, which makes that extra pressing." Cutting several hours per week off someone's schedule makes a notable difference in income, said Craddock.
"People are talking about donating plasma, people are getting part-time jobs," he said. "It's sad." Craddock said he is paid $15 per hour and wants to make a career out of the cannabis industry, an industry that has grown exponentially throughout the state.
According to an article in the Chicago Tribune on Dec. 29, 2020, Illinois' cannabis industry was "on pace to top $1 billion in 2020, including medical marijuana sales. The industry could get a lot bigger in 2021 with more municipalities welcoming weed retailers and 30 dispensaries yet to open under the state's inaugural legislation."
"This job requires a skill, a know-how," said Moises Zavala, Local 881 UFCW director of organizing. "We believe that the industry can give way more than what they are giving to employees," said Zavala. "The industry early on bragged about bringing great jobs to Illinois. We want to make sure that these jobs are careers where employees are receiving good wages, benefits and everything that comes along with a career." On Tuesday, Zavala said a petition has been filed on Ascend workers' behalf, and that the union is waiting on a response from Ascend to give to the National Labor Relations Board.
According to a press release sent Wednesday afternoon by Local 881 UFCW, the labor board confirmed that workers at a Chicago dispensary, Windy City Cannabis/Curaleaf, will participate in a mail-in election.
"At the end of 2020, workers at Cresco Labs in Joliet, one of the largest cannabis companies operating in Illinois, voted overwhelmingly to ratify the first Cannabis Union contract in Illinois. Local 881 was successful in negotiating wage increases, more paid leave, a higher 401k match, lower health insurance rates, an increased employee product discount, a robust grievance procedure, and stronger seniority protection language for the Cresco Joliet workers," according to the release.
Craddock said there are about 40 "non-management workers" at Ascend's downtown location and about 60% of them supported the effort to unionize. He said employees have explored multiple avenues to raise issues but were ignored. For example, Craddock said he had inquired about pay through the Families First Coronavirus Response Act after taking time off to quarantine while awaiting results from a COVID-19 test. After raising that and other issues with human resources, he said he was told by a manager to quit contacting HR. Craddock said he was "shocked" by the response. "I don't feel comfortable talking to management," he said. "I don't know what other voice I could possibly have than a union."
Contact Rachel Otwell at rotwell@illinoistimes.com.