There are many opportunities in the Springfield area for enriching, educational and fun activities for kids this summer. From art to science to history, horseback riding, babysitting, sports, nature, cooking, technology, swimming, skating, theater, special needs, ecology and more, there is something for children of all ages.

Boy Scouts of America – Camp Bunn and Camp Illinek
The Abraham Lincoln Council, Boy Scouts of America prepares young people to make ethical and moral choices over their lifetimes by instilling in them the values of the Scout Oath and Law. The purpose of Boy Scouts is to give young people an appreciation of the outdoors through a program that teaches leadership and community service and provides outdoor adventure while building self-esteem.

There are two staffed properties, Camp Bunn and Camp Illinek, for boys and a parent to camp. Camp Illinek is on Lake Springfield. Activities include archery, crafts, games, nature, bb guns and more. Cub Scout Camp is for boys entering first to fifth grades. For more details go to www.alincolnbsa.org/cub-camps. There are a variety of day camps and resident camps offered.

Week-long camps are for boys who will be in sixth grade and up at Camp Bunn in Hettick, Illinois. Climbing, rappelling, shooting sports, sailing, jet skis, nature and art are just some of the adventures offered. Programs start with safety and end in fun. Visit www.alincolnbsa.org/boy-scout-summer-camp for full details. If your child is not currently a Scout, contact camp director Jerry Daniels at jerry.daniels@scouting.org to find out how to attend Camp Bunn.
Girl Scouts – Camp Widjiwagan Sunsational Summer Adventures
The mission of the Girl Scouts is to build girls of courage, confidence and character who make the world a better place. Get Your Girl Power through the overnight and day camps at Camp Widjiwagan on Lake Springfield. The camp has a new adventure course with a 40-foot climbing tower and zip-line, an in-ground swimming pool and lake access.
Camp Independence is a three-day, two-night mini resident camp July 5-7 for all grade levels. Activities include outdoor cooking, boating, archery, swimming, teamwork and skills that build self-confidence. Campers stay in open-air rustic platform tents.
Week-long day camps provide an opportunity for girls entering grades 1-6 to get comfortable in the outdoors. The day camps are offered from mid-June to mid-Aug. and have a variety of themes – H2O, Nature Artist, Animal Adventures, Widji Science, Three Cs (courage, character and confidence) and Fiction Fantasy. Camps are Monday-Friday 9 a.m.-4 p.m., and optional before and after care is available 7:30 a.m.-9 a.m. and 4 p.m.-5:30 p.m. Girls entering grades 7 and 8 can participate as day camp assistants.
Week-long equestrian and sailing day camps are offered for teens entering grades 7-12. Equestrian camps are offered in June, and sailing camps are offered in July. Camps are Monday-Friday 9 a.m-4 p.m.
All girls are welcome. There is a flexible pricing system for participants, and camperships are available for financial assistance. Find out more and register online at
GetYourGirlPower.org
, Girl Scouts of Central Illinois, 888-623-1237,
customercare@girlscouts-gsci.org
.

Lincoln Land Community College – Summer enrichment and sports camps
College for Kids is an open-enrollment enrichment program for students who have completed grades K-8. Classes are Monday-Thursday 8:30 a.m.-12:30 p.m. with three sessions: July 10-13, July 17-20 and July 24-27. Numerous topics are offered, and students choose three classes per weekly session. The cost is $125/session and $185/culinary session.
Black Rocket Classes
are designed to "launch your creativity" and are for youth ages 8-11 and 12-15. Classes meet Monday-Thursday, 9 a.m.-noon or 1:30-4:30 p.m. Themes include App Attack, App Adventures, Minecraft, Digital Storytellers, Lego Comics, Code Breakers, and Star Wars. Classes are offered June 12-July 27.
Wizard's Cooking School
June 19-22 8:30 a.m.-12:30 p.m. is for youth who have completed grades 8-12 ($195).
STEM Smarts
June 26-29 is a full day STEM camp 9 a.m.-4 p.m. for students in grades 1-6 ($275).
PADI Seal Team
July 17-20 is Scuba diving fun at Adventure Dive and Travel for ages 8-12 ($175).
For more information and to register, go to
www.llcc.edu/community-education
or call 217/786-2432.
Lincoln Land also offers Loggers Sports Camps: boys baseball ages 7-18, boys basketball ages 8-15, girls basketball ages 10-18, girls softball ages 9-14, and girls volleyball ages 8-14. For more information, go to
lincolnlandloggers.com
or call
217-786-2429.
Lincoln Memorial Garden – Ecology Camps
Lincoln Memorial Garden is located on the shore of Lake Springfield. This 100-acre site features six miles of trails and is a beautiful setting to learn about nature and enjoy the wildflowers, trees and wildlife.
The popular Ecology Camp will be offered for seven weeks during June and July for children ages 4 through 15. Each camp involves five fun-filled days where participants will explore the garden by hiking the shady trails and learning more about native ecosystems as well as creating arts and crafts. A nature center houses interactive educational displays and a "super microscope" to get a close-up look at nature. The camps are 8:30 a.m.-3:30 p.m. Monday-Friday ($170). Members of Lincoln Memorial Garden receive a discount. (The half-day camp for 4 to 6-year-olds is full.) For more information call 217-529-1111 or go to
http://www.lincolnmemorialgarden.org/
Montessori Children's House
Montessori Children's House of Springfield summer camps, which begin on June 12 and run for seven week-by-week sessions, are open to all children ages 6-11. Camp activities include hands-on science, art, crafts, history, other cultures, languages, math activities, as well as bowling excursions, water play, Martial Arts and other traditional camp activities. Each week has a theme, with themes changing weekly.

Camps run Monday through Friday, from 8:30 a.m. to 3 p.m. A before- and after-care program will be offered daily from 7:30-8:30 a.m. and 3-5:30 p.m., at the rate of $4 an hour. A nonrefundable deposit of $25 is due for each week of camp at the time of registration. For the full camp schedule and more information, visit http:// montessorischoolhousespringfield.com, email info@montessorischoolhousespringfield.com, or call 217-544-7702.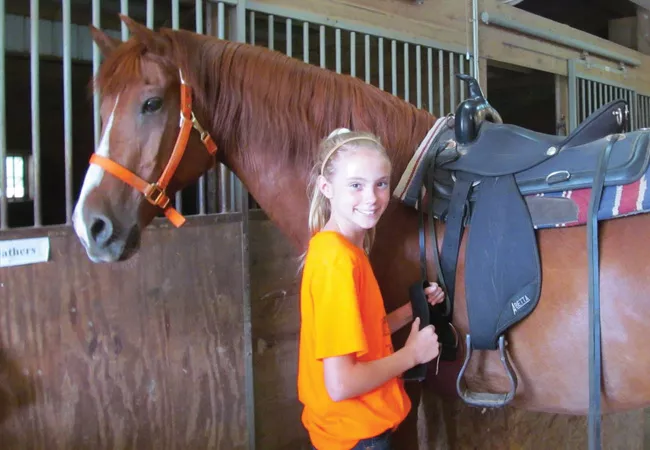 Riverside Stables – Horse Camp
Riverside Stables, a family owned and operated business located near the Sangamon River, offers week-long horse camps Monday-Friday 8 a.m.-4 p.m. from June through mid-Aug. Riverside Stables has been making memories of a lifetime for over 18 years. The outdoor fun includes horse care, riding lessons, daily trail rides, nature hikes, crafts and hayrack rides. Children ages 5-16 are eligible to participate. They will learn Western horsemanship, horse breeds, grooming and more. Cost: $445. For more information:
www.riversidestable.com
, 217-522-7702,
connieriversidestables@yahoo.com
.
Springfield Art Association – Art Camps and History Camps
The Springfield Art Association's popular summer art camps have inspired generations of students. The talented art instructors guide students in their own artistic discovery. There are weekly classes for students age 4 through high school June 5-July 28. Classes cover all types of media, such as sculpture, drawing, painting, mosaics, metals, pottery, photography and fiber. Classes are for students 4-5 years old, K-2nd grade, 3rd-5th grade, 6th-8th grade and high school (based on the grade the student will enter in the fall). All camps for elementary school ages are mixed media with themes. All the middle and high school classes are specific media explorations.
Themes include Enchanted Forest, Mosaic, Ecotour, World Landmarks, Mexican Folk Art Animals, Printed Ceramic Tiles, Claymation, Cultural Myths, Metals, Japanese Pottery, Alternative Jewelry, Photography, Digital Illustration and other topics. Classes are 9-noon, 1-4 p.m., 1:30-4:30 p.m. and 9 a.m-3 p.m. Cost for 4-5-year-olds: $90 members/$120 nonmembers; all other grade levels $100 members and $130 nonmembers for the 3-hour classes and $160 members and $190 nonmembers for the 6-hour classes.
Several history-themed camps are offered which take place in Edwards Place. Life in the 19th Century and Archaeology Camps are for children entering grades 3-5. Victorian Life for Girls is for students entering grades 6-8. These history camps are 9 a.m.-noon ($100 members, $130 nonmembers).
For a complete list of offerings and registration information, visit
http://www.springfieldart.org/summer-art-camp.html
or email
office@springfieldart.org
.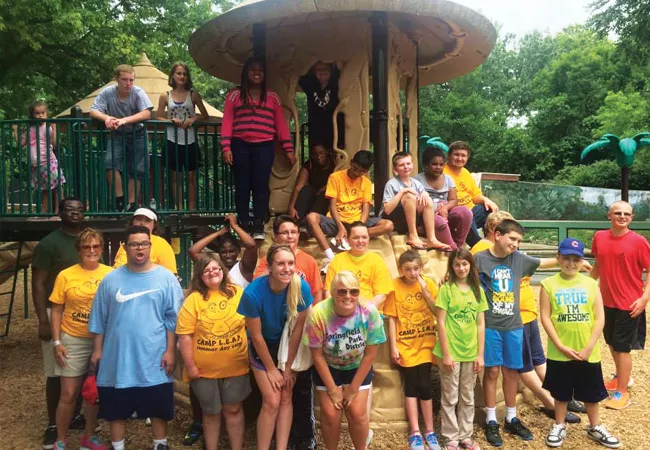 Springfield Park District
The Springfield Park District offers a wide range of unique summer camp experiences at the Nelson Center in Lincoln Park and also at Southwind Park. For more information about the Springfield Park District and its many park facilities and offerings, go to
http://www.springfieldparks.org/
.
Nelson Center Summer Camp in Lincoln Park
– Camp at the Nelson Center nurtures student learning, instills character, encourages social skills, creates friendships and provides opportunities to explore new interests. This mainstream program is for children ages 5-12. Campers are divided into appropriate age groups for daily activities. The weekly camps take place at the Nelson Center from June 5-Aug. 11, Monday-Friday 7 a.m.-5:30 p.m. A team of Summer Camp Counselors organizes daily activities. Children play in the park, swim at the Nelson Center Pool and ice skate at the Nelson Center Ice Rinks. They participate in crafts, sports, talent shows and take an end of camp field trip. Cost: $125/week for Springfield residents and $155 for non-residents. For more information call 217-753-2800.
CAMP LEAP
- Inclusive Programming with a focus on persons with disabilities – This camp accommodates students with special needs but is not exclusively for persons with disabilities. All children are welcome, and smaller staff-to-camper ratios is an attractive feature of this camp. Camp LEAP takes place in two locations. Students ages 4-12 attend the Nelson Center location, and students ages 13-15 go to Erin's Pavilion at Southwind Park. The camps are offered weekly from June 5-Aug. 18, 7:30 a.m.-5:30 p.m. Monday-Friday.
At the Nelson Center, students swim, play in a park setting and enjoy daily themed activities. Camp LEAP is a smaller class size and hosts its own transportation, so students enjoy weekly field trips and activities outside of the Nelson Center property. At Southwind Park students play outdoors, participate in activities inside Erin's Pavilion and take weekly field trips. Cost is $75/week for Springfield residents and $85/week for non-residents. Lunch and snacks are included. For more information and to register, call 217-585-2941 ext. 2303.
Springfield Racquet and Fitness Center
The Springfield Racquet and Fitness Center is a full-service tennis and fitness facility that offers 12 weeks of summer camp May 30-Aug. 18 for kids ages 5-12. Weekly camp fees are $150 for members and $180 for nonmembers. For more information, go to
http://www.springfieldracquetandfitness.com/kidscamp/
or call 217-787-2460.
Springfield Theatre Centre at Hoogland Center for the Arts
This theater camp is for kids entering third through ninth grades. In two-week camps, participants experience firsthand what it takes to stage a live production. They go through everything from audition tryouts to putting on an original play including specialty makeup, costumes, dance, choreography and solo/choral singing. The Finale is a free live performance for family and invited guests. Camp runs 9 a.m. to 4 p.m. with doors opening at 7:30 a.m. and closing at 5:30 p.m. each day. Three sessions are offered: June 12-24 – PAVE, The Musical, July 10-22 – Circus Circus and July 24-Aug. 5 – PAVE'S Got Talent. Camp fees are $335 per session. Campers attending all three sessions receive a $50 discount. Camps are held at the Hoogland Center for the Arts, 420 S. Sixth St. For more information, go to
http://springfieldtheatrecentre.com/pave/
or call 217-414-8905.
University of Illinois, Springfield – STEM camp and sports campsCamp Invention
– The University of Illinois Springfield will host Camp Invention, the nation's premier summer enrichment day camp program. The camp is a program of the National Inventors Hall of Fame. The week-long day camp for students entering 1st-6th grade turns the summer from ordinary to extraordinary though hands-on problem solving, collaboration and the use of science, technology, engineering and mathematics (STEM). The camp will be June 19-23 9 a.m.-3:30 p.m. on the UIS campus. Children are empowered to have big ideas while they take on challenges that inspire them to question, brainstorm, work as a team and build amazing invention prototypes. For registration information go to
www.campinvention.org
.
Sports camps
– Sports camps are offered throughout the summer, from youth camps to elite camps for high school students. There are camps for men's and women's soccer, youth baseball, women's elite soccer, women's and men's basketball, softball and volleyball. For more information, call 217-206-8195 or go to
http://www.uisprairiestars.com/sports/2013/1/22/GEN_0122135436.aspx
.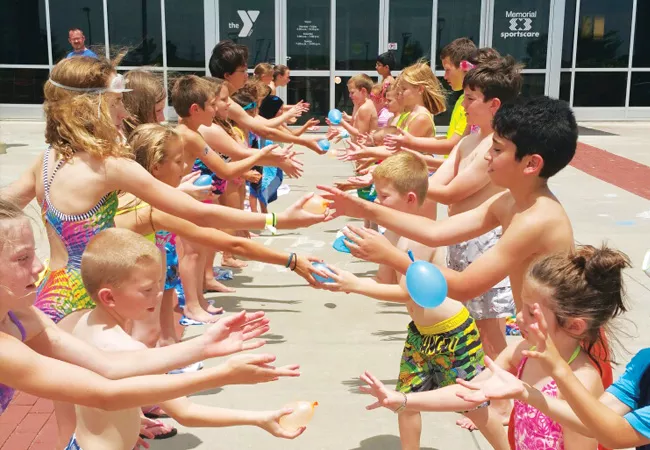 YMCA
The Springfield YMCA has been sponsoring summer camps for over 100 years. YMCA Summer Camp is where kids go to discover fun, friends, and find new talents. Camps are offered at Camp Wa-Kon-Tah at Lake Springfield, the YMCA downtown location, and the Kerasotes facility on the west side of Springfield. For the complete summer guide, go to
http://springfieldymca.org/wp-content/uploads/2017/02/2017-Summer-Camp-Program-Guide_WEB.pdf
. For information about financial assistance, call 217-544-9846.
Wa-Kon-Tah Camp
– Lake Springfield – This camp is for outdoor adventurers. Activities include exploring, canoeing, hiking, archery, outdoor games, crafts and more. Day campers gain independence, build self-confidence and learn new skills. This year there will be a new pavilion and play structure. Camps run weekly June 5-Aug. 18. There are programs for children ages 5-15. Children ages 5-6 spend part of the time at the downtown Y facility. Parents can choose between daily drop-off and pick-up at either Camp Wa-Kon-Tah or the downtown branch. Cost: $120/week for Y members, $148/week for nonmembers. For more information, go to
www.campwakontah.org
.
Specialty Camps at the Downtown Facility and Kerasotes Facility
Half-day specialty camps are offered at the downtown facility, and both half-day and full-day specialty camps are offered at the Kerasotes facility June 5-Aug. 18. There's something for everyone. Themes include art, dance, science, drama, cooking, babysitting, as well as a Hogwarts adventure, Jedi Training Academy and Pokemon Madness. The camps are designed to immerse children in theme-related activities, spark new interests or delve into an existing passion. Cost for half-day camps: $70/week for Y members, $90/week nonmembers. Full-day camps are $120/week for members and $148/week for nonmembers.
Sport and fitness camps
– There are many options to try out a new sport or participate in a favorite activity. Practice fitness and have fun. Camps include fencing, gymnastics, soccer, volleyball, functional fitness for youth, kids strength training and youth sports conditioning. Some camps are downtown and others at Kerasotes. Cost for half-day camps: $70/week for Y members, $90/week nonmembers. The only full-day camp is gymnastics at the downtown facility ($120/week for members and $148/week for nonmembers.) The Andre Iguodala Basketball Camp is June 26-28, 8 a.m.-noon for children ages 8-12 years. Members $100; nonmembers $150.
Rochester Community Camp
– From June 5 for 11 weeks, the Y offers full-day summer camps at the Rochester Elementary 2 – 3 School. The camp is for children ages 5-12. Activities include arts and crafts, sports, field trips, walks to the park and special guests. Cost: $120/week for members, $148/week for nonmembers.
YNOT (Youth Needing Other Things Outdoors)
This youth camp offers school-age kids a "best-of-class" summer camp. The camps are open to children entering first grade through age 12. Activities include daily field trips, organized games, trail-hiking and exploring, structured indoor activities, tours of facilities and businesses, swimming, bicycle trips and fishing. There are field trips around central Illinois and to St. Louis to zoos, museums, parks, nature areas and other kid-friendly places. There are two locations for drop-off and pick-up: Sacred Heart Griffin West Campus, 1600 West Washington Street and in Chatham at 301 North Breckenridge by the water tower.
The camp runs May 30-Aug. 11. Students may enroll in specific weeks or for the entire 11-week summer program. The fee is $150 per week or $1,500 for the entire summer if prepaid.
YNOT Outdoors, 2626 East Lake Shore Drive, Springfield. For more information, call 217-416-0549 or go to
https://www.ynotoutdoors.org/
.

Karen Ackerman Witter retired from a 35-year career in state government where she served in leadership positions related to natural resources, science and technology, and museums. She believes children need to be exposed to nature, science, art, physical activity, team building and a myriad of activities to stimulate their curiosity and develop a foundation for lifelong learning.