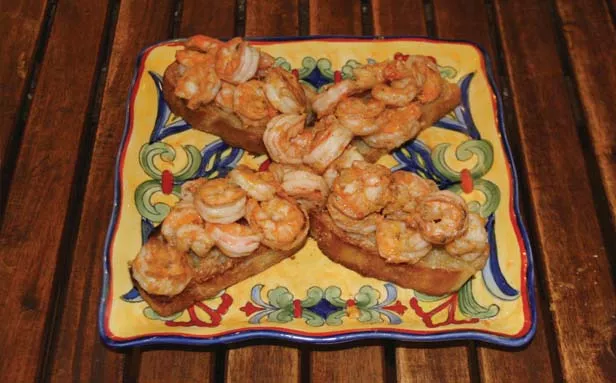 This time of year it can be hot or cold – or anywhere in between. It's amazing to look at our yard and think of our daughter Ashley's wedding there last year. Everything was green and blooming, and there were wildflowers everywhere; guests were amazed at the lush stand of ferns we inherited from the previous owners. This year, those ferns haven't even made an appearance, and only a very few of the very first wildflowers are just beginning to bloom.

But I'm definitely in a spring mood. Even if the temperature isn't exactly suitable for grilling and extended picnics, I'm ready to put aside cold-weather stews and braises for lighter dishes that herald sunnier times: things that cook quickly and don't take lots of preparation. That way, when the sun does come out and the weather is warm, I'll be ready to enjoy it!

This is my riff on a wonderful recipe that's a staple at my friend Thad Morrow's outstanding Champaign restaurant, Bacaro. (By the way: the correct pronunciation of bruschetta is broo-SKEH-tah.)

Bruschetta with shrimp and lemon

1/2 lb. raw shrimp, peeled and deveined
1 lemon
2 cloves garlic, or more or less to taste
2 large or 4 small 1-inch slices rustic country bread or sourdough bread
2 T. extra-virgin olive oil plus extra for brushing the bread
2 T. lemon flavored vodka or Limoncello, at an Italian lemon liqueur
1 1/2 tsp. sugar, optional – add only if using the vodka – the Limoncello is already sweet
Hot pepper flakes, optional
Use the most flavorful shrimp you can find, preferably wild-caught. Shrimp that are already peeled and deveined are handy, but their flavor and texture is almost always far inferior to shrimp in the shell, regardless of whether or not they are peeled and deveined before eating. Small shrimp work the best in this recipe. If you have large shrimp, cut them in half after peeling and deveining. Either way, pat them dry with paper towels and set aside.
Remove peel from lemon with vegetable peeler, being careful to remove only the peel, not the bitter white pith. Julienne (cut into the thinnest strips possible) the peel and reserve the lemon flesh.
Slice garlic cloves as thinly as possible with a garlic slicer or mince.
Brush the bread very lightly with olive oil and grill or toast until browned but not completely dried out. Keep warm while you sauté the shrimp.
Heat the olive oil in a large skillet until hot but not smoking. Add the garlic and lemon peel, stirring constantly just until the garlic starts to color. This can take anywhere from a few seconds to a couple of minutes, depending on how the garlic was cut. The important thing is to not allow it to brown/burn.
Add the shrimp all at once, continuing to stir. Sauté the shrimp for a minute or two, until almost done. Add the vodka and hot pepper. If you have a gas stove, tip the pan gently so that it will flame up. For an electric stove, carefully touch the contents of the skillet with a lit match. As soon as the flame subsides, squeeze half the reserved lemon over the mixture.
Arrange the slices of warm bread on individual plates or a platter and top them evenly with the shrimp and pan juices. Serve immediately. Variation: Substitute crisp/tender sautéed pieces of asparagus for half the shrimp. Serves 2-4.
Chicken with fresh sage and lemon couscous with pine nuts
2 boneless, skinless chicken breasts or large thighs
2 T. lemon juice
4 T. olive oil
14 fresh sage leaves
2 T. minced shallots, preferred, or onions, not super-sweet
Salt and pepper to taste
2 T. butter
2 servings of couscous, cooked according to package directions, preferably using chicken stock in place of water
1/2 c. white wine or dry vermouth
1/4 c. toasted pine nuts
Put the chicken, lemon juice, 2 tablespoons of the olive oil, sage and shallots in a resealable plastic bag. Press out as much air as possible, turn to coat the chicken completely, and marinate for at least 30 minutes at room temperature. (If marinating longer than 1 hour, refrigerate.)
Remove the chicken from the marinade, pat dry, and season with salt and pepper. Reserve the marinade, putting the sage leaves in a separate bowl.
In a large skillet, heat the remaining oil and the butter over moderately high heat. Add the chicken and cook until evenly browned, about 5-6 minutes. Turn the chicken and tuck the sage leaves around it. Continue sautéing until the chicken is just cooked through, 5-10 minutes more. Do not let the sage scorch – remove it if it begins turning dark brown.
While the chicken is cooking, make the couscous according to its package instructions, and set aside in a warm place while you finish the chicken.
When the chicken is finished, remove it to a warm platter and cover loosely. Discard any excess fat from the skillet. Heat skillet over moderately high heat and add wine and reserved marinade. Deglaze the pan, stirring up the browned bits on the bottom and reduce to a light brown glaze.
Mix 2 tablespoons toasted pine nuts into couscous. Serve chicken breasts on top of the couscous, pour pan juices over the chicken, and top with the reserved sage leaves and pine nuts.
This classic Italian combination of greens with raisins and garlic may seem unusual, but once you taste it, you'll be hooked. Spinach, chard and kale are equally good to use, with slightly different nuances; if you can find the Italian kale labeled as Cavolo Nero, Tuscan kale or dinosaur kale, be sure to use it.
Italian-style greens with raisins and garlic
8-12 oz. greens such as spinach, chard or kale
2 T. extra-virgin olive oil
1/4 c. raisins, preferably golden raisins
Approximately 1 tsp. minced garlic: 1-2 cloves, or more or less to taste
Salt and freshly ground pepper to taste
If using spinach, cut off any thick stems. (This isn't necessary if using baby spinach.) For chard, trim the bottoms of the ribs, then tear the green leaves off the ribs. Slice the ribs into bit-sized pieces, tear or slice the leaves coarsely, and keep them separate. Kale ribs should be discarded, and the leaves coarsely chopped.

Wash the greens (and chard ribs, if using) and drain a bit, but do not completely dry them.

Heat the oil in a large skillet or flat-bottomed wok over medium-high heat. When hot but not smoking, add the raisins and stir-fry for a minute or 2 until they begin to puff up. If using chard, add the stems at this point and stir-fry another minute or 2. Add the garlic, stir for a second, then throw in the greens and continue to stir-fry until they are wilted and tender. If using the sturdier kale, when it's wilted, add a couple tablespoons of water, cover the skillet, and cook until it's tender – about 5 minutes. Season to taste with the salt and pepper and serve. Serves 2-4.

This is one of the quickest and best light desserts ever.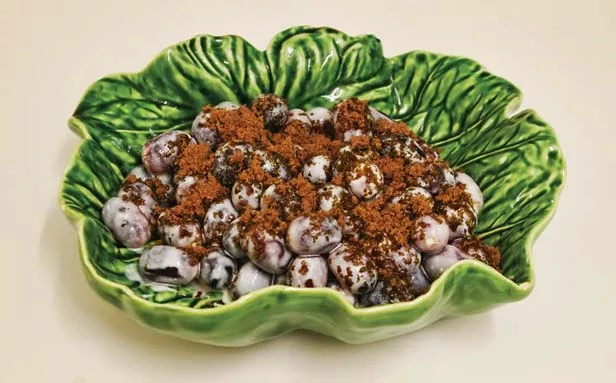 Red grapes with Grand Marnier and sour cream

2 c. stemmed seedless red grapes
1/4 c. sour cream or plain Greek-style thick yoghurt
1 T. Grand Marnier, or other orange flavored liqueur such as Cointreau or triple sec
Dark brown sugar
Combine grapes and sour cream; stir in the Grand Marnier. Macerate for at least 1/2 hour in the refrigerator. Spoon into dessert compotes or other small dishes and top with a sprinkling of brown sugar.

Variations: Replace the grapes with strawberries, sliced or left whole if large, cubed Mango, blackberries, raspberries (macerate delicate raspberries for 15 minutes only, fresh pineapple cubes or a combination of suitable fruits. Serves 2-4.

Contact Julianne Glatz at realcuisine.jg@gmail.com.