I can't say that I'm 100% proud of my behavior during this pandemic. I've kept a stiff upper lip and maintained a good attitude. That I am proud of. But I have, on occasion, put my dietary values and philosophies into the closet for a while because I felt that I needed an emotional bump. I've had nights when I've let the comfort of potato chips and French onion dip be more important to me than clean eating.
Which leads me to Lao Gan Ma. If you haven't yet experienced Lao Gan Ma Spicy Chili Crisp, I implore you to seek it out and give it a try. Pick up a jar at an Asian grocery store. You'll find it among the jarred Chinese sauces. Lao Gan Ma Spicy Chili Crisp has a red label sporting a photo of a scary, frowning woman. It will only set you back about $3. Go home, open the jar, stir it up a bit and put a generous spoonful into your mouth. Then close your eyes and slowly chew it up. It's delightfully crispy and crunchy but not overly spicy. Soon your tongue will start to numb slightly from the Sichuan peppercorns. It's a cool feeling. I'll bet that you'll go back into the jar for another spoonful. Seriously. Try it right out of the jar. I'm addicted to the stuff. I wake up in the middle of the night and eat a spoonful. I scramble eggs with it. I could probably go through a jar a week. This condiment has provided me so much comfort over the course of this pandemic that if I ever have to stock up for another pandemic lockdown, I'll probably buy a case of the stuff. The New York Times declares it to be a "must-have for quarantine cooking."
Lao Gan Ma means "old godmother," referring to the frowning woman on the chili crisp jar's label. The woman is the condiment's creator, Tao Huabi. She was a poor, illiterate widow who, in order to support her two children, became a street vendor, selling noodles and sauces to students in the southern Chinese province of Guizhou, a largely rural region where the majority of China's chili peppers are grown. Her sauce became more popular than her noodles, and in 1997 she quit selling noodles and started making her sauces full time. Now, 20 years later, her production facility produces 1.3 million bottles a day. Last year's sales reached $700 million. Lao Gan Ma Spicy Chili Crisp is as common in China as ketchup is in America. The poor widow, a single mother of two children, who never finished school, is now a billionaire.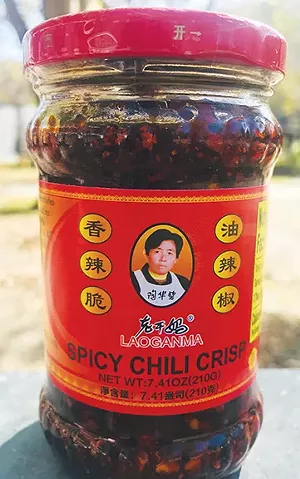 Lao Gan Ma Spicy Chili Crisp is a deliciously savory, thick, crunchy blend of fried garlic, shallots, fermented soy beans, Sichuan peppercorns, and chili flakes all steeped in oil. Different than a hot sauce, it's more like a chili topping. It can make otherwise bland dishes taste complex and exciting.
A disclaimer: I must point out that any condiment that comes out of a factory in China, and doesn't need to be refrigerated after opening, will contain things that are not good for you, so I really don't recommend eating a jar a week.
Nonetheless, what is spicy chili crisp good on? A better question would be, What's it not good on? For breakfast or late-night munchies, try pouring a little of the spicy oil from the jar into a skillet and scramble or fry up some eggs. Then spoon some of the crunchies on top. Mix a tablespoon or two into a cup of mayonnaise to make a dip or sandwich spread. Avocado toast is enhanced when topped with a little spicy chili crisp. Incorporate some into a grilled cheese sandwich. Crack a couple eggs into some leftover takeout rice, add some spicy chili crisp, and fry it up to make a quick fried rice. Roast some broccoli or cauliflower on a sheet tray and top with a drizzle of sesame oil and dollops of spicy chili crisp. And hold on. Use spicy chili crisp as a topping for vanilla ice cream. No, I wasn't under the influence of marijuana when I first tried this one. Chef J. Kenji López-Alt wrote an article about this in Serious Eats. The gentle heat balances the sweetness of the ice cream and the crunchiness against the creamy smooth ice cream is unbelievable.
Tofu and Vegetables With Spicy Chili Crisp
Ingredients
4 T. spicy chili crisp, plus more for serving
2 T. soy sauce or tamari
2 T. unseasoned rice vinegar
1 T. sesame oil
1 T. honey
1 small shallot, peeled and finely chopped
2 garlic cloves, peeled and finely chopped
1-inch piece of fresh ginger, peeled and finely chopped
1 T. chopped cilantro stems for the marinade and 2 T. cilantro leaves for garnish
1 package package extra-firm tofu, frozen overnight, then thawed, drained and patted dry
1 small head cauliflower, cut into bite-sized pieces
1 ½ cups of snow or sugar snap peas, stems trimmed
1 t. kosher salt
2 T. neutral oil (such as canola, rice bran or grapeseed oil)
Cooked rice for serving
Preparation
Preheat the oven to 450°F.
To make the marinade, whisk together the spicy chili crisp, soy sauce or tamari, rice vinegar, sesame oil, honey, scallions, garlic, ginger and cilantro stems.
Slice the tofu into ½-inch rectangle slabs, put into a resealable plastic storage bag, add the marinade, and turn to coat. Marinate at least 15 minutes.
In a mixing bowl, toss the cauliflower florets and pea pods with the oil and season with salt.
Place the slices of tofu in an even layer in the center of a sheet pan and arrange the vegetables around the tofu. Do not overcrowd. If necessary, use two sheet pans. Pour remaining marinade over the vegetables and tofu, and place in the oven.
Roast the tofu and vegetables in the oven for 15 minutes. Turn the tofu and vegetables over, rotate the pan and roast another 10 minutes or until nicely browned. Plate on top of rice and garnish with cilantro leaves. Serve with extra chili crisp on the side.
Peter and Bertha Bus send greetings from Asheville, North Carolina.