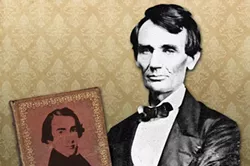 In 1834, Joshua Speed, an ambitious young man from a well-to-do Kentucky family, set up a dry goods store in a two-story brick house on the corner of Fifth and Washington Streets in Springfield. Located on the town square in the commercial and governmental heart of what would become the state capital five years later, Speed's store thrived financially. By 1839, it was also a gathering place for the male "lights" of the community, men who sought a congenial spot for coffee and cider, professional exchanges and gossip, political discourse (sometimes sharp-edged), and storytelling (often comic). Stephen Douglas, later an Illinois senator, often joined the group, as did several prominent judges, businessmen, lawyers and legislators. But Abraham Lincoln, who had only recently been admitted to the bar, was the magnet, the charismatic speaker who drew the intellectuals and politicians to the regular evening meetings.

Charles Strozier's brisk, fluent examination of Lincoln's profound and psychologically consequential friendship with Speed, Your Friend Forever, A. Lincoln, begins with a brief account of the previous lives of the two men, but moves quickly to a lively snapshot of the rich web of relations among those attending the gab sessions around the pot-bellied stove tended by Speed's clerk, William Herndon. Neither Speed nor Herndon (Lincoln's first biographer) spoke much; they were grateful, Strozier says, to sit "at the feet of the brilliant and educated high-minded men speaking on 'politics, religion and all other subjects.' There in the room, Herndon says, 'public sentiment was made.' The same dry goods store in which Herndon measured and cut ribbon by daylight was a different and magical place by night."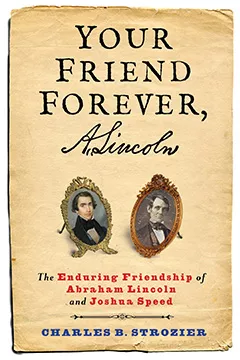 Lincoln and Speed, who lived on the second floor of the store, became close soon after meeting. By Strozier's calculation, from Lincoln's arrival in town in April 1837 until Speed's departure in June 1841, the two men were separated for only nine months. When Lincoln rode the judicial circuit, Speed sometimes accompanied him, and sometimes they shared blankets with other travelers, as was common in that era. During the Civil War, when Lincoln commented on his appointment of James Speed as his attorney general, he noted that he knew him well, "though not so well as I know his brother Joshua. That, however, is not strange for I slept with Joshua for four years, and I suppose I ought to know him well." The question of what, if anything, went on under the blankets has been kicked around for decades, most recently by playwright and AIDS activist Larry Kramer. In his 2015 novel, The American People, he has Lincoln say, more than once, "Mighty fine," after a roll in the hay with a male lover. Gore Vidal, in his 1984 novel, Lincoln, was also unequivocal in his claim that Lincoln and Speed were lovers.
There is no doubt, according to Strozier, that Speed idealized Lincoln, and that Lincoln valued and admired Speed. But is there any proof that it went beyond this? Strozier points out that homosexuality, or sodomy as it was then called, was considered a loathsome practice, and while the fraternal bond between these two men was obvious and often remarked on by the town's residents, "not a single contemporary acquaintance, relative, neighbor or nosy observer ever found anything unusual in the friendship." Strozier devotes a full chapter to demolishing the idea of a gay Lincoln, pointing out that intense male friendships were common in that era, especially in places where there were fewer women than men. The 1840 state census reported that in Sangamon County, with Springfield as its urban center, there were 2,515 men and 2,037 women, a five-to-four ratio. He also lists a dozen men with whom Lincoln shared a bed before he married. Near the end of the chapter, he notes that Stephen Douglas, Lincoln's opponent in the famous 1858 debates, called Lincoln a drunkard, a ruffian, a gambler and a traitor (for opposing the Mexican War), but "never hinted at a sexual transgression on Lincoln's part."
The Lincoln-Speed relationship, over time, "became the emotional lodestone for each," and Strozier's book is a nuanced reconstruction from widely scattered sources of the generous, empathic manner in which the two men helped each other navigate the psychological journey from mother to wife. As Strozier puts it, male "friendships served as the vehicle for the uneasy transition from the comforts of childhood into a world of dreaded intimacy with idealized but remote, heavily garbed, and sexually guarded women." In the Western culture of that time, men and women lived in separate gendered enclaves, and the bridge between the two worlds could be psychologically perilous. Both Speed and Lincoln desired marriage, but they were much more comfortable sharing their dreams and desires with each other than with the women they sought and feared.
Lincoln was much taken with Mary Todd, like Speed from an upper-class Kentucky family. She arrived in Springfield in1839. But after getting engaged to her in the fall of 1840, he panicked, and broke off the relationship in early 1841. Over that winter, his depression was profound, and his friends took away his razors and knives. He said he should never marry because he could never be satisfied with anyone "who would be 'block-head enough to have me.'" Betwixt and between states of being, he spent a lot of time reading romantic poetry; Byron's 1816 poem of apocalyptic doom, "Darkness," was a favorite. During this winter of discontent, he took some comfort in sharing with Speed his debilitating doubts and feelings of shame for having hurt Mary. Lincoln told Speed everything, "shared his dread of death and the sadness of life. Their minds ran in the same deep channel." It is worth noting that Lincoln knew well and spoke often of Shakespeare's plays, especially the tragedies.
A few months later, Lincoln's crisis was echoed in his friend's life. Speed left Springfield to attend his father's funeral in mid-1841. While in Kentucky he became involved with a young woman, Fanny Henning, but almost immediately was overcome by the same kind of psychic perturbation felt by Lincoln. There is no way I can do justice here to Strozier's subtle analysis of the emotional lurches and leaps taken by the two friends as they struggled to sort out their relations with each other and their wives-to-be; his parsing of the slightly deranged correspondence of the two men is particularly acute. Strozier has a psychological eye like a pair of tweezers, and in his engrossing account of the young manhood of these two fast friends, he meticulously depicts the congruent romantic crises they underwent as they fumbled their way into permanent and sexually intimate relationships with the women they loved. They struggled to make life commitments to Mary and Fanny, while not betraying their own friendships, and they succeeded. In sum, Strozier says, Lincoln and Speed "found reflection of self in the other, a kind of mirroring that silenced doubt and confusion." By the end of 1842, both men were married.
Although their relationship changed markedly after marriage, the men remained lifetime friends, and Speed, after becoming a key political figure in Kentucky, was the person most responsible for keeping Kentucky in the Union during the Civil War. The final chapters of Your Friend Forever, A. Lincoln cover the war years, but the brunt of the book is focused on the formative years, 1837-1842. Strozier's book provides the definitive account of this critical period, and gives us the sharpest portrait of Joshua Speed, Lincoln's dearest friend, that we are likely to have.
Strozier to speak at ALPLM
Charles B. Strozier, author of Your Friend Forever, A. Lincoln, will be in Springfield to discuss his new book May 26 at Abraham Lincoln Presidential Library and Museum. He will sign copies of the book at 6 p.m. and speak in the museum's Union Theater at 6:30 p.m. For a free reservation, go to www.President Lincoln.Illinois.gov and click on "special event reservations."
After receiving his doctorate in history from the University of Chicago, Strozier taught a variety of history classes at the University of Illinois Springfield (then Sangamon State University) from 1972-1983, and was also the founding editor of the Psychohistory Review. A practicing psychoanalyst in New York City, he is also professor of history at John Jay College and the Graduate Center, CUNY. He has published widely on Lincoln and the Civil War, including Lincoln's Quest for Union: Public and Private Meanings (1982). His study "Until the Fires Stopped Burning: 9/11 and New York City in the Words and Experiences of Survivors and Witnesses" appeared in 2011.
Michael Lennon, a former colleague of Charles Strozier at the University of Illinois Springfield (then Sangamon State University), was an English professor there from 1972-1992, and also the founding director of the Institute of Public Affairs at UIS, and for over a decade, publisher of Illinois Issues magazine. He is the author most recently of the biography, Norman Mailer: A Double Life (2013). He teaches in the M.F.A. Creative Writing Program at Wilkes University in Pennsylvania, where he was provost from 1992-2000.