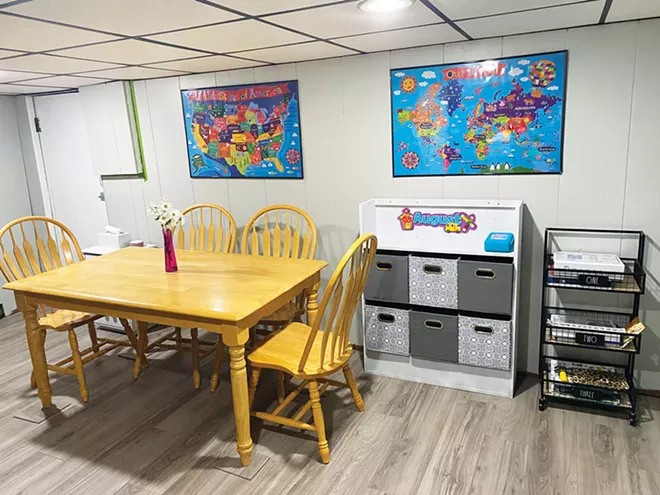 If you are a parent of school-age children, chances are you have spent the past few months wondering what school would look like this year. I'm willing to bet that you've had countless conversations with family, friends and even total strangers about the options that schools were offering and which of those options – if any – worked best for your family.
As my husband, Jim, and I read the influx of emails from our school, watched district-wide school board meetings and carefully weighed our options, it became obvious that remote learning was the best choice for our children. However, we live in a modest house, and the thought of all five of us crammed around the kitchen table working on individual projects scared me to death.
One night, after the reality of our decision sunk in, my husband and I sat on the couch and talked about how we wanted the school year to look for our children. I wanted the kids to have a space that resembled a classroom, felt happy, colorful and inviting, and that they could leave behind at the end of the day when their little minds were ready for a rest. Jim just wanted us all to be able to successfully work under the same roof, meet deadlines and not want to strangle each other at the end of the day.
Together, we decided that the best way to accomplish all of these things would be to remodel our basement. We've lived in our home for three years, and we've been planning for this since day one; this strange opportunity gave us the push we needed. Before I knew it, we started collecting paint samples, talking about what kind of flooring we wanted and generally making lemonade out of lemons.
My husband is a lawyer, but growing up he did a lot of jobs that put him in contact with people who knew the ins and outs of home remodeling and construction. Since the day I met him, he's been constantly tinkering and fixing things, and I knew that he would be able to tackle this job completely on his own. Not having to hire a contractor not only saved us a lot of money, but it also meant that Jim worked around the clock to get the job done. Some nights, after he had completed a full day of remote work for his real job and eaten dinner with our family, he would head directly downstairs and work in the basement until long after the rest of us had gone to bed.
While Jim painted the walls and laid the flooring, I helped out by giving some of the old bookcases and end tables we had around the house a much-needed facelift, spray painting them with a fresh coat of chalked, linen white paint. There's not much natural light that makes its way into the basement, so the pale grey and white color base palette really gave the room an open, breezy feel which contrasted nicely to the bold colors in the artwork and maps that we hung on the walls.
We haven't completely finished our basement remodel, but we've done enough that the girls, ages 6 and 10, have a learning space of their own. The first day of remote classes went off without any glitches. With that said, Jim and I both know that we are incredibly fortunate to have the finances and resources to take on a project like this, but we also recognize that not everyone is in the same position.
As we all embark on this adventure together, please keep in mind that learning can happen anytime and anywhere. Sometimes a backyard play session does more for the brain, body and soul than any structured lesson plan ever could. If we all move forward on this journey armed with compassion, patience and good intentions, our children are going to be just fine.
Lana Shovlin is a Springfield freelance writer who has been home with her husband and three children since March, mostly successfully.