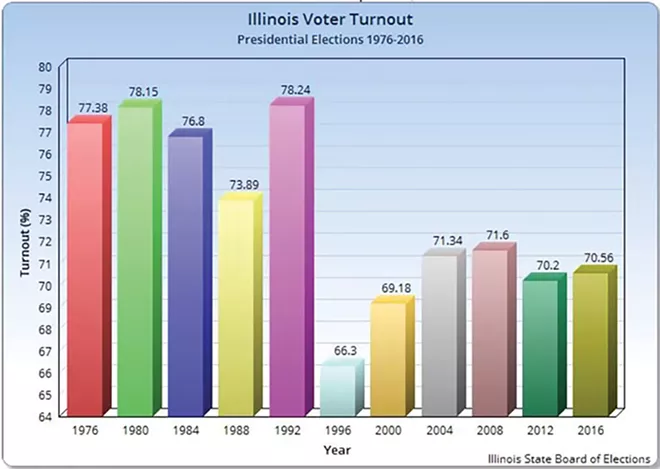 Although nearly 3.6 million Illinoisans had already voted by Monday, Nov. 2, according to the Illinois State Board of Elections, nearly 2.3 million ballots were still to be cast if the state is to match the 70.56 percent turnout of 2016.
As of Monday, there were 586,709 mail-in ballots that Illinois voters had requested but not returned. As long as those ballots are postmarked by Tuesday, Nov. 3, they must be accepted by local election authorities if they arrive by Nov. 17 – two weeks after Election Day.
"If you still have your vote by mail ballot, you can do one of two things: Either bring it with you and vote in person (on Election Day)... or fill it out and bring it directly to your local election authority and check to see if you have a secure ballot drop box in your area," Gov. JB Pritzker said at his daily news conference Monday. "Do not mail your ballot unless you take it directly to the post office and have it postmarked by (Election Day)."
Because of the outstanding ballots, the elections board was warning that election night totals are unofficial, and it could take several weeks to decide close races as officials wait for outstanding mail ballots. Election night results are always unofficial, but the volume of outstanding ballots this year means more races could take longer to decide.
"The Illinois State Board of Elections will regularly update the statewide totals for mail ballots on its website, but does not report any election results until it certifies the vote on Dec. 4. Unofficial results before certification may be obtained from local election authorities," the board said in a news release.
The board warned that the graduated tax constitutional amendment question – which can pass if it receives 60 percent approval from voters who vote on the question or a simple majority of yes votes among all ballots cast – could take extra time to decide if the vote is close.
"Because of this formula, the fate of the amendment may not be known on election night even when accounting for mail ballots not yet returned," the board wrote.
Pritzker advised patience on races with national significance as well.
"Counting votes that arrived by mail is time-consuming work for our county clerks and their staffs," he said. "With vote-by-mail hitting all-time records, that means that we have to be patient about the results of all races this year. It will possibly take until Wednesday or Thursday, or even Friday to get results for some races in Illinois and in states across the country, every vote must be counted, particularly on the national level. It is very important that we are patient with the presidential election."