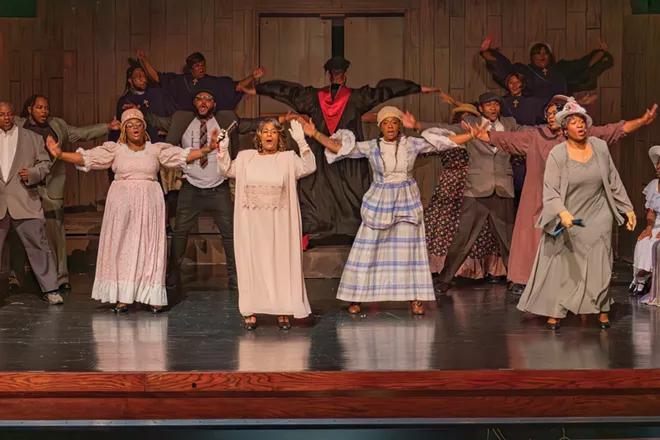 The Springfield Theatre Centre's production of The Color Purple is an absolute musical delight. The cast and crew put their hearts and souls into bringing the story to life, and their passion and energy are contagious. You might even find yourself tapping your foot to the music.
Nevertheless, The Color Purple puts generational trauma experienced by the Black community front and center, with attention given to the oppression and abuse endured by Black women. Jordan Montague's strong performance as Mister reminds us of this harsh truth with the memorable lines, "You're black, you're poor, you're ugly, you're a woman. You're nothing at all!" A poignant moment felt by the audience reminds us of the women whose experiences are similar to those of Celie, Sophia, Shug and Squeak – women we may have encountered or may still encounter in our lives.
With that said, The Color Purple highlights the unwavering strength of Black women. It emphasizes the importance of female friendships and bonds in fostering resilience, overcoming adversity and finding positivity in even the bleakest situations. And the talented cast of women effectively conveys this powerful message.
Lexi Tyus and Brianna Gude-Price both perform strongly in their respective roles as Celie and Shug Avery. Their onstage chemistry is solid and ideally suited for their characters.
Calia Cole delivers an exceptional performance as Sophia, showcasing her abundance of talent through her impressive vocals and captivating stage presence. Cole's skills leave you yearning for more opportunities to witness her in prominent theatrical roles.
Chianna Boatman's portrayal of Squeak is remarkable. Her ability to bring Squeak to life through her vibrant performance will stay with you long after the show has ended. Boatman's high-pitched voice is so convincing and authentic that it lingers in your memory, leaving a lasting impression of how well she captures the essence of the character.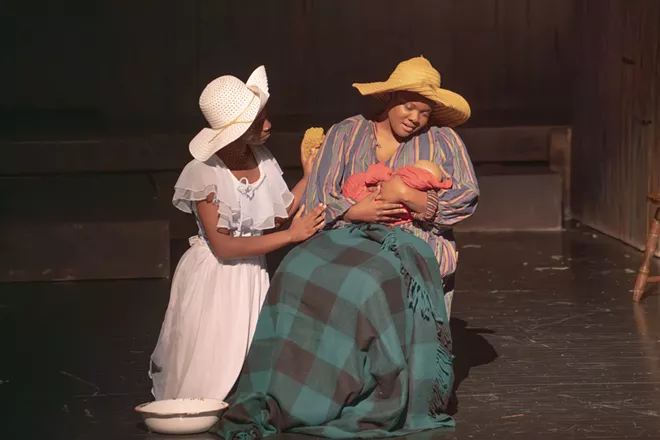 The Church Ladies, played by Katina Price, Samantha Gaine and Kelly Spencer, are portrayed well with vocals that enhance the play. The attention to detail in their costuming is spot on, and they appear to be straight out of the pews of a church in the rural South, complete with hats and pocketbooks. Their performance is heavenly as they cackle in unison, adding a lighthearted and endearing element, while also pointing out some harsh truths.
It is worth mentioning Douglas Yul Holt's portrayal of Pa. The role itself in the play is brief, but the character's impact on Celie's life is indelible. His no-nonsense, unsympathetic and even-keeled demeanor fit Pa's personality perfectly. It's intriguing to think about how Holt would have approached other characters, like Mister or Ole Mister.
That is not to say Jordan Montague as Mister and Vincent "June" Chappelle as Ole Mister did not deliver fantastic performances in their respective roles. They most certainly did. It is simply to say, the overall performance from the entire cast will leave you wanting more, making you wish for more chances and resources to see the cast and crew shine.
The Springfield Theatre Centre's rendition of The Color Purple is undoubtedly enjoyable, but it has some imperfections. It appears that the production may have been working with a limited budget, and while the talent is remarkable, there are issues with the sound quality, costumes and props. However, the cast's talent more than compensates for these shortcomings. It is clear that they could achieve even greater excellence with more resources.
It is also clear that some audience members had reactions to certain parts of The Color Purple that a seasoned veteran may not have, serving as a reminder that many younger people in the audience may be experiencing the story for the first time. The relevance of this story lies in its depiction of traumatic experiences that, unfortunately, still affect the Black community today. It is a powerful and essential story that deserves to be shared. Thank you to the cast and crew at Springfield Theatre Centre for investing the time and resources to share it.
Jamila Wicks has over 20 years of experience working in government and nonprofit organizations, with the last five years focused on arts and cultural institutions. She currently resides in Decatur while working in Springfield. Wicks is originally from Georgia and holds a master's degree in public administration and a bachelor's degree in journalism from the University of Georgia.